A hotel website, ads, brochures, emails, and social media are just some of the ways hoteliers try to bring guests to their property. On average, the cost of acquisition for hotel bookings can be as high as 25% of your total booking cost. But it costs much less to bring that same guest back to stay again (around 5x less). Attracting previous guests should be given the same amount (if not more) attention than acquiring new guests since the cost of doing so is less. Not only that but developing a relationship and building loyalty may lead to word-of-mouth bookings, too. How's that for bang for the buck?
In this blog post, we'll dig into the customer journey in terms of the path to purchase for your new guests and how that differs for previous guests. Then, we'll offer up ideas for customer retention strategies for hotels. Let's go!
The Customer Journey
In the hospitality industry, your customers make a very literal journey to your property. But there's a whole journey that happens before that takes place. It's called the customer journey and it includes the process a person takes before they make a purchase or booking.
Each stage may have sub-stages but overall, the customer journey describes the sales funnel, beginning with desire (awareness and interest), then customer research (consideration, intent, evaluation), and then booking (purchase). On the business end, this requires marketing and promotions at different stages of the journey to result in bookings.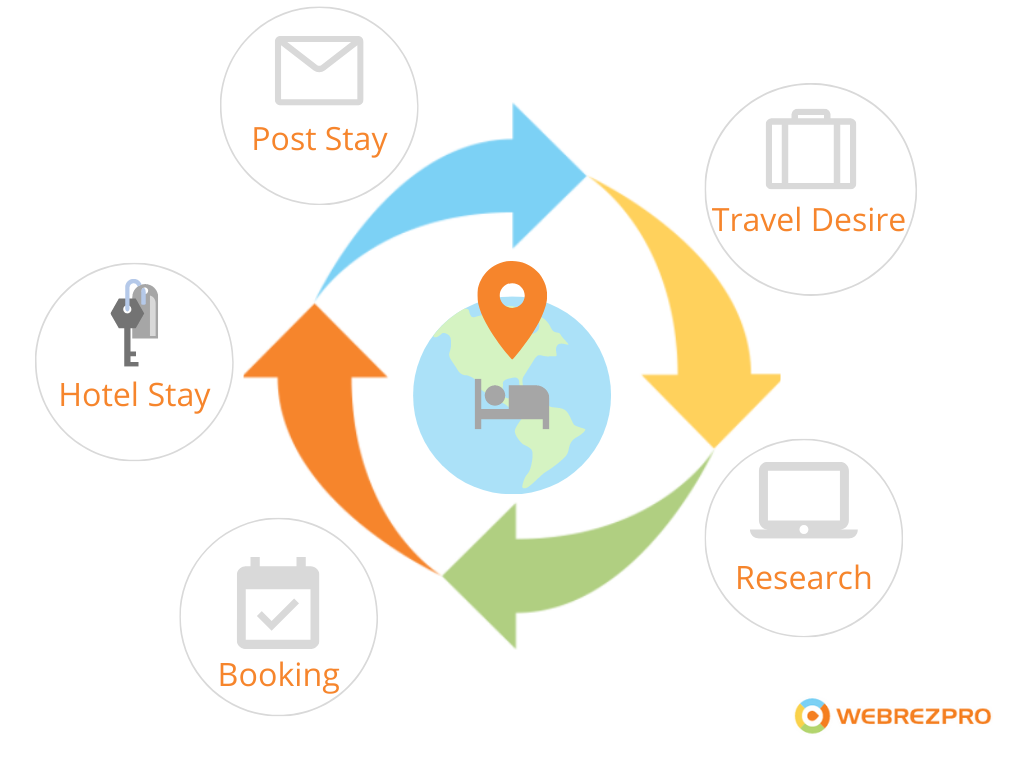 But the journey doesn't stop there. It's important to nurture relationships with your guests during their stay and after. Why? Because a repeat guest skips a few stages in the customer journey, the cost of acquisition is much lower than a new booking. And it shouldn't be taken for granted that because they've stayed with you before that they'll come again. Past guests begin a customer journey of their own, which you can nurture along the way.
Beyond the Booking: Pre-Stay Strategies
Guest retention begins immediately after a booking is made. Ensure you affirm your guest's decision to stay with you as you build anticipation, excitement, and set the tone for their wonderful stay through a pre-stay automated email flow. As you send booking confirmations and essential travel and check-in information, use it as an opportunity to invite guests to book tour packages or augment their stay with extras or spa bookings. Including links to pertinent blog posts for exploring your region and any other helpful information will support your guests and build a rapport before they even step through your doors.
During-Stay Retention Strategies
The post-booking customer journey continues with your guests' stay. In addition to friendly and helpful in-person contact, use hotel technology to ensure your guests are happy. Guests may tell you everything is fine to your face or simply not reach out at all. Yet proactive communication via email and SMS can go a long way with some guests preferring digital contact. Email and SMS communications can be automated via your property management system, using reservation and guest data to trigger personalized welcome messages and friendly reminders, as well as to ask guests if they need anything, such as complimentary toiletries, extra pillows, a wake-up call, or a restaurant reservation. Ensure to provide an option for guests to opt out of digital communications so your proactive messages are well received and not a turnoff.
Post-Stay Retention Strategies
The easiest way to stay in touch with previous guests is with post-stay emails. Immediately after their stay, email your guests and ask them to fill out a survey and/or ask for a review. You'll also want to use email and social media to share hotel news, helpful travel information, and future promotions to keep your hotel top of mind and build loyalty.
Surveys: Highest survey completion rates are immediately after a stay, and the majority of guests prefer online surveys versus paper or in-person at checkout. Make it easy for them by sending guests an email thanking them and asking for their feedback. Make it easy for you by automating this process through your PMS. The best part? You will receive honest feedback guests may not tell you to your face while giving you a chance to make it right. Surveys can highlight problem areas as well as let you know what you're doing right—helping you determine what to prioritize based on what's important to your guests.
Reviews: Considering 80% of guests read reviews before booking, you better believe they're important! Again, an automated email can be sent to guests with links to review your property on review websites like TripAdvisor. Be sure you are responding to reviews and are following best practices for managing your online hotel reviews.
Promotional emails: Email has the strongest return on investment (ROI) when it comes to your hotel's digital marketing initiatives. In addition to your automated email flows, use your CRM to segment your guests into different email lists based on various criteria. This way you can serve up valuable information and promotions that are relevant to specific audiences for a higher chance of converting. Your hotel's email marketing can include special offers for your VIPs, value-add packages for families during school holidays, and upcoming local events to entice guests back to your property. 
Pro-tip: Don't make every email promotional; providing valuable and delightful content is the long game way to nurture relationships that can lead to your strongest advocates.
Social media: While social media will serve a larger audience than your guest database, it's an important tool for keeping in touch with your previous guests, too. Use branded hashtags and monitor your platforms for guests who tag you. Use user-generated content on your platforms to build customer connections as well as provide powerful word-of-mouth testimonials to inspire future hotel guests. You may find these tips for streamlining your hotel's social media content useful. As far as ads go, Facebook allows you to upload your guest email list into ads manager so you can serve up ads specifically for previous guests—as long as emails match and they use Facebook.
Loyalty program: The whole concept of a loyalty program is to keep guests coming back with perks that come with being repeat guests. A property management system is the perfect tool for providing personalization especially in tandem with a loyalty program. You can provide generic offers that go with a loyalty program, which are always popular, or you can go the extra mile to provide personalized or pick-and-choose offers, and then use that information for more opportunities to delight guests during their repeated stays.
At the end of the day, loyal customers spend more and take less convincing than new guests to make a booking. Nurturing post-stay guest relationships is a no-brainer for business and there are many ways a PMS, in particular, can support your initiatives. But beyond this and your guests' satisfaction is something arguably even more important, and that is your satisfaction, too. As a hotelier, someone who's wired for hosting and providing service excellence, there is nothing more satisfying than a guest who comes again and again, year after year, and gives you the satisfaction to say once again, "Welcome back."