Vacation Rental Management Software
From inventory, rate and reservation management, to scheduling and tracking housekeeping and maintenance, to owner statements and reporting, WebRezPro gives property managers a complete and real-time view of their business from a single point of control—for greater efficiency and more bookings.

With more than 50 upscale properties in its portfolio, Fernie Central Reservations is a one-stop shop for booking quality holiday accommodation in beautiful Fernie, British Columbia.
WebRezPro offers complete vacation rental software that streamlines front- and back-office operations for businesses that manage rental units for owners.

Flexible Rate Setup
WebRezPro's flexible rate and package management features support all kinds of pricing strategies, allowing as many rate types as required—from seasonal and long-term rates to multiple rack rates and packages. Rate changes are unlimited and overrides are quick to implement.

Easy Reservations
The system's Booking Engine is specifically designed for properties with many different unit types, rates and/or that cater to longer stays. The booking engine also features unit slideshows within availability search results to really sell your units. Spend less time on the phone and let your guests book themselves in!

Contactless check-in
Before arrival, guests complete a digital guest agreement, agreeing to the terms and conditions of their stay. Once a completed agreement is submitted, self-check-in instructions can be automatically sent to the guest and the completed agreement automatically attached to the reservation folio for easy reference.
Cloud PMS benefits for vacation rentals
Watch the video below to learn how WebRezPro can help vacation rentals with single- and multiple-ownership scenarios. Track owner revenue, generate payout statements and more.
Owner reservations & payouts
Whether dealing with single or multiple ownership scenarios, WebRezPro's Owner Payout Module automatically tracks owner revenue and charges, and generates owner payout statements, saving property managers a lot of time in the office.
This module also includes a pooled revenue feature that allows businesses to split owner revenue evenly among singly owned units in a revenue pool.
The Owner Payout Module allows unit owners to be set up with limited access to the system so that they can view availability and booking history of their own units, book themselves in at no charge, and request statements online.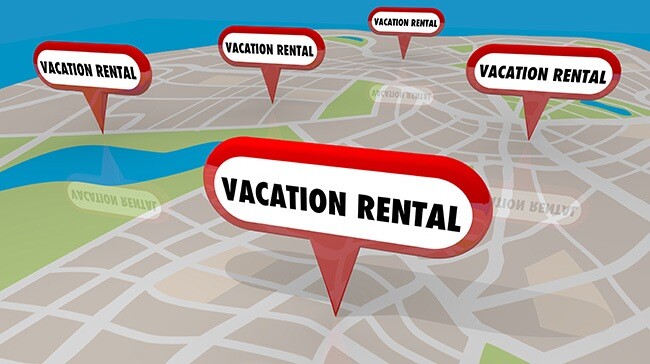 Manage multiple locations
If your company manages rentals grouped in different locations—for example, on the ski hill and in the village—the optional Location Module allows you to assign individual units to a location, track revenue and taxes by location, and organize availability and rate calendars by location. 
This module can also provide independent booking engines per location, and customized check-in/out receipts for each location.
Direct integration with online distribution channels and more
Streamline online distribution with optional interfaces that connect your WebRezPro system directly to important channels like Airbnb, Booking.com and VRBO. 
Vacation rental news & technology
Visit our blog for information about managing vacation rental properties in the cloud. You also find articles about the hospitality industry and announcements for our newest clients.
Vacation Rentals
Located in Carrabelle, FL the St. James Bay Golf Club has everything you need to get away from it all. Hit a few tees and take a few photos. St.
Ready to streamline front- and back-office operations and gain more control of your vacation rental business? Don't hesitate to get in touch for a free guided demonstration of WebRezPro in action, or we're happy to let you look around the system on your own if you prefer. Feel free to contact us with any questions at any time, subscribe to our monthly digital newsletter, or check out our FAQ page.