Campground & RV Park Software
WebRezPro PMS offers cost effective campground and RV park management software. 

Calaway RV Park & Campground was established in 1992 to provide amusement park visitors with convenient, safe and fun accommodation and it's proven to be a great…
Turning campground operators into
Designed to make your work day easier and more profitable, WebRezPro turns overworked campground operators into happy campers.

Flexible Inventory
From campsites to cabins, a variety of unit types can be set up within the same inventory and designated with utilities such as power, water and sewer, supporting a powerful availability search function.

Rate Management
From seasonal rates to long-term leases to group rates and packages, WebRezPro covers all types of rate types and pricing strategies with flexible rate restrictions and conditions, unlimited rate changes and quick overrides.

Website Bookings
WebRezPro's responsive online booking engine for your campground's website is fully integrated with the PMS, meaning your website is always up to date with live rates and availability. Save time on the phone and let your campers book themselves in!
More campground software features
Campsites, cabins, boat slips...
Watch the short video below to see how WebRezPro can make managing your campground easier, from campsite and cabin bookings to accounting and reporting.
Interactive booking map for campgrounds & RV parks
Allow guests to see real-time campsite availability via WebRezPro's interactive booking map. Simply upload an image of your choice then place map markers to designate the location of specific campsites, cabins, etc.  When a guest searches for availability from your website, the map will appear showing what campsites are available to book. Then, when a guest clicks on an available campsite, a pop-up box will appear that shows a description and photos of the campsite as well as bookable rates.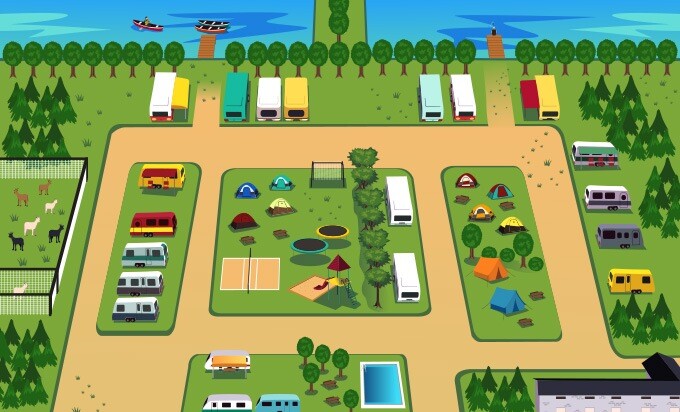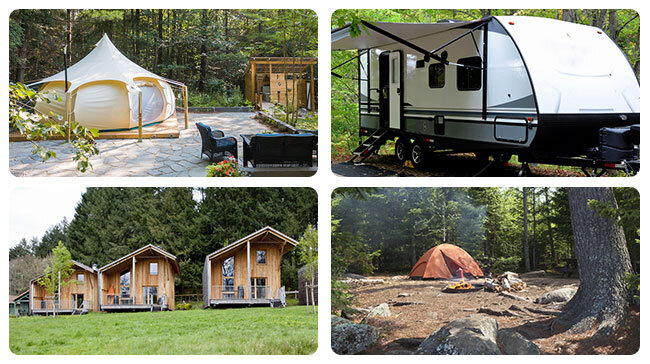 Manage multiple locations
If your campground organizes sites by location (for example, separate RV and tenting areas), or features a mix of lodging types (such as cabins and campsites), our optional Location Module allows you to track revenue and taxes by location, organize availability and rate calendars by location, and can even provide independent booking engines and customized receipts for each location.
Connect to other campground software
WebRezPro offers 125+ system integrations, including POS systems, OTAs (such as Expedia and Airbnb), revenue management software, payment gateways and more. If we don't have the one you are looking for, just let us know. 
Campground tech, news & articles
Check out our blog for tips on how to maximize bookings and revenue, and to meet our latest clients.
Campgrounds
Relax and reconnect with nature in one of the eco-tents at St. Andrews State Park, located in Panama Beach, FL. Each tent comes with electricity, a queen bed, and a view of the
Want to see if WebRezPro walks the talk? Let us show you how our campground and RV park software makes your work day easier and more profitable with a free, no-obligation demo. We're happy to give you a guided tour, or you can explore the system on your own. Got more questions? Just ask, or check out our FAQ page. Whatever you need, we're here to help.