Your employees are the backbone of your business. That's true across industries but particularly in hospitality. They facilitate bookings, welcome guests, and ensure their stays are comfortable and memorable. It's imperative to find and hold on to quality staff members.
However, this isn't always easy, especially in the current post-pandemic labor market. In an AHLA (American Hotel & Lodging Association) survey, 82 percent of lodgings said they were short staffed. 
Here's a quick guide to help you find the right people, bring them on board, and make sure they stay.
Recruiting
Advertising
Recruiting talent works a lot like advertising your hotel to guests. You need to get your brand out there and seen by the people you're hoping to connect with. And much like marketing collateral, job postings have to stand out. 
Job descriptions should be specific, comprehensive, and easy to understand to attract relevant applications. Check in with current employees about their responsibilities to ensure you don't leave anything out. Include any perks and benefits you offer.
Add a little flair to give applicants a taste of your company culture. Spruce up your description the same way you'd spruce up your lobby. Show people that you're excited for them to apply!
However, clarity comes first. Eliminate jargon and don't make the description any denser than necessary, especially if applicants may not speak English as a first language. Bullet points are your friend.
Mention any background checks or drug screens up front. This saves everyone time.
Once you have the job description perfected, post it on social media channels like LinkedIn and Facebook, in addition to traditional job boards (some jobs boards like Hcareers or Hospitality Online are hospitality specific, so check those out!). Know who you're trying to reach and where you will find them online. Local hospitality management programs are also good places to scout new talent. 
Referral programs
When it comes to your property, your existing employees are experts at recognizing if someone would be a good fit. Implement a referral program that rewards staff for bringing in new hires (ask them what rewards they'd most like!). They'll do the vetting for you and ensure the candidate understands the job requirements. Referred hires eliminate guesswork for both parties.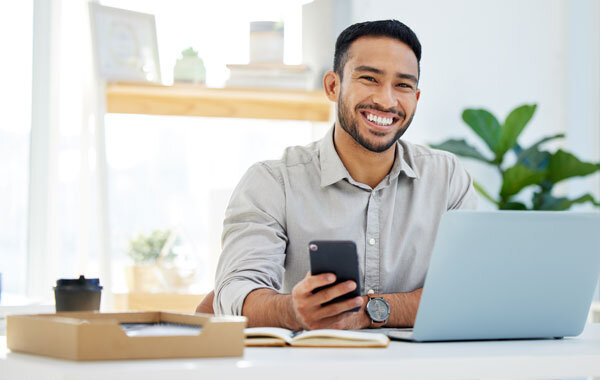 Applications
Keep your application form simple and accessible from a mobile device. The more complicated you make it, the more likely applicants will look at their other options instead. Ask questions to learn more about their motivation and why they'd be a great fit, and include file upload functionality for CVs, cover letters, and even video introductions. Don't make candidates re-enter their entire resume into a new form—instead, make a welcoming and efficient impression from the get-go. 
Hiring
What to look for
While experience is valuable, it's not necessarily the most important trait in the hospitality industry. Excellent customer service is all about personality and competency. Look for people who are personable, confident decision-makers, team players, and display a growth mindset. You can teach job details. You can't teach attitude.
Interviewing
Use open-ended questions to allow candidates an opportunity to expand. Your goal is to discover information you don't already know from their resume. Let the interview go both ways. Ask candidates what they are looking for in a workplace to gain insight into whether they'll likely be happy and engaged in the job.
To better identify the characteristics you're looking for, consider alternative interviewing styles. A formal Q&A sit-down isn't the best way to see how someone handles situations or interacts with other people. Instead, try assessment activities (individually or in a group-interview setting) to see their communication and problem-solving skills in action.
Lastly, treat candidates the way you would like to be treated and don't ghost anyone after an interview. If they've taken the time to come in, take the time to send an email to thank them and close the loop if they didn't make the cut. You never know if you'll meet them again someday…or if they'll decide to drown their sorrows on your social media page.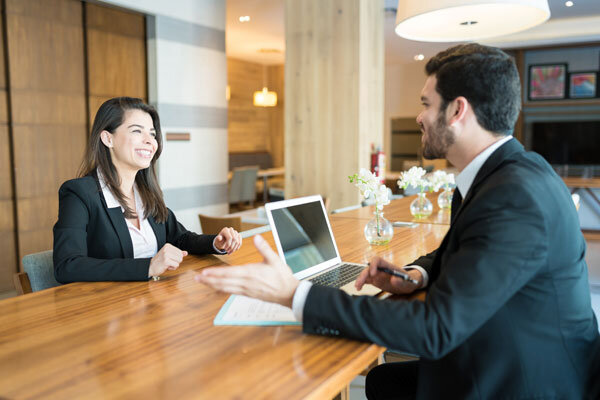 Retention
Turnover is a big problem in the hospitality industry. Only two years ago in 2021, the turnover rate for leisure and hospitality came in at 85 percent. Not only is continually hiring and onboarding new employees costly and time-consuming, but guest satisfaction suffers when your property is understaffed and regularly training new people. It's essential you make employee retention a priority.
Onboarding
You can't throw your brand new employees in the deep end and expect them to land a perfect swan dive. You need to show them the ins and outs of how you operate. While the basics of customer service are fairly consistent (smile, don't cuss out the customers), specifics may vary from hotel to hotel. You can't expect them to know your late check-out policy if you've never discussed it.
Don't neglect the human element either—introduce them around that first day so they know who everyone is. This is also a good way for them to get a sense of your company culture, by meeting the people who create it. You can even assign them a peer to show them the ropes while they're getting started.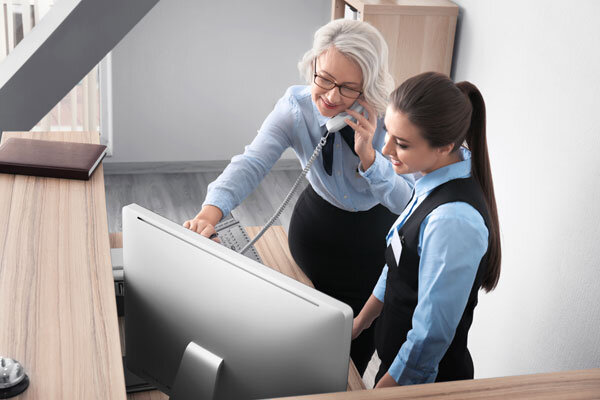 Professional development
Employees are more likely to show loyalty to a company they have a future with. Demonstrate that you're invested in their professional development by discussing their goals within the company and mapping out what they need to learn and do to get there (this should happen more than once a year at performance review time!).
Provide opportunities for ongoing training so staff don't get complacent. If an employee doesn't have room for growth, they'll see work at your property as a short-term situation.
Employee benefits
Happy employees are loyal employees, so treat them well. In addition to vacation days and benefits packages, offer discounted meals at your restaurant, fitness center access, flexible scheduling, and other perks that align with your company culture. Don't neglect maternity/paternity leave—the International Labor Organization specifies at least 14 weeks for new mothers. 
Lastly, your employees still have to pay rent regardless of how nurturing your team culture is (see below). Take your area's cost of living into account when assigning salaries, or you could end up with a situation like this. 
Team culture
Foster a team culture by creating and sharing company goals. Ask for input, then act on it. When staff feel a sense of ownership, they're more likely to remain loyal to the business and go above and beyond in their roles.
As an owner or manager, you're responsible for the day-to-day tone of the business and for setting an example. Your employees will have a harder time implementing "service with a smile" if they see you everyday looking like you want to drop-kick the next person who says hello. Be kind whenever you can.
A hotel can't succeed without hardworking and committed employees. Put in the effort to recruit, hire, and retain the talent you need to be the best lodging operation you can be.
Editor's note: This post was originally published December 2018 and last updated August 2023.