While the pandemic may be winding down, and people no longer swarm the toilet paper aisle, labor shortage is still a significant challenge for lodging operations. According to the American Hotel & Lodging Association (AHLA), 85 percent of its member hotels remain understaffed.
And without staff, there is no hotel. Technology can increase efficiency so that staff can accomplish more with fewer team members, but there is no substitute for human employees. You need employees who can think, not just respond to pre-programmed scenarios. (Those robot dinosaurs at reception can only do so much.)
Happy staff means happy guests. If staff are motivated, as opposed to merely trying to make it through the day, they'll go above and beyond to provide the kind of service that brings guests back and inspires glowing reviews.
Increasing employee engagement isn't simply about offering fair wages and reasonable hours (though you should be doing those things!). You need to nurture a positive culture at your property that emphasizes teamwork, learning, and growth. Here's how:
Ongoing Training
Before staff can hit goals, you have to show them where to aim. This is where staff training comes in. Effective, ongoing training gives employees the confidence and skills to perform their jobs well. For example, all staff should be aware of and comfortable with the protocol for dealing with customer complaints. They should know when it's better to stick to the rules or bend a little (for example, to accommodate that late check-out request for a regular VIP guest). Role play various situations with your staff for practice.
Consider gamification training, which is more or less what it sounds like, turning training into a game. Eighty percent of employees in the USA believe that gamification makes learning more engaging.
Don't neglect aspects of the job that may not come up in the day-to-day routine, i.e., emergency procedures. Employees hopefully won't use the fire extinguisher every day, but they should still know which end to point. Regular training makes things like this easier to remember.
Feedback
Like training, feedback should be ongoing. Once a year during performance reviews isn't enough. Sixty-five percent of workers said that they would like more feedback, and businesses that provide regular feedback experience 14.9 percent lower turnover rates.
When giving feedback, highlight positives as well as areas for improvement. Feedback should form an accurate picture of an employee's work, so if most of that work is positive, most feedback should be positive as well.
Feedback goes both ways. Allow space for employees to bring any issues to your attention. However, formal feedback in this direction may be more honest if it's kept anonymous.
Tone of voice and demeanor matter when communicating. Yelling at everyone in sight when there's a problem is a good way to make sure that you never hear about any problems (at least not until it's too late).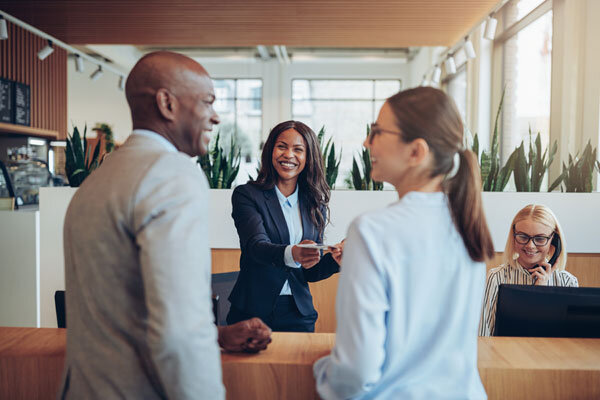 Share Numbers
Let staff know how business is doing and how their performance contributes. Keeping employees informed increases their sense of ownership and breeds trust.
Reward employees when specific goals and milestones are met. However, not all employees desire the same rewards, and it's helpful to ask ahead of time, so you know what kind of benefit would be most appreciated. Make sure to show them that you appreciate them every day, not just when you're throwing the annual pizza bash.
Support Your Employees' Goals
Employees are more likely to stay long-term at a company that offers pathways to grow and advance. Performance reviews and feedback sessions aren't only for discussing how staff are (or aren't) meeting the company's goals. Address your employees' goals as well and direct them on how to get there. Stick with what you say and don't move the finish line. (No one likes being told that the raise they were counting on after two additional training courses actually takes four.) Promote from within.
Create a Strong Team Environment
A strong team environment is especially important in hospitality where all roles, from front desk to housekeeping, need to coordinate with each other. Be aware of your team's chemistry and boost interaction with non-work activities that build relationships and a sense of belonging. These activities should be as inclusive as possible. Consider employees' dietary restrictions and physical limitations. Not everyone can—or wants to—participate in that all-day parkour class.
Encourage open communication and problem-solving. Let staff tell their own stories—about how they dealt with a tricky situation, their concerns and suggestions, or a rewarding moment. Listen.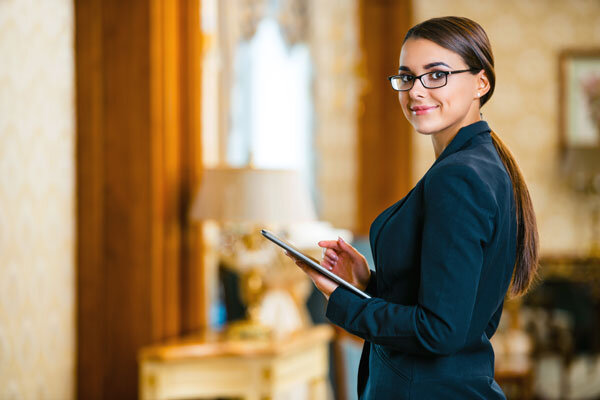 Alleviate Emotional Labor
Keeping that smile on is harder than it sounds. Not even the perkiest clerk feels friendly every single day. While being welcoming is a crucial part of hospitality, it's important to provide breaks where employees can be themselves.
Ensure that workers can reach out, both to each other and to management, if they need to troubleshoot an issue or simply get something off their chest. Humor also helps. (When you think about it, it is funny that a guest somehow thought it was a good idea to stash chicken bones under their pillow.)
Hire the Right People
Retention is much easier if you hire a strong match in the first place. Make sure job descriptions are complete and specific and be honest about both positives and negatives during the interview process. (It shouldn't be a huge surprise that, yes, the position sometimes involves dealing with grumpy guests.) 
Referral programs are useful here as well. Your employees know your property well and can gauge if someone would be a good fit. They take on some vetting for you and communicate job details to the prospective hire.
Seek out personable, assured employees who are willing to grow and work as a team.
Support Staff with Tools to Make Their Job Easier
Provide your employees with technology to automate repetitive tasks and help them elevate the guest experience. With a cloud property management system (PMS), for example, employees can access data from anywhere on any device. They don't have to tromp back to the front desk every time they have to look something up. Online bookings and self-check-in reduce the load on front desk staff so that they aren't stretched to their limit.
Automated hotel systems eliminate the stressors and friction points throughout the day so that staff have the time and mental energy to focus on guests. They also offer tools that make providing personalized service easy, like guest profiles, automated emails, centralized housekeeping notes, reservation reminders, and integrated guest messaging apps (you really don't want to make guests tromp down to the front desk).
No matter how much technology advances, hospitality will always be about people. Warm smiles and authentic connections are what leave lasting impressions. And that makes staff your most valuable asset. You want them to go above and beyond for guests, so make sure you go above and beyond for your staff.
Editor's note: This post was originally published January 2015 and last updated July 2023.