To overbook or not to overbook? Overbooking is a bit of a gamble, but, if played right, can be a successful technique for maximizing occupancy and revenue. A well-forecasted overbooking strategy can fill rooms that would otherwise have gone empty due to no-shows and last-minute cancellations. On the flip side, if you overshoot your overbookings, you have to deal with the regrettable situation of "walking" guests (sending booked guests straight to your competition). If you've ever had to walk a guest, you know it's not a nice feeling. We heard of one front desk clerk who had to duck to avoid a coffee table sent flying by a very frustrated customer!
Weighing Up the Costs
Walking a guest is an awkward situation and a costly one — at the least you need to pay for a room at another hotel and transport. You also have to consider the cost of losing a potentially loyal customer and the detrimental effect walking a guest has on your reputation. A recent survey by Software Advice, a company that evaluates hotel management systems, found that 78 percent of guests say they are "much less likely" to return to a hotel after being walked. That's a lot of potential revenue lost. The Software Advice survey also revealed that almost half of walked guests are "extremely likely" to leave a negative review online — and we definitely don't want that because bad reviews really can hurt business.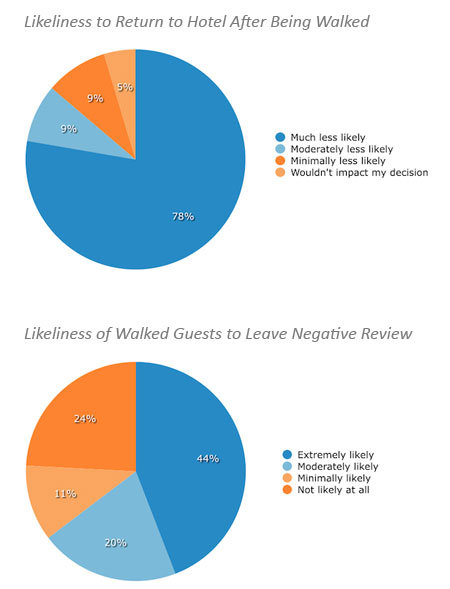 On the other hand, empty rooms equal revenue that can never be recovered and can end up costing you more than the cost of walking the odd guest. The trick is to fill all your rooms while minimizing the cost (real and intangible) of turning customers away. Overbooking needs to be calculated carefully; you need to know the cost of an empty room and the cost of walking a guest. Sheryl Kimes, a professor at the Cornell University School of Hotel Administration, advocates the overbooking-ratio method as a popular technique that minimizes the chance of having to walk guests (and therefore the cost of walking guests) and leads to the most profits.
As the busy season starts to wind down, now's a good time to assess the performance of your property and where you could improve. If your property practises the art of overbooking, how did that work out for you over the summer? If you had to walk too many guests for comfort, you probably need to rethink your overbooking strategy, or whether or not you should be overbooking rooms at all.
Walking a Guest
Unfortunately, walking the odd guest is part and parcel of overbooking, even with a well-calculated strategy like the overbooking-ratio method. When you find yourself overbooked, who do you send packing? Turning away first-time, transient guests is a wiser choice than walking loyal customers and groups to avoid damaging established relationships. Still, you don't want to ruin a potential loyal relationship before it's begun either. So it's very important to offer your inconvenienced guests an appealing alternative that diffuses the situation, lets them know that really you do care, and prevents them from giving up on you in the future.
The industry standard for walking guests requires a property to pay for a comparable room at another property and transportation to get there. But, according to the Software Advice survey, 73 percent of the respondents said that they would expect more.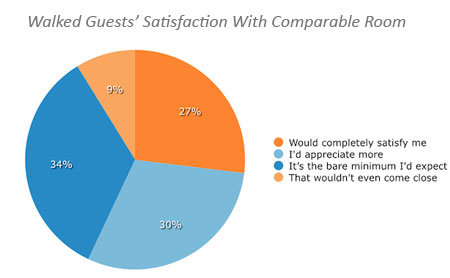 So, what would satisfy the majority of walked guests? Again, according to the Software Advice survey, a complimentary return stay (as well as an equal or better room at another property and free transportation to get there) would persuade 50 percent of guests to return after being walked and not leave a negative review. Twenty-six to 29 percent of respondents said that a $100 cash compensation would convince them to return and dissuade them from writing a bad review. Other forms of compensation that can mollify walked guests are meal vouchers and loyalty program points.
Looking Ahead
Channel managers and channel integration with your property management system (PMS) can greatly help to reduce (or even eliminate) the need to overbook by increasing visibility and accuracy of real-time reservations and availability. A good PMS will also give you the data you need to predict the chance of no-shows as accurately as possible. Unfortunately, not even the best of the best PMS can claim to be a crystal ball when it comes to no-shows, so overbooking will always be considered by some properties, especially larger hotels.
If you do decide to venture along the rocky path of overbooking, the most important thing to remember when walking a guest is to appease their frustration and bring them back (within the limits of affordability). Do more than provide the bare minimum of a room elsewhere; turn the guest's inconvenience into a bonus with a free return stay or cash compensation to show them that their patronage is valued despite your inability to accommodate them on this occasion. Going the extra mile with walked guests can very likely save a potential loyal relationship and your reputation – it's worth it in the long run.
For the full Software Advice survey results, read their Strategies for Satisfying Walked Hotel Guests IndustryView 2014.