While guests appreciate home comforts, they love a hotel stay that spoils them with special touches. Memorable amenities ensure guests come back year after year and give your hotel a unique selling proposition that makes you stand out from the crowd. Every hotel has beds. Not every bed has reinforced gel memory foam.
Amenities also provide much needed ancillary revenue, so step it up from the basics discussed in our previous post and give your guests a stay to remember. Here are some ideas…
Snack Baskets
A basket of local snacks delivered to the room will always be appreciated. It doesn't matter if your guests are on a romantic getaway and want to split some Brie or if they're workcationing and need those crackers to power through.
Our WebRezPro client, The Marmalade Motel in Nova Scotia offers made-to-order snack boxes with themes like Picnic Time, Midnight Snack, and Sweet Box—filled with yummy baked goods. The food is fresh, and guests have the option to order when they book or up to twelve hours before they need it delivered.
Try something like this to satisfy your guest's camembert craving and boost that ancillary revenue. Bonus if you can offer allergen-free items. Just because you're lactose intolerant doesn't mean you don't like chocolate.
Transportation
Transportation doesn't need to start and stop with your airport shuttle. You can offer the use of bikes, kayaks, and ski gear (for rent or for free)…or anything else you can think of. Combine that with your concierge's local knowledge of the best trails and lakes, and your guests will be happy to paddle back to your hotel next year.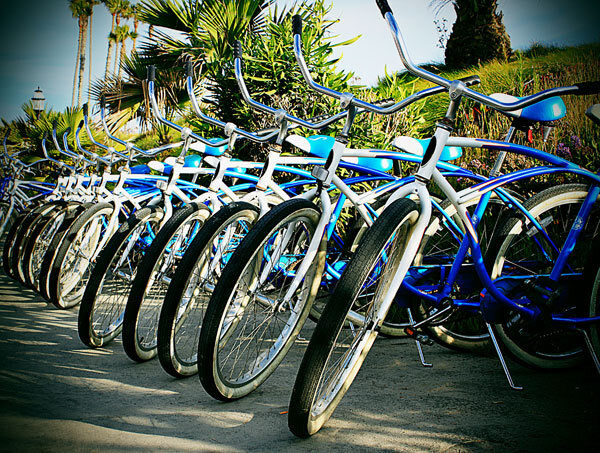 Aromatherapy
You don't need a fragrance butler to perfume your guests like they do at Rosewood Hotels & Resorts, but a selection of in-room aromatherapy oils can still make your guest's stay especially luxurious. They'll fall asleep to the smell of lavender, and that mint scent may be exactly what they need to get rid of their travel headache.
Romance
Many people travel with their partners, whether it's for a lavish honeymoon complete with rose petals or an everyday trip simply to enjoy each other's company. Choose amenities for those looking to woo that special someone.
Our client, Chatham Inn took home 4th place in the "Most Romantic Hotels, United States" category of the TripAdvisor Travelers' Choice Awards. This luxurious Cape Cod boutique hotel went all out, and guests rewarded them with top-notch reviews.
Their Babymoon Package—for couples about to grow their family—includes non-alcoholic sparkling cider, a couples massage, chocolate-covered strawberries, a pregnancy pillow, a baby book, and a fancy breakfast every morning. Couples can enjoy those last moments of peace and quiet before their bundle of joy arrives.
Family
Once that bundle of joy does show up, parents need ways to entertain them on vacation. There are only so many coloring books a child can do. Offer a swimming pool, babysitting services, and board games to give your hotel that special family-friendly touch.
You can also up your game by providing family classes like yoga, art, and cooking. Young children enjoy making something special with Mom and Dad, and they love ways to get messy. Have a few hand wipes ready to get the paint off their cheeks!
A continental breakfast is luxurious, but in-room kitchenette facilities are much appreciated by guests with hungry offspring too. Even just a microwave and mini-fridge can work wonders. Kids don't wait for mealtimes to get hungry—and hunger can turn even the most well-behaved child into a lego-throwing terror.
Lastly, make sure to provide plastic cups. Kids and glass don't always mix well.
Movie Nights
Roll out the red carpet for your guests with popcorn and a movie night. Streaming is great, but that doesn't mean they won't enjoy something a little more old fashioned. You just have to make it feel special. If you make it feel special, your guests will feel special too. Some hotels will even build guests a pillow fort…and what goes better with a classic horror flick than a cozy cushion to burrow under when the alien pops out?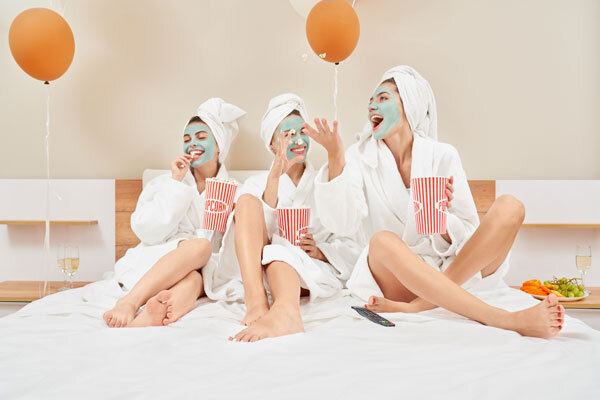 Themed Rooms
You don't have to be a child at Disney World to enjoy a themed room. Adults find them fun too. The Curtis in Denver has quite a few themed rooms, including video games, Ghostbusters, and Star Trek—everything a nerd needs to feel at home.
Or you can take a historical slant like the Yosemite Pines RV Resort and Family Lodging does with their sites featuring Conestoga wagons for guests to sleep in, complete with wagon wheel tables and canvas. Only these wagons also have modern amenities like air-conditioning and refrigerators. Sweltering heat may be historically accurate, but there's only so much of that guests can take.
Going literary is an option too. Guests can take their kids to an Eloise themed suite at The Plaza Hotel where they even have add-ons like Afternoon Tea at The Palm Court and seasonal family events. They just have to be careful what ideas those kids get while they're there…Eloise was not the world's most well-behaved.
Books
According to InterContinental Hotels Group, 85 percent of guests believe a curated book collection makes their hotel visit more valuable. Everyone needs something to read, either by the pool or curled up in a plush lobby armchair on a rainy day, so put in a guest library or book exchange. You could even have this tie in with one of your themed rooms. There are plenty of Star Trek spin-off novels out there.
Beer
Hotels are getting creative with the ways they offer alcohol to their guests; they're going beyond the mini bar. The Doghouse Columbus Hotel has draft beer dispensers in each room and our client, The Beach Motel in Ontario, features craft cocktail kits. If you or your guests have a money tree you'd like to shake, you can even hire a mixologist to prepare something right there in the suites.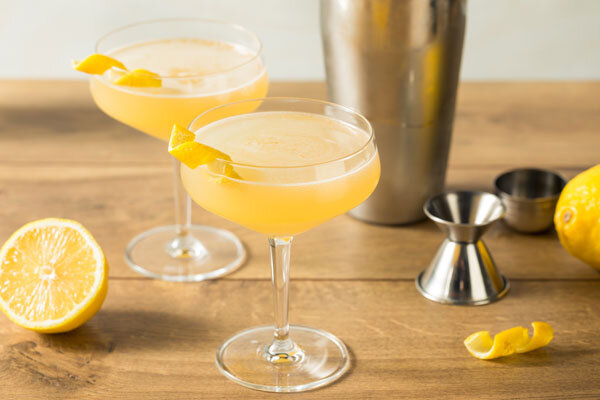 In-Room Workouts
Not every guest who works out likes going to the gym. Maybe they're introverted. Or not interested in dealing with other people's sweat. Offer them the option to exercise in their own room with a mat and hand weights. If you want to get fancy, like the Hilton, you can put in a stationary bike and a kiosk packed with yoga classes.
Check how sound-proof your walls are before implementing this though. No guest wants to wake up at 5am to their neighbor thumping away on a treadmill.
Discounts
Partner with local businesses to provide discounts your guests will love. If you're a family hotel, offer tickets to an amusement park. If you cater to couples, try a gift certificate to that romantic Italian place nearby. Use guest profiles in your property management system to learn about your guests, so you know what products and services appeal most.
Manage Amenities with Hotel Software
An automated property management system makes managing amenities simple and seamless. WebRezPro includes a convenient reservation option feature that gives hotel staff the ability to set up free or chargeable add-ons like spa services, in-room extras, and meal plans that guests can select when making a reservation through your online booking engine. The system tracks requested add-on amenities and services via a reservation options calendar, making it easy for staff to stay on top of which reservations requested what. And any charges attached to reservation options are automatically added to the guest's bill.
Front desk agents can also add incidental charges to bookings at any time if guests request extra amenities or services after they arrive. 
The key to offering the right amenities is knowing your guests and tailoring these services specifically to them. Hotel Erwin in Venice Beach once ran a special offer that included a tattoo by their in-house tattoo artist, an ice pack, moisturizer and a bottle of tequila for their ink-happy customers. (Here's to hoping they drank that tequila after they got their designs!)
While you don't have to make a literal permanent mark on your guests, you can leave a lasting impression by making their stay as memorable as possible with extra-special amenities that elevate the stay experience. Manage those amenities with automated reservation software to ensure every guest gets what they want, and they'll come back again and again.