In our Internet Age of online shopping and instant gratification, online bookings are essential to any hotel's sales strategy.
Proof lies in the success of OTAs (online travel agencies) like Expedia and Booking.com, but lodging operators shouldn't rely entirely on third-party channels to sell rooms online. While the extensive reach of OTAs makes them important to a property's distribution strategy, OTA commissions can eat away at a hotel's bottom line if dependency on these channels is too high.
The key to maximizing RevPAR is selling rooms direct. And because over half of travelers prefer to book accommodation online, it's essential for lodging operators to provide the option to book direct through the property's own website to capture those bookings.
But that's only half the battle. When it comes to the booking process, a smooth user experience is crucial to winning conversions. Here, we can again look to the popularity of OTAs as proof; OTAs have online reservations down to an art, providing an intuitive, user-friendly booking process across all devices (from desktop to mobile). Your direct online booking engine should be quick to load, intuitive to use, mobile friendly and secure. It should be powerful and flexible to allow you to sell your rooms and packages the way you want.
Direct Online Bookings with WebRezPro
WebRezPro offers a choice between two responsive online booking engines for your property's website—the Carousel Booking Engine and the Parallel Booking Engine.
Both options are fully integrated with the property management system (PMS), meaning your online booking engine is always up to date with live availability and rates. Reservations coming through your property's website are automatically sent to WebRezPro PMS and availability is instantly updated, saving you time and avoiding overbooking.
Offering a high degree of flexibility, WebRezPro booking engines can sell all manner of rates and packages, from limited-time offers and password-protected rates to add-ons and gift vouchers.
Whether prospective guests are booking on a desktop computer or their smartphone, our responsive booking engines automatically detect and adapt to any screen, providing a user-friendly and secure experience across all devices.
Both booking engines are commission free and provide analytics so you can keep track of bookings coming direct through your website. So, what's the difference between them? The Carousel and Parallel booking engines each offer a different style and feature set to best suit all kinds of properties.
Carousel Booking Engine
Ideal for properties with up to 10 room types, the Carousel Booking Engine is great for showcasing your rooms with large default slideshow images. But the stand-out feature of this booking engine is the rate carousel, which allows users to easily view and select rates for dates on either side of their initial selection—a convenient feature for customers with flexible travel dates, and great for driving conversions.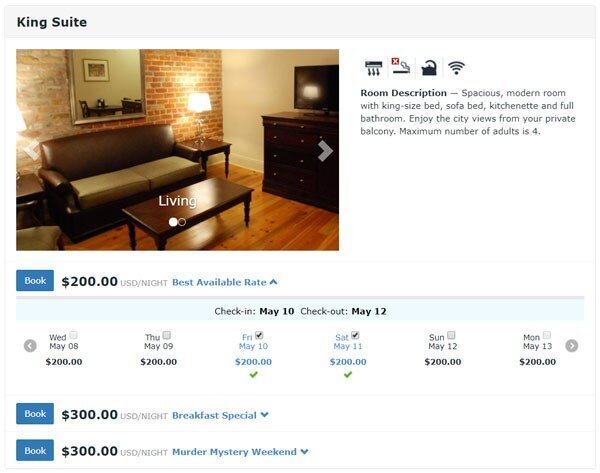 Carousel Booking Engine Features:
>> Rate carousel – After their initial room search, users can easily add or remove a night from their reservation based on rates and availability.
>> Slideshow – default room images are large and displayed inline (not in a pop-up window).
>> Room amenities are displayed as icons.
>> Responsive design.
Parallel Booking Engine
Featuring a compact display, the Parallel Booking Engine was designed for properties with more than 10 room types, loading results fast. Default room images are displayed as thumbnails, but large slideshow images can be viewed in a pop-up window.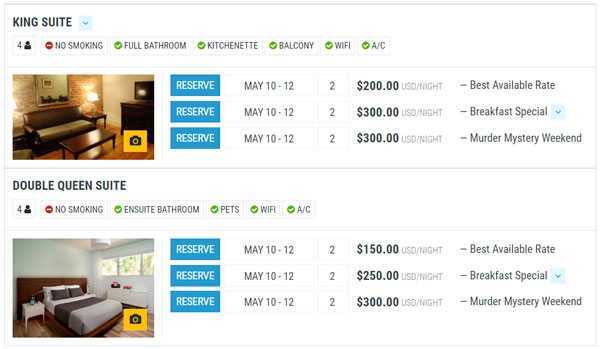 Parallel Booking Engine Features:
>> Fast loading, ideal for properties with 10+ room types.
>> Compact display.
>> Slideshow – default room images are displayed as thumbnails; large images can be viewed in a pop-up window.
>> Room amenities are displayed as tags.
>> Basic background customization is available.
>> Responsive design.
Both the Carousel and Parallel booking engines are available in WebRezPro version 10.5.27 and higher.
Your online booking strategy directly impacts the health of your business. Make sure you're converting lookers into bookers with a user-friendly, commission-free online booking engine that fits your property. Contact us to learn more about how WebRezPro can drive direct bookings through your property's website.