An online booking engine allows you to accept direct (commission-free) bookings 24/7 through your property's website. In this day and age, every property should have one. All the beautiful hero images and polished phrases in the world won't do you any good if your guest can't follow through the moment they decide to book. Your engine needs to be clear, convenient, and consistent with your brand. 
The booking engine not only gives guests the ability to complete a booking whenever they want, it shows them you're ready for them, and you know what you're doing. Your website is the online face of your hotel, and that face needs to be ready to welcome guests.
Here are five reasons why an online booking engine is essential to your bottom line.
1. It's more efficient
Ninety-seven percent of hotels across the United States have staffing shortages and have to do more with less. An online booking engine allows guests to make reservations and input information themselves instead of calling your front desk and having your staff do it. Integrated with your property management system (PMS), online bookings are automatically updated to your PMS, so you don't have to waste time double-handling reservation information.
This frees up staff to manage reviews, respond to emergencies, and engage with guests face-to-face. When guests stop by to ask what the best restaurants are, it's easier for staff to rhapsodize about the Asian fusion place next door if the phone isn't blaring off the hook at the same time.
An online booking engine is more efficient for guests too. It's easier to type your email into a web form than to spell it multiple times over the phone. (A as in Aardvark…)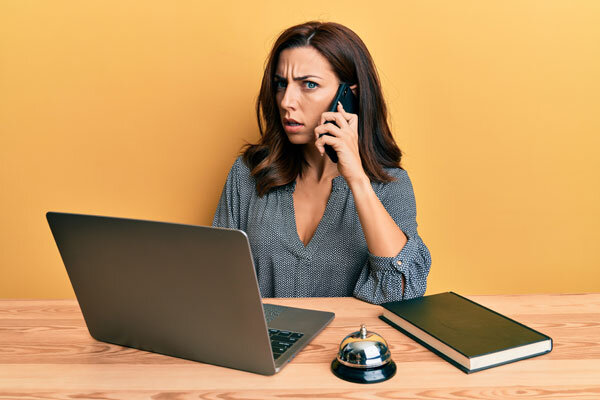 2. Reduces human error
Typing your own email is also more accurate than spelling it over the phone. Staff doesn't have to guess if a guest meant to say "h" or if they were clearing their throat. Your guests know what their own information is, so they're the best people to catch typos and errors entering that information.
If the online booking engine is integrated with your property management system (as it should be), bookings submitted through your online booking engine immediately appear in your PMS, and your availability is automatically adjusted in your PMS and online. This prevents double bookings and disgruntled guests glaring over the counter asking if you're sure you don't have the room and then writing a bad review…
3. It's what guests want
Eighty-three percent of US adults would rather book their travel online. It's faster and more convenient. Guests can book from anywhere at any time. They can pick a few minutes when it's easy for them, and they don't have to wait on hold. And booking online isn't only for younger generations; 84% of baby boomers book travel online. 
If four fifths of your guests wanted you to switch things up at the front desk, you would have to do it or lose potential revenue. It's the same with an online booking engine. Online, your website is your front desk.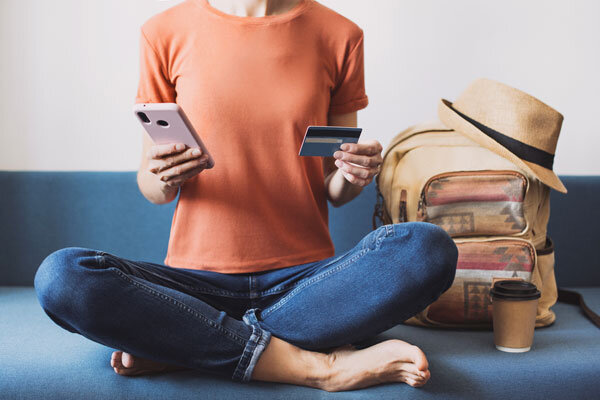 4. Reduces reliance on OTAs (and increases profits!)
It's better for guests to book directly on your hotel website rather than an online travel agency (OTA) like Expedia or Booking.com where your hotel has to pay commission, which generally falls between 15% and 30% of a booking.
Your own hotel website is also a fuller showcase for your brand because everything in it is under your control. You can customize your booking engine with images and brand colors for a consistent look and feel, sell special rates and packages, and offer add-ons and upsells. 
On sites like Expedia, you can't choose your color scheme outside of your pictures, and the booking engine is standardized. In a site built for everyone, it's harder to show guests why they should choose you.
5. Improves customer service
Your online booking engine gives you the opportunity to collect valuable information about your guests, so you can personalize their experience when they arrive at your hotel. They can select add-ons, e.g., spa services or breakfast in bed, provide their arrival time, and make special requests. All that information goes directly to your property management system without you having to type it in.
One caveat, try not to offer too many extra options at this stage, only the most important. The key benefit of an online booking engine is efficiency on both sides, and guests will abandon a booking if it takes too long.
You can also set your property management system to send an automatic confirmation email, personalized with guest reservation information, immediately after a guest makes a reservation, reassuring them that you'll have their room ready.
An online booking system isn't a nice-to-have. It's a necessity that improves efficiency and the guest experience, and demonstrates your credibility. A spreadsheet and some paper will not allow you to stay competitive. If you're looking for a good booking engine—and a good property management system to go with it—you're welcome to reach out for a free, no-obligation demo.