Your booking confirmation email lets guests know you've received their booking, have all their details correct, and that there will be a place for them when they arrive. It's that little bit of reassurance they need that everything went smoothly.
But booking confirmation emails do more than simply confirm a guest's booking. It's your first direct touchpoint with them and a chance to welcome them to your hotel. Confirmation emails have the power to build your guest's trust and loyalty, get them excited about their upcoming stay, and generate additional revenue.
Show them that you have everything under control, and they were right to book with you. Here's how:
Subject Line
You don't need anything elaborate or witty here. Guests will open it simply because it's the confirmation email. Across different industries, order confirmation emails have a 65 percent open rate. Customers know it's information they need. 
The best subject lines are short, under 60 characters. However, you should include your hotel name and the confirmation number to make it easier to spot if guests need to refer back to it. Be welcoming, in line with your brand voice. For example, "See you soon! Your stay at Hotel Awesome is confirmed – #12345."
Reservation Information
In order for guests to be reassured that you have their details correct, you need to include those details in the email. Summarize information so guests can scan it quickly. You don't need full sentences here; a table or list is best. Be sure to include:

Confirmation number
Guest name
Number of guests on the booking
Property name
Reservation dates
Room type booked
Rate type booked
Cost of the booking and payment information
Check-in/out times
Deposit and cancellation policies
Contact details and directions to your hotel are helpful as well. You don't want guests getting lost, especially if you're in a city full of one-way streets!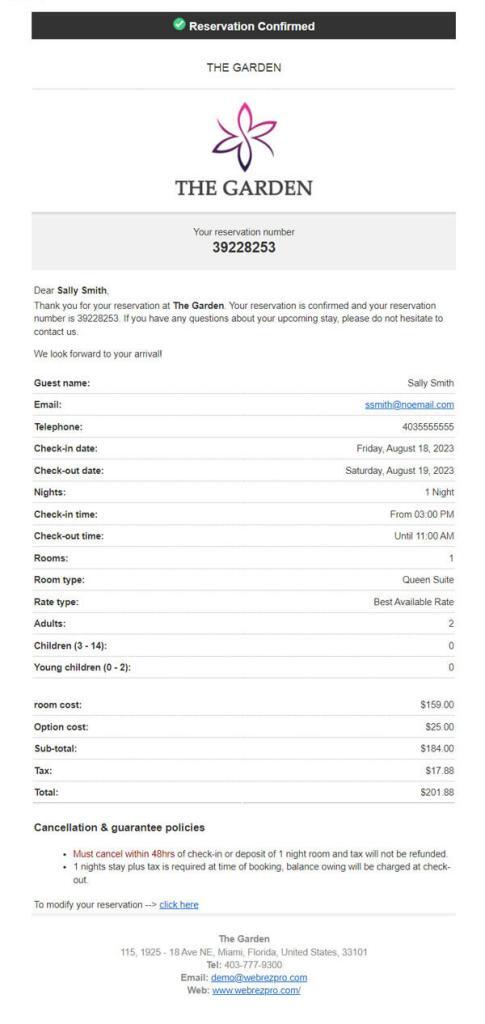 Self-check-in
Let guests know that they can use self-check-in and include a link or call to action button that takes them to your online registration form or check-in app. Use a contrasting color and plenty of white space so that this button is easy to spot.
Self-check-in saves time and makes it easier on everyone involved. Guests don't have to stand in line, and staff don't have to worry about how antsy they're getting. 
Branding
The tone of your confirmation email should be consistent with your property's "personality" and your other branded content. If you're Claridge's in London, it would be weird if your confirmation email said "'Sup, Harry." (If you're that fancy, you want to sound a bit more like Jeeves.) 
Including information about relevant amenities and upsell offers is helpful, but be careful not to overwhelm customers with text or options. You can always elaborate in later emails or include a link to more information. Put your most important content first so that readers don't have to scroll down to see it.
Design should be visually appealing, easy to read, and align with the branding your guest has already seen on your website. If your brand colors are blue and green, a blue and red themed email will seem slightly off. That said, you don't have to be Picasso (in fact, it's probably better if you're not). What's most important is readability. Use clear fonts and plenty of white space and group related items together.
Images
Images should both inspire an emotional response and convey important information about your property without resorting to large text blocks (which your guest will skim over). Guests don't have a lot of time, and information is faster to extract from images than from words.
Choose images that make your guest go wow, preferably ones that showcase your amenities (this is where that crystalline pool photo comes in handy). Hint: Compress images so they don't slow the email's load time.
Call to Action
This is one email guests are likely to open—possibly multiple times—so take the opportunity to let them know what you'd like them to do next, whether it's to check in online or check out your upsells. Don't go too heavy on the upsells though. Guests need to be able to read this email quickly.
Ensure the call to action is clear ("Check in online," not "Click here") and, as we said earlier, make those buttons easy to spot with a contrasting color and plenty of white space around them.
Mobile Optimization
Your website isn't the only thing that should be mobile friendly. As of 2019, smartphones and tablets were used to open 42 percent of emails. Optimize all emails—not just your booking email—for mobile to ensure they look good and are easy to read on all devices. 
The same design principles apply on mobile (clear font and plenty of white space), however, make it easier on yourself by choosing software built with responsive design. Responsive design automatically adapts to the device it's being viewed on.
Automation
You don't have time to type and send every email by hand (or if you do, you really need to look at increasing your occupancy numbers!). Instead, choose a cloud property management system like WebRezPro that enables you to send the right email at the right time to the right person automatically. Simply create premade templates, set the triggers, and let the system do the rest.
Consider creating different templates for different types of customers, e.g., corporate guests and event groups, and even for different room and rate types, to segment your marketing and ensure content is relevant. 
It's important to confirm bookings as soon as possible, ideally immediately after a booking is submitted. You don't want to leave guests wondering! Automation enables you to send a confirmation email to the guest as soon as a booking is created in the system by front desk staff or guests booking online.
WebRezPro includes a standard default confirmation email that can be customized with your property's logo, or you can create customized templates worded the way you want. The WYSIWYG ("What You See Is What You Get") editor makes creating customized templates easy. Alternatively, your web designer can exercise their creativity using the advanced HTML formatting option. WebRezPro also offers integrations to email marketing platforms like Cendyn, Revinate, HMA, and Constant Contact. 
A well-constructed booking confirmation email starts you and your guests off on the right foot. It's like the appetizer before the main meal…It doesn't fill them up, but it gives them a taste of what's to come and builds their enthusiasm. So make the most of it!