If you've ever visited a pioneer village or watched Little House on the Prairie, you'll recall the dry and canned goods store where all stock was behind the counter, accessed only by the shopkeeper. Nowadays, of course, we're well set up to pick out our own groceries—to a point where you don't even need a cashier anymore to pay for them. But this is a hotel blog so why are we talking about grocery stores? To make the point that the evolution of customer service is self-serve—from self-serve gas stations to self-serve ice cream. It's only natural that guests are coming to expect self-check-ins at hotels, too.
What is Self-check-in?
We're all familiar with the traditional way to check in to a hotel, complete with standing in line, completing on-the-spot registration, and receiving hotel instructions. Front desk staff must verify IDs, enter information into the property management system (PMS), provide the Wi-Fi password, breakfast times, etc., and hand over a room key.
In a nutshell, self-check-in (also known as contactless check-in) bypasses all of these steps at the physical front desk. Guests receive an email or text message before their arrival, inviting them to complete registration online. All information that is traditionally gathered at the front desk by your staff is easily entered by the guest. Upon arrival, guests simply collect their room key from the front desk, unless they have already received their mobile smart key via online messaging.
1. Self-check-in Gives Hotel Guests What They Want
"I love standing in line in the lobby," said no guest ever.
The case for self-check-in is not merely anecdotal.
Technology provider Criton surveyed 7,000 travelers during the pandemic to ask if they would use an app to check in to a hotel when they traveled next and 80% said yes. Even if this number was inflated, the evidence to offer online check-ins is compelling.
This makes sense when we consider the increased use of and reliance on technology during the pandemic. Shopping and messaging apps made it possible to socially distance while still meeting our needs for connection and self-reliance.
It's a natural progression that hotel guests now want the convenience of online hotel check-in to bypass the front desk (or at least shorten wait times), whether that's for reasons of safety or efficiency.
This is further backed by a survey of 1,000 people in the United States conducted by Metova during the height of the pandemic that found 86% of guests would choose a hotel that offered mobile, contactless check-in over a hotel that did not.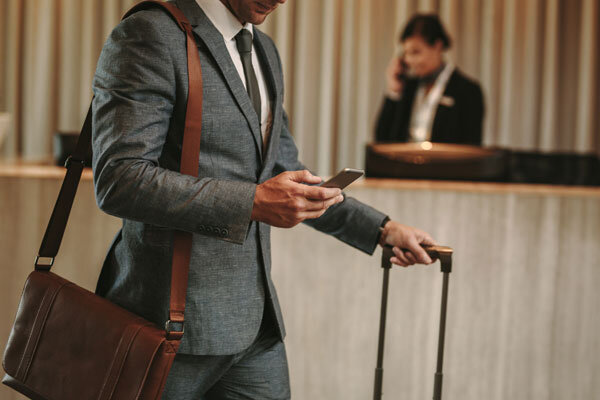 2. Self-check-in Streamlines Front Desk Processes
Offering self-check-in not only serves to please a large segment of your guests, but it also streamlines your front desk operations, which is paramount when staffing may be lean at a time when travel is booming.
Offering self-check-in to guests is a set-and-forget automation that, once set up, sends guests timely email invitations to check themselves in at no extra effort on your (or your staff's) part.
While a segment of your guests will still want to check in at your front desk, other guests will leap at the chance to complete registration online in advance. For these guests, there's no standing in line, waiting to fill forms out. For your staff, there's no need to ask guests for their driver's licenses and signatures as all required information has already been collected digitally.
Add keyless entry to your self-check-in process and guests can bypass the front desk altogether, using their smartphone to unlock their guestroom.
3. Self-check-in for Security
While online hotel self-check-ins pre-date the pandemic, the rise in the technology's popularity is certainly owed to the need for socially distanced and sanitized processes. Self-check-in is still the best way to reduce in-person contact and inhibit the spread of all kinds of germs and viruses. For this reason, self-check-ins provide a level of comfort and security.
But there's another layer of security guests appreciate with self-check-ins: more control and information at their fingertips. Email communications provide guests with comfort and reassurance that their stay is "good to go," especially at this time when overloaded airlines (for example) are making travel plans unpredictable. As a society, we've had to deal with a lot of unpredictability; taking control and checking in before arrival can provide a little extra comfort.
And for guests who have social anxiety or other neurodivergencies (from autism to OCD), the ability to have control, reduce face-to-face communication, or bypass hectic lobbies and lines can provide much relief.
From a hotel perspective, providing documentation or current information about changing protocols can also be delivered as part of your self-check-in communications. Knowing that guests have received important information by email is an added safeguard versus verbal communication, which could be easily overlooked, especially during busy times.
4. Self-Check-in Provides Upsell and Personalization Opportunities
Asking guests whether they want to upgrade their room or add breakfast room service during their check-in is not a pleasant experience for anyone when there's a line of anxious others behind them, awaiting their turn.
Instead, inviting guests to check in online before their arrival gives you the perfect opportunity to lay out add-on offers—with compelling marketing content and enticing images. Use guest data collected during booking and online registration to serve up relevant offers so those on a family vacation aren't receiving romance package information, but rather more suitable offerings, like an in-room family movie night add-on. In this way, you'll be using online self-check-in to provide even greater customer service tailored to each specific guest.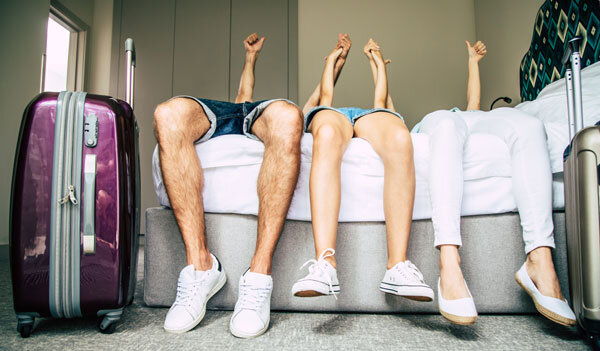 5. Self-check-in Gets Guests to Their Rooms Faster
Getting a guest to the comfort of their room as soon as possible is especially important for those guests that have traveled far and long, or for those traveling with kids. For these guests, putting their bags down and getting settled or flopping onto a comfortable bed is all they want to do—checking in at the front desk is yet another obstacle. Allowing guests to check in online before they arrive allows them to flop sooner. And they will be grateful for it!
If you are a pet-friendly hotel (and there are many compelling reasons why you should be these days), being able to bypass the lobby is a perk for your pet guests and their owners too. Guests are unable to leave pets in hot cars, especially during the dog days of summer, but may be reluctant to bring them into the lobby for a variety of concerns. Online self-check-in allows guests to get their pets to their room faster. As a hotelier, you'll also reduce incidences of territorial marking (i.e., dogs peeing), reactive dog behaviors triggered by seeing other animals, and complaints from guests who may not be animal lovers.
Guest self-check-in improves efficiency and the guest experience and is easily integrated into your operations with an automated property management system like WebRezPro. Using WebRezPro's guest agreements feature, hoteliers create digital registration forms that are automatically sent to guests. Once completed, guest agreements are automatically attached to guests' reservations, making it impossible for paperwork to go astray. With the majority of guests booking online already, checking in online is a natural progression—and expectation.
Ready to offer self-check-in at your hotel? Check out our best practices for contactless check-in to get you started on the right foot.