From happy hour to work stations, communal coffee to business socials, recent years have transformed hotel lobbies into social hubs. But, with COVID-19, many hotels have traded in the hub-bub for hub-blah.
Yet your lobby remains as the heart of your hotel. With a little ingenuity and sanitized elbow grease, you can still create a hotel lobby that's as welcoming as it is safe with our how-to guide to creating a welcoming hotel lobby during COVID-19.
1. Clear and hospitable guidelines
There's no room at the inn for ambiguity. Keep your hotel's COVID-19 protocols front of house and front of mind with simple, clear, concise and friendly communication in a variety of ways so it can't be missed.
Pre-arrival messaging: Web content and booking confirmations set the scene before your guests arrive at your hotel and are as important as in-person first impressions. Put them at ease with clear instructions on how to check-in, and what to do on arrival, along with other pre-arrival information. Automated SMS or email through your guest messaging platform make it easy to keep in touch with guests if protocols change or reminders are needed.
Clear Signage: Remove guests' guesswork with clear hotel lobby signage. However, if done poorly, guests can be left confused and even defiant! On the other hand, effective signage makes for cooperative and at-ease guests. Let's compare two signs: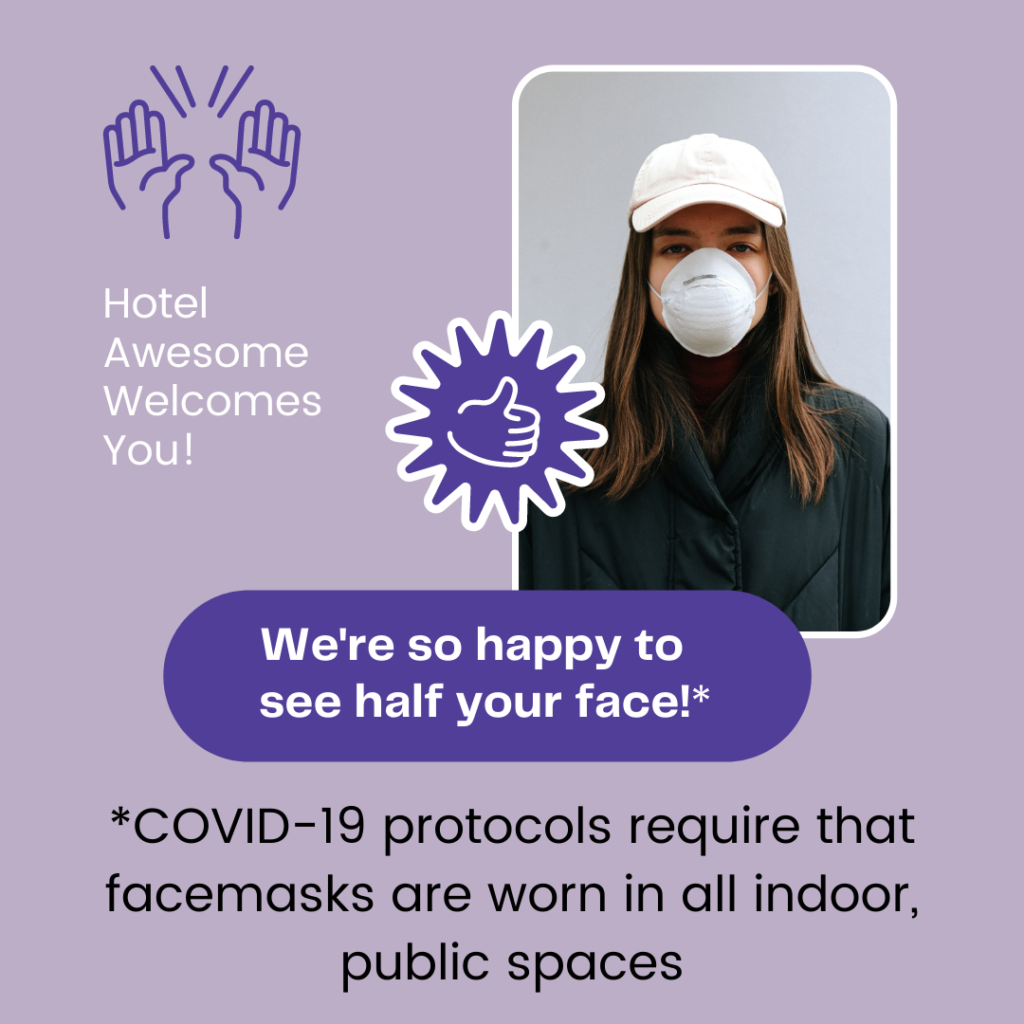 This COVID-19 lobby sign uses a friendly, low-conflict color but is still bold and stands out. A friendly tone is achieved with subtle humor and visual cues (high five and thumbs up). The image also tells guests immediately what is expected (that they wear a facemask) even if they don't read the sign or don't speak English.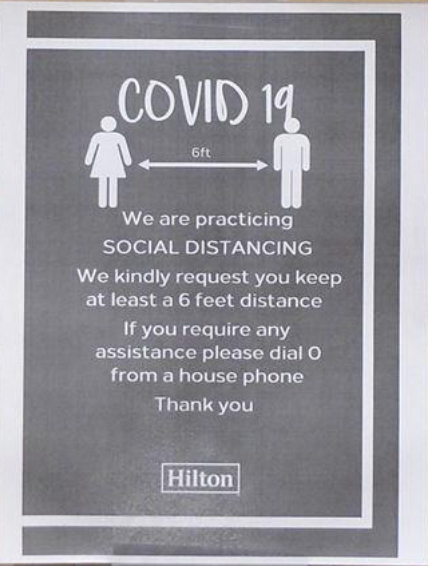 In the second poster, we love the "kindly request" language and the clear visual, however, we think the grey color and long text block makes the information easy to gloss over and miss.
Remember that however you share safety guidelines and protocols, use the opportunity to reinforce your brand personality.
2. Contactless Check-ins and Check-outs
If you haven't done it yet, now is the time to set up contactless check-ins with a PMS that offers mobile self-check-ins. Guests can complete secure digital registration cards online prior to arrival to streamline procedures and even eliminate trips to the front desk.
Efficient check-ins are welcomed by everyone, not only those wanting to limit their social contact. And during the pandemic, the shorter lines (and less time having to wait) is a much welcome sight. If you don't have this option, consider staggering check-in and check-out times to reduce standing around.
3. Connect with Guests
Forget six degrees of separation, we're in the age of 6-feet of separation! We're all longing for a bit of connection beyond yet another Zoom call. Even from behind layers of plexiglass and filtered masks, make the effort to make your interactions less transactional and more personal.
How? A smile goes a long way; while mouths may be covered, a smile can be seen in the eyes and in the tone of voice. Hand gestures, such as a wave or a thumbs up, are an easy way to give a positive message as well. And if guests don't respond in kind, don't take it personally. We're all a bit out of practice when it comes to social skills.
Even if your property uses contactless check-ins, ensure you always have staff available to add this much-needed human touch to your hotel. Extra staff during peak times is also essential to direct foot-traffic flow, answer questions, and ensure guests are wearing masks, etc.
4. Make it Easy
Along with clear signage, make guest hygiene effortless with hand sanitizer available everywhere (front door, front desk, elevators, etc). Especially when masks are mandatory, have free masks at your disposal. Or level up with welcome packages that contain travel-sized hand sanitizers, branded masks, and printouts of current protocols and updated hotel amenities.
5. Keep it Clean
Once only done out of sight, cleaning is now a sight welcomed by guests as they are put at ease to see standards being upheld.
In a small hotel, it may be yourself or front desk staff that whips around with cleaner. Turn it into a timed task and take away the mental load of having to remember to do it and set up maintenance alarms in your PMS.
6. Add Life with Plants
Aim for sterilized, not sterile—it's a lobby after all, not a hospital. Living plants are not only aesthetically pleasing but are natural air purifiers. Studies have also shown that plants boost positive feelings and sense of calm. Large plants can also be used strategically to distance guests, such as placement between seating areas or blocking off areas no longer in use.
7. Strategic furniture placement
Inside: Furniture can also be used strategically. Whereas lobbies had become social areas for guest mingling, nowadays the emphasis (read: requirement) is on household bubbles and couples. Place lobby seating in pairs or small clusters for families, ensuring each area is at least six feet from each other.
Outside: If you have space and the weather, add an outdoor patio space for your guests. Perhaps this becomes an additional waiting area as your guests wait for their turn to check-in. Outdoor gas heaters can go a long way in chilly weather!
8. Get Creative
Think outside of the box while staying inside the box of COVID-19 regulations. Here are some creative ideas we've heard from our hoteliers on how they're making their lobbies more welcoming during these times:
Music
Make music work for your hotel. Calming spa music can be pumped outside your front door to set the tone and calm nerves before guests even enter. But do be mindful of the volume if you're doing in-person check-ins since masks and screens already make communication a challenge.
Digital Signage
Make your messages stand out with digital signage as provided by the likes of HOTstream. Multiple messages can be cycled through and easily updated with the most current information.
Floor Markers
From supermarkets to banks, floor markers show people where to stand to ensure social distancing. Think beyond the line and use floor markers in fun ways, such as:
Selfie spot: label a marker in front of a painting, a nice view, or good lighting. Include a hashtag to encourage a little social promotion!
Alone-time spot: position in front of a chair and encourage a little R&R.
Coffee spot: coffee stations are gone, but how about a spot at your front desk? When a guest stands on the spot it triggers staff to fetch them a coffee from behind the front desk, then placed on the counter for the guest to retrieve (and enjoy!).
Getting guests to your hotel during a pandemic is a hurdle, but one that should be capitalized on because every guest is a potential repeat visitor. Efforts to make your hotel not only safe but welcoming in creative ways go a long way to boosting your hotel's reputation and achieving repeat hotel bookings.
How do you keep your hotel lobby a welcoming space during a pandemic? Drop us a line and we'll share it with our social media community @webrezpro.