WebRezPro is the proud sponsor of Hotel Tech Report's 2022 edition of the Property Management System Buyers' Guide, which is designed to help hoteliers find the best PMS solution for their business.
"The hotel industry has been disproportionately impacted by the current pandemic and hotels everywhere have been forced to do more with less. The hospitality industry as a whole has been incredibly resilient over the past 12-18 months with some hotel groups using this period as an opportunity to accelerate digital transformation initiatives at an unprecedented pace. This Property Management System guide is designed to give buyers exactly the information they need to make an educated decision as they rethink the way they use technology to manage their hotels," says Hotel Tech Report CEO Jordan Hollander.
There are many things to consider when choosing a property management system and many software solutions to compare, which can make the process a bit overwhelming, especially when resources are tight. Read on to find out how WebRezPro meets key requirements outlined by Hotel Tech Report, then check out the free Buyers' Guide for further guidance and helpful tools to help you find the perfect PMS for your property.
The Purpose of a Property Management System
A property management system enables lodging providers to efficiently coordinate and manage operations from a central system. From checking guests in and out to making and modifying reservations, managing rates and inventory, scheduling housekeeping and running performance reports, a PMS streamlines daily operations for a better guest experience and more revenue.
Connecting all hotel departments, PMS are designed to:
Improve workflow. Through data integration, PMS streamline and automate manual administrative tasks, improving productivity and greatly reducing costly, time-consuming errors.
Improve revenue. Flexible rate management tools and channel management integrations allow you to adjust rates quickly across all channels to maximize bookings and revenue, while real-time performance reports help improve business strategy.
Improve the guest experience. Streamlining the operational side of your business, PMS reduce service-impacting errors and give you more time to focus on hospitality. Guest profiles help you recognize returning customers and to remember their preferences, and automated guest emails improve communication.
Key PMS Features
Hotel operations evolve with guest expectations, technology and the needs of the market. It's important to find a future-proof system that can evolve with your business. Look for a proven, innovative solution with the following important features:
Easy-to-use interface
The purpose of a property management system is to make running your business easier and more profitable—and to do that it must be easy to use, despite the depth and breadth of functionality modern PMS deliver. A user-friendly interface is key to training staff quickly and reducing costly errors. WebRezPro's modern user interface is intuitive and easy to learn, whether managing reservations, rates or inventory, checking guests in, scheduling housekeeping, or generating reports. An online user manual and video tutorials are readily available on demand from within the system while you work. Users feel confident with our system quickly, which enables us to offer free training and product support.


Centralized dashboard
The dashboard provides an overview of key metrics in real time so that you can quickly see what's happening in your hotel. When you log in to WebRezPro, the dashboard greets you with a graphical snapshot of your business for the current day. Occupancy, ADR and RevPAR data for the week, and check-ins and check-outs for the day give you a clear overview of performance at a glance. The dashboard is conveniently accessible at any time from the main navigation or shortcut menu.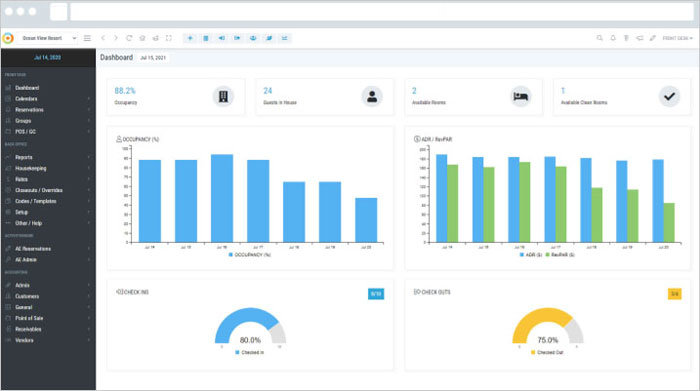 Government compliance
Before purchasing a new PMS, make sure it can comply with your local tax reporting requirements and billing regulations. This is especially important to confirm if the software is not already being used by other properties located in your area. WebRezPro offers flexible tax and invoicing setup and is used in over 40 countries. The system automatically tracks tax collected and features a flexible tax reporting function that makes it easy to keep track of tax breakdowns and what is owed to the city, state and/or country.


Reporting suite
Production and financial reports are critical for improving business operations. Look for a PMS that supports your business's reporting needs, from booking and occupancy reports to financial KPIs. WebRezPro includes fully integrated accounting and tracks data across operations in real time for a clear picture of current performance and how performance compares over time. The system generates both standard and custom reports, and allows you to drill right down to the details using various filters, including date ranges, room types, source codes, etc. Reports are easily exported and emailed directly from the system.


Reservation modifications
Modifying and moving bookings should be quick and uncomplicated, allowing you to keep track of reservations and reducing the likelihood of overbooking. In WebRezPro, reservations can be extended or moved to a different room simply by dragging and dropping the reservation on the interactive calendar. When a reservation is moved to a different room type on the calendar, a pop-up will allow you to choose whether or not to recalculate the rate. Or, all reservation modifications, including room moves, date changes, guest information, price adjustments, early check-outs, etc., can be done conveniently from the reservation folio itself.


Personalized taxes and fees
You should be able to customize taxes, fees, and cancellation policies in the combination that best suits your business. WebRezPro's flexible software allows you to apply specific taxes to packages and incidental products and services, apply tax exemptions to rates and reservations, and create multiple cancellation and guarantee policies that can be applied to different rates and room types.


Guest communications
Automated pre- and post-stay communications are key to improving the guest experience, and are more important than ever in the wake of COVID. From guest profiles and automated pre- and post-stay emails to contactless check-in and direct integrations with dedicated guest engagement platforms, WebRezPro offers all the tools you need to record guest preferences, identify returning customers, and personalize communications to strengthen the guest relationship.


Channel availability
Staying competitive and growing revenue greatly depends on your ability to sync availability to multiple channels in real time. Integrating your preferred GDS and OTA channels with your PMS allows you to manage rates and inventory across all channels directly through your PMS. WebRezPro offers two-way integration with multiple GDS and OTA channels, and channel managers, saving significant time and reducing overbooking by automatically synchronizing rates and availability across channels, and sending reservations from third-party channels straight to your PMS.

One of your most important channels is your property's own website. Make sure you're equipped to accept direct bookings 24/7 with a commission-free online booking engine that is fully integrated with your PMS for live availability and rates. WebRezPro's modern, easy-to-use online booking engine is a customizable, mobile-friendly solution that accommodates packages, discounts, add-ons, and password-protected rates, as well as booking modifications and cancellations, and offers conversion-driving features like unit slideshows, strike-through pricing, close-match results, and multiple languages and currencies.


Mobile accessibility
COVID-19 made every industry rethink the way they work. Gone are the days where managers are always at the front desk or in the physical back office. A modern PMS should support managers wherever they are. Look for a PMS that you can securely access and operate from mobile devices, and includes mobile housekeeping reports and contactless check-in functionality. Built with the latest responsive web design technology, WebRezPro's mobile-friendly system automatically adapts to the device accessing it, allowing managers to oversee operations from off-site and liberating staff from the front desk. WebRezPro includes a digital guest registration feature for contactless check-in and also offers direct integration with self-check-in apps, keyless entry solutions and payment gateways for a fully automated mobile self-check-in experience.


Customer support
The PMS is your core operational system and you need to know you can count on it. Look for a solution with a history of reliably serving operations like yours and a track record of evolution. Successfully serving lodging operations since 2003, WebRezPro has a solid and steadily growing customer base and is consistently praised for its responsive and helpful product support team (just check our user reviews!). Training and ongoing support is included, as are regular software updates. As well, an online user manual and video tutorials are available on demand conveniently from within the system.
Integrations and scalability
Other key hotel systems, including RMS, CRM, electronic lock solutions, and distribution channels, all need data from your PMS. Integrating your other systems with your PMS improves workflow and data accuracy by automating the transfer of relevant data between systems so that you don't have to do it manually. System integration is key to maximizing efficiency, inspiring innovation and remaining competitive as your business grows. Look for a well-connected PMS that works with (or is willing to work with) your preferred solution providers. Check out WebRezPro's 125+ (and counting) integration partners.

As your business expands, your PMS should be able to scale up to support your business's growth and evolution. Whether you plan to add rooms, open a new location or offer new activities down the track, choose a flexible and scalable PMS like WebRezPro that can support your business goals now and in the future.

Choosing a new property management system is an important decision. It's not an easy task, but finding a solution that checks all the right boxes is worth the effort. For helpful tools to guide your search, take a look at Hotel Tech Report's free Buyers' Guide for 2022.
"WebRezPro was the perfect sponsor for this project because the team deeply understands that smart buyers are researching all available options and WebRezPro is focused on being a partner to the hotel industry regardless of whether they are making a sale. That's the mentality that makes industry leaders," said Hotel Tech Report's Jordan Hollander.
If you'd like to take a closer look at WebRezPro, contact us for a free, no-obligation demo.