Demand fluctuation, a competitive marketplace, and unpredictable world trends require hoteliers to be more agile than ever before. But implementing strategic solutions can provide your hotel with a firm foundation from which to weather any storm. Let's look at the top five operational challenges hotels are facing now and—most importantly—how to best meet them.
Staff Shortage
Short-staffed? Sadly, you're in good company. In fact, according to the AHLA, 97% of hotels reported shortages in 2022. The most popular recruitment incentives include wage increases (90%), flexible scheduling (71%), and expanded benefits (43%). And yet the problem persists.
Solution:
The above initiatives are helping hotels attract more staff. We also recommend approaching recruitment as a marketing campaign by harnessing the powers of social media and digital advertising. Offering recruitment bonuses to current staff will boost word-of-mouth as well. Find out what attracted your staff to work at your hotel and what they enjoy most about their job. Then use those testimonials in your outreach.
Even at the best of times, employee retention can be a challenge. Leverage existing hotel technologies to streamline operations so you can continue to operate with a lean staff while managing guest expectations. Online bookings, routine guest communications, check-ins, housekeeping management, and accounting and reporting are key operational tasks that can be automated by your property management system (PMS), saving hours of time.
Unmet Guest Expectations
A recent report analyzed guest reviews and found that poor ratings were most commonly related to dissatisfaction with cleanliness, dining options, and customer service. Often, guests express disappointment because marketing material creates an unrealistic expectation.
Solution:
It's imperative to pinpoint pain points from your own customers' reviews and leverage post-stay surveys (which can be sent automatically upon check-out) to listen to your guests and address any issues before they become reviews.
Hospitality Technology's latest Customer Engagement Technology Study shows modern travelers appreciate self-serve stay experiences with 73% embracing the use of mobile devices to make reservations and interact with a hotel. Providing a mobile guest experience—from your website and online bookings to check-in and communications—is key to providing the kind of seamless customer service guests expect. 
Mobile applications allow you to collect data too, via online bookings, contactless check-in, and SMS messaging, for example. Be sure to collect as much data from your guests as possible and maintain a healthy guest database in order to offer more personalized experiences that exceed expectations. Try to determine why they are traveling (business or pleasure, for example) and collect information like personal preferences, interests and ancillary purchases. Collecting guest data can help you identify your core guest demographics so you can determine what type of dining options, amenities, or stay-and-play packages you should offer to satisfy your guests and meet their needs.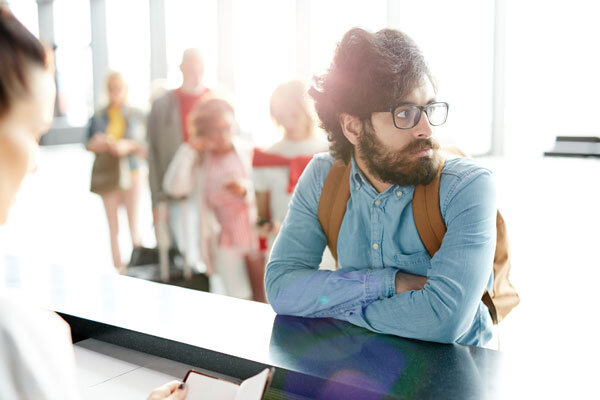 Changing Travel Trends
Travel trends are ever-changing and subject to world events beyond our control. If the pandemic taught us anything about hotels, it's how agile the industry can be—and must be. From no demand to an influx of demand, from technological advancements to luxury staycations—hotel trends come and go. So just how can hotels keep up?
Solution:
During the pandemic, we learned how traditional hotel spaces can be turned on their head. Hotel guestrooms were transformed to private dining rooms, meeting rooms were rented out as private offices, and convention spaces were used as socially distanced galleries—just to name a few examples! Hotels that were able to try new approaches came out on top. And it's this attitude that can be applied to ever-changing travel trends.
While some flexibility is required with your physical space (such as meeting demand for co-working spaces), other demands can be met with your hotel software. If staycations are trending, design stay-and-play deals that package activities with accommodation and sell them together within your online booking software. Packages can be created and changed up as needed to stay on the cutting edge. With flexible rate and package management tools, you can be as creative and agile as you like.
Bring your offerings to market by building awareness via email campaigns, social media, and digital advertising. 
Disconnected Systems
Disconnected systems are a huge operational challenge for hotels (did we mention HUGE?). Whether you're using a paper guest ledger or have all the latest hospitality software solutions, you'll have huge headaches if your core systems aren't integrated with each other. Disconnected systems negatively impact efficiency, the guest experience and revenue. 
To illustrate, let's say you introduced transactional emails—excellent! Every time someone makes a booking or checks out of your hotel, they'll receive an email with relevant information about their stay. But this will only work if your email system is integrated with your reservation software! If not, a process that can be easily automated will instead remain a manual, time-consuming one.
Solution:
Fix disconnected systems with a well-integrated property management system. When selecting additional software solutions (like guest messaging apps, mobile key solutions, and revenue management systems, for example), ensure they will integrate with your PMS. This way, your systems can talk directly to each other without you having to act as the middleman. You'll gain more time, provide a more seamless guest experience, and create opportunities to generate more revenue.
Declining Online Reputation
If you're faced with several of the above operational challenges, you're probably also struggling with this one. Poor reviews on OTAs and Google, and negative social media comments are serious, since—according to TripAdvisor—81% of guests begin their travel plans by reading reviews.
Solution:
The first thing to do to fix a negative online reputation is to install a reputation management integration. Revenue management software pulls all your reviews together from various platforms and allows you to manage them in one place. This makes catching and responding to reviews much easier (here's some advice for handling negative ones). This automated software also provides reports to help you determine key problem areas so you can prioritize fixing them. 
When integrated with your PMS, reputation management software can automate review requests and post-stay surveys, which provide the opportunity to rectify any issues before they are aired publicly online.
Do you really want to nip problems in the bud? Check in with guests during their stay by email or SMS to ensure they're comfortable and their needs are being met in real-time. 
In the face of ever-changing trends and customer expectations, combined with fluctuating demand, modern hotel software solutions like WebRezPro Property Management System are constantly evolving to meet the needs of their customers. Streamlining operations and providing the data you need to be nimble, WebRezPro can help your property rise to any challenge ahead.