We know choosing core hotel technology is easier said than done. Replacing your property management system (PMS) is not a decision to take lightly and with so many solutions on the market, hoteliers have an increasingly hard choice to make.
Any leading cloud PMS should help you improve your daily workflow, business visibility, and the guest experience by synchronizing and automating operations across your property, from reservations to housekeeping to accounting. But every property is unique and has different needs—and some software solutions meet specific needs better than others.
Make sure you demo your top contenders to find out exactly how the software can support your unique operations. Here's an overview of what we—and most importantly our clients—think sets WebRezPro apart.
Our software is always improving
Ever since WebRezPro launched in 2003—at the dawn of the cloud hotel software movement—the entire team behind WebRezPro has remained focused on continuous improvement. That pioneering spirit is in our company's DNA! From tweaking existing functions to adding new features to full software upgrades, our software developers work in sync with our sales and product support teams to ensure WebRezPro delivers the functionality our customers need. It's accurate to say that WebRezPro is not only built with our customers in mind, but in partnership with our customers.
"Love that the developers are constantly improving the software and are flexible, willing to listen to feedback and open to developing new interfaces." – Front Desk Supervisor, Boutique Property, U.S.A.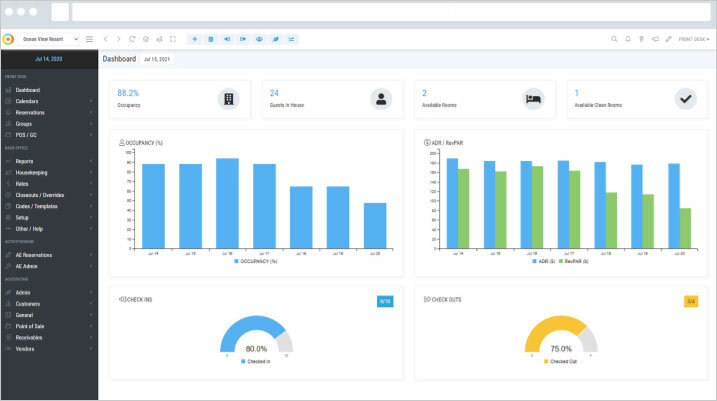 Over the years, the user interface has become more intuitive and better looking. The modern dashboard provides a graphical overview of daily stats, shortcut buttons provide instant access to main functions, and the interactive availability calendar (tape chart) makes viewing, adding and moving bookings a breeze.
"My past experience with another property management system was not a good one. The program almost required a user to have a PHD to operate it. So when we signed up with WebRezPro we were hesitant at first, assuming they were all the same. We have been thrilled that this system is so user friendly." – Resident Manager, Vacation Rentals, Turks & Caicos.
The latest version of WebRezPro is the most mobile friendly yet, offering users a seamless experience across devices. Mobile-first features include a mobile online booking engine, paperless guest check-in, and mobile housekeeping reports. Authorized users can log in to check reservation information and performance reports from anywhere on or off site.
In response to the COVID crisis, we developed features to help hoteliers navigate operations during the pandemic, including contactless check-in. At all times, our mission is to empower lodging operators to improve operations, exceed guest expectations, and to future-proof their business.
"When COVID hit and everything changed overnight, I was so grateful that I could radically change my rate / booking policy combinations (sometimes daily), and keep track of what guests booked from what channel with what policy, etc. I came through relatively unscathed, and I could not have done it without a solid system to back me up." – Owner, Resort, U.S.A.
Flexible features to fit your unique business
WebRezPro offers a level of flexibility you won't find in every system. Our client base includes hotels, motels, multi-property groups, inns and B&Bs, vacation rental companies, hostels and campgrounds. WebRezPro is even used to manage shared workspaces, scheduled activities, houseboat rentals, and kennels!
"The system is reliable and super easy to use for reservations. We are a unique property with adjoining rooms and it handles the reservations for them smoothly, when many other systems do not function with adjoining rooms." – Operations Manager, Boutique Property, U.S.A.
In addition to flexible core features—from inventory and rate management to reporting—WebRezPro provides optional modules to optimize the software for specific property types. For example, our owner payout module automatically tracks owner revenue and charges, and generates owner payout statements for vacation rental managers. Our hostel module is tailor-made for managing dorm bed bookings. The central admin module streamlines operations across multi-property hotel groups. And our ActivityEngine module lets properties that offer activities alongside accommodation manage both the stay and play sides of their business with just one system.
"We are a fairly complicated resort and had trouble finding software that would do everything we needed it to do until we came across WebRezPro. It takes care of our company-owned resort rentals, it takes care of our owner rentals that we manage, it connects to all our OTAs, it manages all our payouts, it takes care of our boat rentals, our in-store sales and even takes care of our small timeshare residents." – CFO, Resort, U.S.A.
The pandemic taught us all the power of the pivot. An agile system is a future-proof one. As a feature-rich, cloud-based system, WebRezPro offers the flexibility and scalability to evolve and grow with your business.
"I can do anything that I can imagine to make my business work how I need it to work." – Co-owner & sales manager, Vacation Rentals, Canada.
We're committed to our customers (and we're not just saying that)
Actually, our customers say it best! Always applauding our product support team, our customers appreciate the knowledge, friendliness and responsiveness of our customer care professionals.
"Support is absolutely great. Every time we have a ticket open, either by phone or by email, it is handled swiftly and professionally. Every single member of the support team is fast, knowledgeable, and easy to work with. By far the best support team I've ever encountered." – Manager, Vacation Rentals, U.S.A.
We're proud to know our clients feel they are in good hands every step of the way. Your personal onboarding specialist will get you up and running confidently, and our expert support team is always there for you whenever you need them. Throughout the process, your dedicated account executive is standing by to help, whether you have questions about a new feature or want to bounce some ideas around!
"Best customer service I have ever worked with! Very responsive, polite, and dedicated to their work. We own 14 different businesses and I deal with over 100 vendors and I put WebRezPro folks at the very top of my list for customer service." – CFO, Resort, U.S.A.
WebRezPro is developed and supported by an entirely in-house team working remotely across Canada, many of whom have been with our company well over a decade, and some since its earliest days in the 1990s! Ranking among Hotel Tech Report's 'Best Places to Work' as part of the 2022 HotelTechAwards is not only testament to our commitment to our employees and product, but also to our customers—for without a supportive company culture, we couldn't achieve the level of customer service WebRezPro has become known for. 
"Unlike many tech providers, WebRezPro realizes that our business is heavily dependent on their product, and so their team works tirelessly to address any questions, issues or problems rapidly." – Managing Partner, Boutique Inn, U.S.A.
125+ innovative connections
WebRezPro has established partnerships with more than 125 hospitality software solutions, including online booking channels, POS systems, payment gateways, CRM software, mobile messaging platforms, automated revenue management systems, room access systems, and more. That means WebRezPro PMS can connect to your property's other systems to automate data flows so that you don't have to be the middleman between your hotel technology.
"Our latest interface with electronic locks is up and running perfectly. Check-in and check-out procedures are fast and easy." – Manager, Vacation Rentals, U.S.A.
System integrations put your data to work more efficiently, reducing manual administration through automation. They don't just save time, they save money—as long as they work well.
"The WebRezPro interfaces connecting to our online platforms are a game changer. Changing rates in one place saves me time and eliminates errors." – Co-owner & sales manager, Vacation Rentals, Canada.
We work closely with our hotel tech partners to build and support reliable connections. As a cloud-based system, WebRezPro connects quickly and effectively to modern software solutions. Our list of available integrations is always growing, so if we do not yet connect to your preferred solution, just let us know.
"WebRezPro is very good about adding new interfaces regularly. At present we use 11 different interfaces that encompass everything from payment processing to reputation management and everything in between." – General Manager, Luxury Hotel, U.S.A.
Our proven track record
Developed by World Web Technologies Inc.—providers of cloud software for the hospitality and tourism industry since 1994—there's almost three decades of expertise behind WebRezPro PMS. WebRezPro was officially launched in 2003, becoming one of the first completely web-based property management systems available to lodging operators. By now, we know what we're doing! 😉
"We have used WebRezPro at two mid-sized boutique hotels (70 rooms and 62 rooms) for over a decade. WebRezPro has been extremely reliable in that time. It is versatile and can be adapted to any needs. It can scale as your property grows, and integrates with practically every major hospitality technology platform out there." – Managing Director, Boutique Property, U.S.A.
Today WebRezPro is used by approximately 2,000 properties across 45 countries and continues to expand globally.
"WebRezPro is a really great product. We manage multiple properties with it. Top-notch tech support, responsive account manager and really robust system. It was one of the best decisions we made!" – CEO, Motel, Canada.
WebRezPro is not the biggest or fastest growing PMS in the business, and we think that's to our advantage. We're not focused on taking over the hotel industry; we're focused on our clients—each and every one. Our mission is to help our customers succeed in an ever evolving industry by harnessing technology to streamline operations, drive revenue, and to stay relevant no matter what the future brings.  We welcome you to try a free demo and take a look for yourself.