We're excited to kick off the New Year with a win! Ranking in Hotel Tech Report's Best Places to Work in Hotel Tech in 2022 highlights our commitment to our people, and we're proud of every one of our employees for contributing to the supportive and innovative culture at our company.
Every year, Hotel Tech Report—the leading authority on hotel software and digital transformation in the hotel industry—ranks the world's best hotel software companies and products based on real user reviews as part of the esteemed HotelTechAwards.
With over 2,230 software companies on Hotel Tech Report, WebRezPro Property Management System is honored to be recognized in the competitive Best Places to Work category for 2022. Designed to help hotel technology professionals find the best jobs, and to help hotel tech buyers identify the best vendors to work with, the Best Places to Work category is based on survey responses from thousands of hotel tech employees around the world revealing what it's like inside the operations of the industry's top companies.  
"Understanding organizational culture is important for software buyers because companies that create great work environments retain employees longer, service customers better and innovate faster." – Hotel Tech Report
Hotel Tech Report asked survey respondents to rank their employers on the following key variables:
Work-life balance
Personal development opportunities
Gender equality
Confidence in company direction
Values alignment
2021 Bonus Question: Rate your firm's COVID-19 crisis response
WebRezPro is the only Canadian company to rank in Hotel Tech Report's Best Places to Work list this year—and the first Canadian company featured in the list's history! Placing in the top 10 is testament to WebRezPro's commitment to employee satisfaction, product quality and innovation, and customer service. "This recognition from Hotel Tech Report validates the work we're doing at WebRezPro to foster the kind of culture that fulfils and empowers our people and results in an awesome product and service that our customers love," says Frank Verhagen, the president of our company.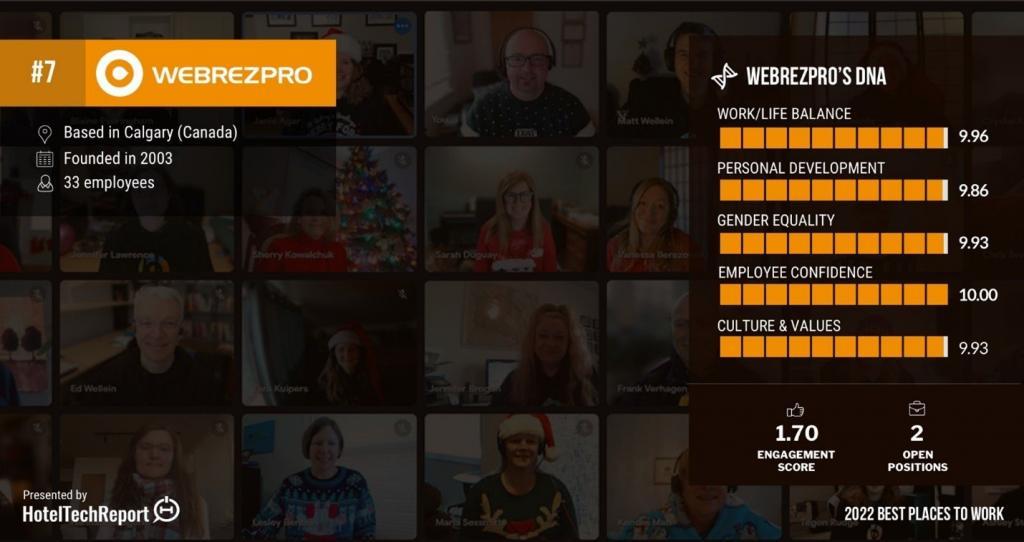 Designed to optimize productivity, guest service and revenue for hotels, WebRezPro is a product that can only work if the team supporting it works like a well-oiled machine. Every role is critical to our company's success. As we continually work on enhancing both our product and our own internal operations, each and every employee is encouraged and empowered to contribute to WebRezPro's growth and innovation.
After an exciting year rolling out our latest version of software, which has received an overwhelmingly positive response from clients, and ongoing product improvements and innovations (including contactless check-in) to help hotels navigate operations during the pandemic—as well as improving our customer service infrastructure even further with a new ticketing system—our entire team looks forward to another fast-paced year of progress as we remain focused on continual improvement.
WebRezPro is developed and supported by an entirely in-house team of 33 talented employees working remotely across Canada—many of whom have now been with our company well over a decade, and some since its earliest days in the 1990s! We're proud of the strong team spirit we have fostered and maintain, based on effective processes, interdepartmental collaboration, and open communication to help employees feel confident, connected and to grow professionally.
And, just like family, we've always made time to get together in person for Christmas parties, staff lunches, conferences and other events throughout the year. Admittedly, in-person gatherings have been few and far between since COVID, but we're all looking forward to spending some quality time together in 2022!
"WebRezPro is a small business but it's certain not a startup after more than 20 years in business. Many employees cite being at the company for extremely long careers with one employee sharing that she had been at the firm for 26 years. Needless to say this length of tenure is atypical in tech land – so it's not surprising that WebRezPro made the list." – Hotel Tech Report
If you're interested in joining the WebRezPro team and being part of our mission to streamline hotel operations and empower hoteliers with innovative hotel technology, visit our careers page because we're hiring!