WebRezPro's mobile housekeeping app is already in the palm of your hand! It comes at no extra cost (in fact, you'll reduce paper and printing costs – not to mention, your environmental footprint) and your housekeepers can access it simply by logging in to WebRezPro from their smart phones or tablets.
Mobile housekeeping reports allow housekeepers to view and update room cleaning status from their mobile devices as they work. This means that cleaning staff don't have to return to the housekeeping desk to update housekeeping information and front desk has up-to-the-minute knowledge of which rooms are ready for new guests. This convenient function not only improves productivity, but inter-staff communication, too.
Each housekeeper can be set up with his or her own WebRezPro log-in and privileges set appropriately. For example, you can turn off accounting system access, and restrict reservation system access solely to the housekeeping report. Directly upon logging into WebRezPro, housekeepers will see a link that opens the housekeeping app. It's that simple! Each housekeeper will only see rooms to which he or she has been assigned.
So, here's a quick recap of the benefits of WebRezPro's mobile housekeeping reports: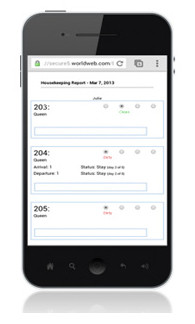 >> Boosts productivity
>> Improves inter-staff communication
>> Cuts paper and printing costs
>> Environmentally friendlier
And it won't cost you anything.
You can check out our other mobile apps, including mobile housekeeping reports, here.

If you're interested in finding out more about mobilizing your entire PMS, take a look at our latest white paper about mobile property management.