Providing excellence in hotel management technology is our primary focus here at WebRezPro. It's our mission to provide the powerful products and top-quality support necessary for the success of our clients' lodging operations. That's why we are pleased to announce that we have once again been named a Leader in the December 2017 Hotel Management FrontRunners Quadrant.
Running a small business is a tough job with a myriad of responsibilities. The FrontRunners quadrants—which showcase the top software options available in North America—are generated by Software Advice to help independent businesses find the best products for their needs.
In the hotel category, 185 products were evaluated using verified product data and end-user reviews. For each product, two primary scores were calculated: a Capability score (which includes functionality, ease of use and customer support) and a Value score (which accounts for things such as overall satisfaction and the likelihood of a user to recommend the product). The 24 highest-scoring products were included in the quadrant.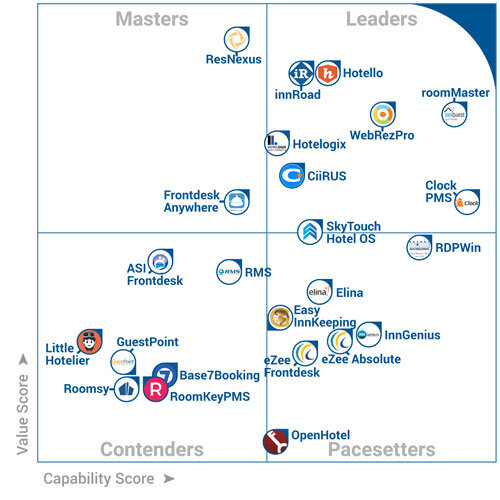 Strong scores for both capability and value earned WebRezPro placement in the Leader category. As a Leader in hotel management software, WebRezPro is attributed with being an all-around strong product, offering a wide range of functionality for a large range of customers and is considered highly valuable by customers. With client satisfaction being our top priority, that is music to our ears.
Our placement in the Leader category of the FrontRunners Quadrant, which relied heavily on user ratings, attests our commitment to our customers and the hospitality industry. We look forward to the continued endeavor to provide the best PMS and customer service for our clients.
The content for the FrontRunners quadrant is derived from actual end-user reviews and ratings as well as vendor-supplied and publicly available product and company information that gets applied against a documented methodology. The results neither represent the views of, nor constitute an endorsement by, Gartner or any of its affiliates.