Get more direct bookings!
WebRezPro's commission-free hotel booking engine checks all the boxes for today's online travel planner. Unit slideshows, bookable maps, multiple currencies and add-on products/services are just a few advantages. WebRezPro is a modern reservation system built for:
Easily control inventory, pricing and availability.
Advertise hot deals for last-minute sales.
Set up special rates for corporate clients, travel agents and preferred guests.
Sell other products such as tickets, flowers and dining reservations.
Set extra charges for pets.
Gain valuable insight into your market by analyzing online booking reports.
Never miss a booking with a hotel booking engine that's open for business 24/7.
See real-time room availability.
View room rates in multiple currencies.
Purchase optional packages such as weekend getaways or romantic retreats.
Buy optional products such as theater tickets, food baskets and spa treatments.
See photo slideshows for different room types.
Receive instant, auto-generated email reservation confirmations.
Book any time and from anywhere.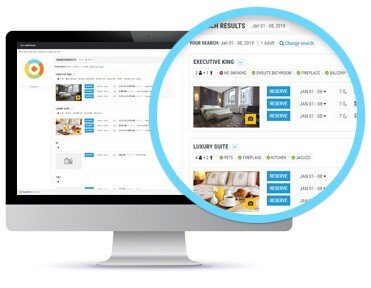 Note About ADA Compliance
WebRezPro's hotel booking engine helps you comply with accessibility guidelines.
ALT text for images. ALT text can be added to every image, describing what is shown so that images can be "read" by text-to-speech screen readers for people who are visually impaired.
Accessible units. The booking engine can return "accessible" units within room search results even if they are not available (with a note stating the unit is unavailable). This helps alert prospective guests that your property offers accessible rooms in case they may want to adjust their dates.

While ADA compliance standards are still being defined, WebRezPro aligns with current recommended guidelines to help properties ensure they are accessible to all prospective guests.