Everyone wants to deliver a five-star guest experience, but what exactly is it? And how can hospitality managers or hoteliers create this? Here are 3 bulletproof ways…
***Guest post from Breezeway, a WebRezPro partner***
Did you know that 61% of hospitality managers believe luxury, cleanliness, and safety contribute the most to a VIP-like guest experience? And that easy guest communication is the second most important factor? What guests expect from hospitality today looks very different to only a few years ago. Property managers and hoteliers now face rising guest demand for high-quality, tailored services that enable a five-star experience. 
But, you may be wondering, what exactly is a five-star guest experience? And how can you meet these demands? We've collated our best tips and tricks to help get you started creating the quality service travelers around the world are looking for…
3 top tips for meeting rising guest expectations
1. First-class guest communications
We can't escape the fact that our world has become hyper connected. Tech innovations now give instant gratification for answering queries, buying products, and more! It only makes sense for hoteliers and property managers to embrace connectivity—as it's what guests have come to know and love. From fast communications prior to, during, and after their stay, to a personalized VIP-like service, guest communication is a massive contributor to the overall experience and guests' satisfaction with your service.
A purpose-built SMS guest messaging software that integrates with your PMS and automatically syncs reservation data into one easy-to-use dashboard allows hospitality providers to answer requests and messages promptly. Tech like this ensures you never miss an urgent issue again. Guests can be automatically updated on status requests and bulk messages are sent with a simple click.
Go the extra mile for happy guests. Add the hospitality touch with personalized messages for property- and guest-specific information, such as providing access codes for keyless check-in or confirming house rules. Empower the building of relationships between customers and your brand. According to Breezeway's research, it's what 55% of guests want from hospitality managers. Drive guest loyalty with incentives like offering extended stays at discounted rates (which fills gap nights for boosted revenue—win-win!)
Happy guests = happy hosts, increased loyalty, and those all-important five-star reviews.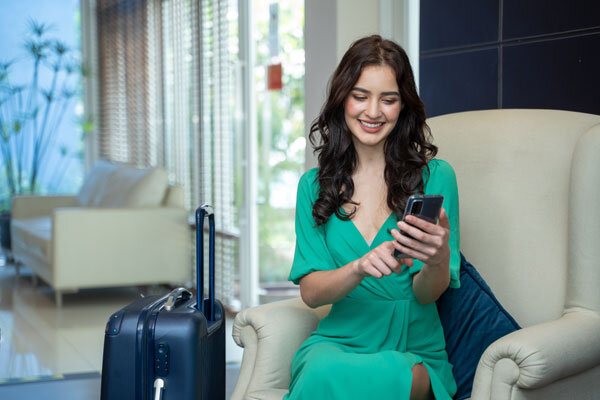 2. Consistent service 
First impressions can set the tone for a guest's entire experience, which is why the quality of your accommodation matters—even more now than ever before. Don't leave it down to chance. Set yourself up to succeed by paying special attention to these three key features: cleanliness, maintenance, and general upkeep.
Taking proactive steps toward preventing issues in these areas can help ensure guests are satisfied on arrival and remain happy throughout their stay. Task scheduling for property care management supports property managers in streamlining business operations, including everything from cleaning and inspection to maintenance repair schedules. With this tool, you'll be able to consolidate your dashboard, linking all integrated tech, teams, and tasks for better oversight and control of workflows. Moreover, with auto-scheduling, property managers and hoteliers can claim back time wasted on repetitive, everyday tasks.
Now you have your framework in place for smooth-running operations, you can set your quality standards. But, you may be wondering how to ensure your teams adhere to these?
Providing tools, such as a customizable checklist or mobile app that's easy to navigate, empowers teams to follow company brand standards and complete detailed workloads to the expected high level. Since every property is different, treat it so, with specific tasks based on in-room features for a tailored quality experience.
3. Comfort and convenience 
The number one goal for hospitality providers is to create a welcoming space for guests. A home away from home. Somewhere vacationers can kick back and relax. After all, that's likely why they booked your hotel or vacation rental in the first place. So, your priority should be to ensure guests feel as comfortable as possible in your accommodation and that features or check-in processes don't cause them any inconvenience.
To avoid disruptions, we must first address what guest inconveniences can look like. For some, the thought of interacting with strangers face-to-face may be uncomfortable. Others simply want to "get there when they get there" rather than planning travel journeys around exchanging keys. Property managers can overcome these issues with modern technology and automated tools such as smart locks, which only require an access code to enable seamless guest entry and check-in.
During their stay, guests may need quick resolutions to common queries, like what they need to do with the recycling. Property managers can set up personalized property-specific communications with custom stay messaging for automatic responses to general questions.
These tech innovations empower guests to problem solve without having to contact operators. It's all about providing a smooth and enjoyable service to your guests so they can focus on their vacation and you can focus on your business.
A five-star guest experience is all in the preparation: consistent property care before arrival so that when the guest sees their accommodation for the first time, the reaction is always the same. Tech tools make it easy to go one step further and turn happy guests into loyal guests who leave first-class reviews about their stay.
Breezeway's Property Care, Operations & Messaging Platform
The Breezeway property care and operations platform helps WebRezPro users coordinate, communicate, and verify detailed work in order to deliver the best service experience to guests. It's our mission to support property managers in optimizing their operations with automation tools for maintaining quality, safety, and cleanliness so that you can provide the best guest experience.