Do you wonder what the hotel of the future will look like? We're not talking about a hotel on the moon or anything (but imagine the views!), yet rather what we can expect from hotels in the next decade or so based on current trends and forerunner technologies already in use. 
It's not so much what will be possible but rather what will be necessary to meet guest expectations and keep hotels relevant into the future.
From smart rooms to robot room service, let's dive into the trends that are shaping the future of hotels and then what we predict the future holds. Spoiler alert: you're going to want a time machine.
Current trends that will shape the hotel of the future
When predicting what the hotel of the future will look like, it's imperative to look at the most influential factors that are impacting hotels now.
Staff shortages: The hospitality industry has always struggled to attract and retain employees and it will only become more difficult in the future. 
Economy: Inflation will continue to grow and expenses will rise for hotels.
Pandemic: We are living in a new normal in terms of viruses and disease and hotels will adjust their operations accordingly.
Technologically advanced society: Gen Z and following generations are raised on technology, which is becoming ever more accessible.
Increased personalization: Software algorithms that cater to our interests and preferences are already here and will become an accepted way of life in every facet.         
Environment: Hotels will need to operate within a delicate environment as eco-friendliness becomes the way of life.
In order to thrive in the future, hotels will need to address these trends with streamlined operations and workflows, energy efficiency, and a frictionless experience for guests.
Guest Self Check-in
Accelerated by the pandemic, the adoption of guest self-check-in is not a future trend but a current trend. Similar to an airline model, some hotels have opted for free-standing kiosks in their lobbies where they may skip the front desk altogether in favor of self-serve, which is the case for YOTEL New York. This 5-star TripAdvisor rating says it all: "After a 22-hour flight from NZ I arrived just before midnight on a Friday night and was swiftly checked in thanks to the automated kiosk on the ground floor. There was no need to see a concierge, no long queues to manage, nor any kind of waiting. There are night staff also on standby for those needing assistance with the kiosk."
Other hotels have adopted software that offers contactless hotel check-in via the guest's own device. Hospitality software like WebRezPro offers online check-ins and keyless integrations for a completely contactless experience. More convenient for guests, this technology is quickly becoming the norm. 
So where will the technology evolve from here? Facial recognition may not be too far off, removing the need for having a key at all. In China, the hotel FlyZoo uses the Fliggy app, which scans guests' faces upon check-in, then automatically provides them with elevator access and unlocks their room. The future of this technology will evolve into increased personalization as facial recognition syncs with a customer database, which will pull up all the information about a guest before they even reach the front desk. 
Smart Wall
Some predict that concierges will be replaced with smart walls with touch technology to give guests directions, provide hotel details, and welcome guests. Done well, this could look like functional art work, complete with enticing video imagery to build excitement or induce any mood the hotel desires. While some hotels currently have touch screen kiosks with hotel information and chatbot assistance, this will be on a much larger-than-life scale.
Ultra-personalization
There's personalization and then there's ultra-personalization.
Tablet control hubs
Smart rooms will allow guests to optimize the space for their own specific brand of comfort. The Eccleston Square hotel in central London is deemed a smart hotel with rooms boasting keyboard hubs from which to personalize music, lighting, and temperature—not to mention access to room service and concierge assistance. Even the beds are electronically adjustable.
Voice-control
But why have a tablet when you can have voice command? This is where the future lies, with guests already becoming more accustomed to their own smart homes. Right now, Google Nest Hub can provide hotel rooms with a speaker and tablet for guests to simply shout their need for more towels, find out when the pool closes, close the blinds, or adjust the heat.
Predictive-rooms
But wait, there's more. Having to adjust your guest room to your own liking will become so passé. Predictive travel analytics will be able to determine your room preferences automatically before your arrival based on your previous settings and online activities. Seems far-fetched? Not when you consider similar technology is already used for predictive web analytics to predict online customer behavior.
Augmented reality
Why deal with the mundane reality of your hotel room when you can transcend those walls with augmented reality? With AR, guests could virtually transport their beds to the middle of the forest, on the beach, or on the top of a mountain! While there are hotels who are currently using AR to display amenities or spot celebrities through your device's camera, larger applications could be even more immersive, allowing guests to customize wall-to-wall scenery—which could become increasingly popular as hotel rooms shrink in size as property prices soar.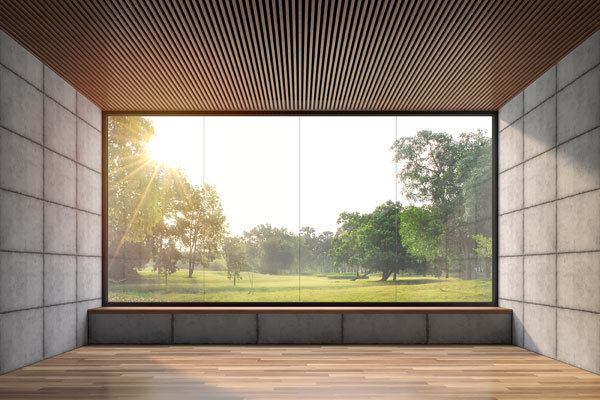 Granular Booking Systems
To meet the demand for ultra-personalization, booking systems will adapt for an even more customized experience. We imagine a booking process that allows guests to pick and choose desired room attributes like room size, bedding configuration, views and floor level, giving way to an attribute-based selling model that better meets individual desires and provides better opportunities to drive revenue than the traditional room-type + rate-plan based model. Perhaps guests could also select their ideal room lighting, temperature, and music right at the time of booking! To complement the booking experience, hotels will definitely adopt AR technology to provide virtual room tours—see your room "in person" before you book.
Robots
The future is robotic! Robots solve the problem of staff shortages, the potential spread of viruses, and save hotels money after the initial investment. This is another example of a technology that's already in use but will move from being a novel perk to something more essential. The Henn-na Hotel is the world's first hotel to utilize robots in all areas of their operation, from multilingual front desk staff to bellhops. Room-service robots are already gaining widespread adoption across the USA, such as at the Hilton. And the Westin Houston Medical Center has introduced housekeeping robots to sanitize rooms and destroy viruses with broad-spectrum ultraviolet light.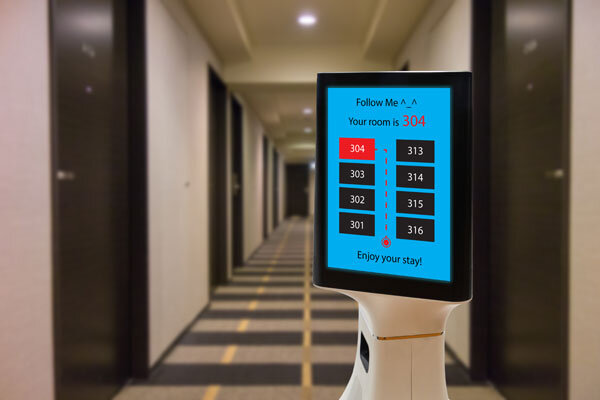 Energy-efficient Eco Hotels
As guests are becoming even more interested in sustainable travel and favoring eco-friendly properties, hotels will look for ways to optimize their energy efficiency—which will also reduce operational costs in the process: win win!
Just look at this: SensorFlow's IoT technology is able to gather guest behavior data to automatically optimize energy to suit. As a result, hotels can save up to 30% of their energy costs! They also claim they can streamline housekeeping routes with real-time occupancy information. Imagine this technology integrated with your property management system's housekeeping software to notify housekeeping when a guest is out and needs a room refresh, for example.
Maximized for space
Hotels will need to be more concerned about space—not outer space but room density, favoring smaller rooms and more guests. In the future, space will need to be used more wisely and creatively. This is seen already in densely populated places throughout Asia, resulting in sleep pods, bunkbeds, and murphy beds.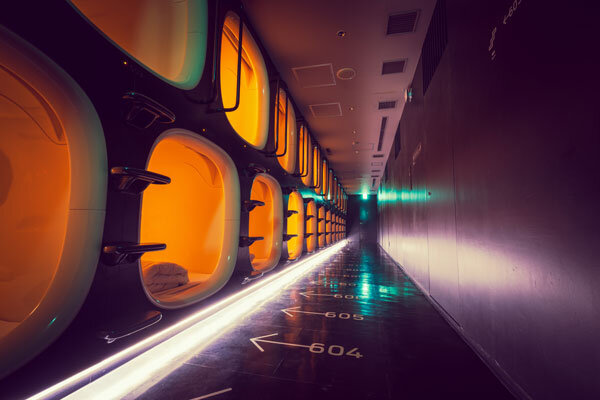 Business Travel Proficient
Remote work is increasingly becoming the norm with companies now more comfortable hiring outside of their region or even country. Will this affect business travel? On one hand, traveling for business may decline as companies adapt to virtual conferences. On the other hand, it may become more important than ever to bring employees together in person. We predict the latter. In response, hotels will need to offer more functional workspaces, co-working spaces, and wireless everything. And conferences? Let's take inspiration from the NH Hotel with the capability to turn remote attendees into 3D holographic representations!
Future Family Friendly
The future will boast family-friendly hotels befitting of the Jetsons! The Peninsula Hotel in Tokyo is a great example of having something for everyone in the family, from in-room nail polish dryers to the hotel's own digitally interactive Pokemon hunt. Augmented Reality has huge potential for kids, providing hide and seek games. 
On the other hand, with technology evolving at almost break-neck speed, families may increasingly seek digital-free vacations. Currently, the Shangri-La Hotels and Resorts is leading the way with holidays like the Playcation family wellness package at their Singapore property which incorporates meditation, mindfulness, self-care and other learning activities. We anticipate the staycation trend to continue as well with packages like the Shangri-La Family Summer Camp in Hong Kong, designed as a family staycation package featuring experiential STEM learning for kids and alone time for parents.
During this pandemic, times have been hard on hotels. At times, some hoteliers have felt that perhaps the future is not all that friendly. Yet as many technologies currently in use have shown us, the future is full of possibilities for the hospitality industry as it evolves and adapts to a changing world. Take inspiration from these future trends and decide on your long-term investments now. Because it won't be long before tomorrow is today!