Online travel agencies (OTAs) like Expedia and Booking.com can bring a significant proportion of revenue to a lodging business, but they also demand high commission fees. Do you love 'em or hate 'em? Ultimately, the relationship should be determined by the ROI generated from your OTA channels. While the commissions can sting, OTAs increase a hotel's exposure and ability to fill rooms at the last minute that would otherwise go unsold.
The likes of Expedia and Booking.com have gained powerful brand recognition and have substantial marketing budgets to play with. Major OTAs rank high in search engine results and travelers know and trust them. It can be difficult for independent hotels to compete with that, so if you can't beat 'em, why not join 'em?
Working with OTAs helps new guests discover your property. It's a worthwhile relationship as long as your business isn't overdependent on it. If OTA commissions are eating into your profit margins, you need to correct the balance between your OTA spend and direct booking strategy.
Increase Direct Bookings
First, let's look at your direct (and most important) strategy. Driving direct revenue can be difficult for independent hotels and can end up costing properties more in advertising fees than OTA commissions without an effective plan in place. But executed the right way, your direct booking strategy can be your most profitable one, earning your property commission-free reservations and loyal guests!
The following low-cost efforts are fundamental to any profit-maximizing direct booking strategy:
Optimize your online booking engine: Make sure to fully utilize your online booking engine's features to maximize conversions, for example, branding customization, unit slideshows, room descriptions, amenity lists, and upsell options. Incomplete information and branding erodes credibility and booking confidence, so set up your booking engine properly from the start.


Offer incentives: Due to parity agreements, you can't publicly offer lower room rates than what you offer through OTAs, but you can use other incentives to entice prospective guests to book directly with you. Offer special perks for booking direct such as free add-ons or services like late check-out, parking, breakfast, or a drink at the bar. Make sure these book-direct incentives are advertised on your website!


Create value-added packages: Offer additional value to guests by creating special packages that bundle accommodation with extra amenities or services (such as spa services, meals, and activities) and are only available direct. Use guest and reservation data to get to know your guests and create targeted offers they can't resist!


Offer discounts to limited audiences: Another way around those parity agreements is to offer lower rates to limited audiences such as your social media followers or repeat guests, in the form of exclusive discounts. Discount codes can be sent to repeat guests by email or promoted on your property's social media channels to allow these limited audiences to access password-protected discounts through your online booking engine. This is also a great way to reward and grow loyalty.


Maintain an appealing website and SEO: While a website redesign may not be a low-cost solution, it's not an expensive one either when you consider the potential ROI. The key is to choose a cost-effective web design service that specializes in creating websites for lodging providers. That way, you'll not only get a website that looks and works great on all devices (desktop and mobile) but incorporates SEO (search engine optimization) strategies so that potential guests can find it. Keep your website up to date with your latest packages and offers and provide a best rate guarantee to boost booking confidence.


Collect reviews: Positive reviews give travelers the confidence to book—both on OTAs and via direct channels. Either way, the more positive reviews, the better. Ask guests for feedback and feature testimonials on your website. You can choose a sample of handpicked recent reviews or add a widget that automatically displays reviews from your Google, Booking.com, or Tripadvisor listing. Otherwise, prospective guests will leave your website in search of those reviews… and they'll probably end up on an OTA and book there instead.


Motivate guests to book direct next time: Guests who booked through an OTA can still be converted to future direct bookers! When they check in (or out), let them know they're welcome to book direct on your website next time to access special offers—you could even consider giving a discount code to use for their next stay. Ask for their email address so you can communicate with them directly and strengthen the relationship going forward. Most guests will be happy to provide their email address in exchange for loyalty perks, including future offers.


Use email marketing: Send targeted email campaigns to inspire loyal customers, including previous guests and those that signed up for your newsletter, to visit your website and take advantage of special offers (like discounts for limited audiences and special packages). Win-back emails can be automatically triggered from your property management system or CRM, for example, three months after the guest's departure, inviting them back and motivating them to book direct.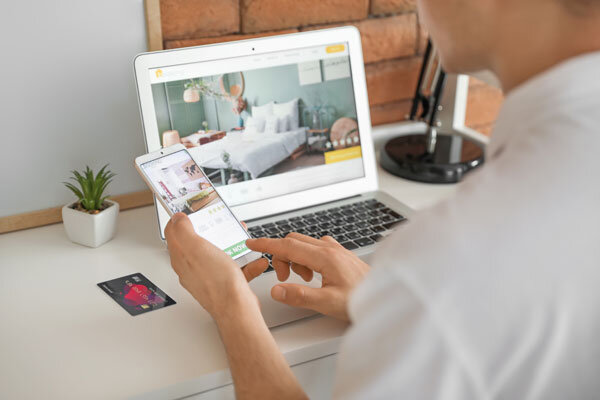 Make the Most of Your OTAs
OTAs are powerful tools for driving bookings and revenue. While those bookings come at a cost (typically 15 – 25% commission), here's what you get for your money:
Increased exposure – Listing your property with an OTA allows you to reap the benefits of their gargantuan marketing efforts and brand recognition to get discovered by travelers from all over the world. In fact, OTAs can help drive direct bookings too. Google found that approximately half of travel consumers visit a hotel's website after seeing it on an OTA. This is known as the "billboard effect."

Last-minute sales – OTAs are very useful for filling rooms last minute that would otherwise remain unsold.

Access to tools and analytics – OTAs give you access to market data—including traveler preferences and competitive insights—year-over-year performance analytics, and marketing and revenue management tools to help you make better decisions and monitor results.

OTAs are an important part of the distribution strategy for most hotels. However, the key word is part. Overreliance on OTAs hurts your business' bottom line by eating into potential profit that could be generated by direct bookings. A balanced distribution strategy makes the best of both worlds.
Here's how to get the most out of your OTAs:
Choose the right OTAs for your property: From global channels like Booking.com and Expedia to local and niche channels like Despegar and Mr & Mrs Smith, there's no shortage of OTAs to choose from. Pick those that align with your ideal guests, property type, budget, location, and source markets. Then, monitor performance and tweak as needed.


Optimize your OTA profiles: Ensure your profile information is complete and current, including contact information, property and room descriptions, amenity lists, rates, policies, local points of interest, and high-quality images of your property and rooms. Treat your profile listings as an extension of your property's own website, maintaining consistent content and rates across all platforms. A ship-shape listing is important for demonstrating credibility, increasing visibility, and attracting bookers. Stay up to date with the latest profile features and ranking tips offered by your OTAs.


Collect reviews: Remember, reviews help boost bookings through both OTA and direct channels. Automate review requests via your property management system using post-stay email templates that include a link to your preferred review channel or OTA listing. You can also use automated reputation management software to monitor and manage all online feedback about your property from one convenient dashboard and automatically capture reviews.


Keep in touch with your OTA market manager: From performance reports to market demand to promotional tools and features, OTA market managers provide valuable insight and strategies to improve your listing's ranking and profitability.


Manage your rates and inventory: Make sure your rates are competitive. Consider taking advantage of OTA promotions like last-minute and mobile-only deals. Know when to limit your OTA inventory to maximize profit. For example, you can block off some or all rooms in high-demand periods for direct bookings.


Track performance: Monitor the performance of your OTA channels to find out which ones generate the best ROI. Don't be afraid to adjust your channel mix if you feel it's not working for you.

Automate Channel Management
Once you've got a commission-free online booking engine on your website and you've chosen your OTA channels, the next step is to automate channel management to save time and maximize revenue.
Connecting your property management system to your distribution channels allows you to update your rates and inventory across all platforms from a single point of control (your PMS). Reservations coming through your online booking engine and OTAs are automatically delivered into your PMS, which updates availability on all channels accordingly. Not having to update separate channels manually not only saves hours of time but ensures rate accuracy across all platforms and avoids double bookings.
Property management systems like WebRezPro come with a fully integrated online booking engine and have established integrations with OTA channels to make automated channel management a no-brainer.
Automated channel management is crucial for implementing a dynamic pricing strategy, enabling you to adjust rates on select or all channels immediately in response to demand.
Love 'em or hate 'em, OTAs drive significant revenue for hotels. The key is to find the most profitable balance between OTA and direct revenue. Develop a strong direct booking strategy and optimize your channel mix to tip the scales in your favor. Then, automate channel management to save time and drive even more revenue. Contact us to find out more about how WebRezPro can simplify online distribution for your property.
Editor's note: This post was originally published April 2014 and last updated June 2023.