Travelers are increasingly conscious of their impact on both the destination they travel to and the planet as a whole. Moving to Mars isn't an option (yet)!
The impact of any given trip is significantly influenced by the accommodation chosen. According to a 2022 report, 46 percent of travelers chose to stay at a sustainable property in the past year. Reducing waste—and quantifying by how much—is one way to show those guests that your environmental commitments are real. (People know those environmental badges don't always mean much). Here are a few ways to get started. 
Reduce Plastic
We all know plastic has to go. Little shampoo bottles, keurig pods, straws…you name it, you get rid of it. Only don't replace it with PLA (polylactic acid). This substitute may sound appealing, but it can still last up to a millennium in a landfill. For things like straws that your guests may not need, consider eliminating them altogether or only providing them if specifically asked. (Bonus: you save on your straw bill.) 
You can also do away with plastic key cards by switching to mobile room keys or keycodes, along with contactless check-in. Keyless access streamlines operations too. Through integration with your property management system (PMS), mobile keys can be automatically sent to guests, activated and deactivated upon check-in and check-out. WebRezPro works with a variety of mobile key providers such as Goki, OpenKey, and RemoteLock. 
Reduce Paper
Go paperless with a cloud property management system. A cloud PMS stores your property's data in the cloud and is accessible on the go from a mobile device. Features such as contactless check-in, electronic signature capture, mobile housekeeping reports, and automated emails greatly reduce the need for paper (and printer ink!), allowing the likes of digital registration cards, invoices, and housekeeping schedules to be created, stored, accessed, and edited immediately and securely online.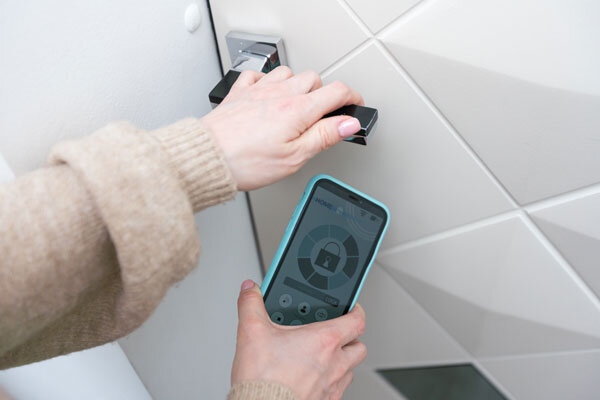 Reduce Energy Consumption
Hotels and other lodging operations are responsible for approximately 264 million tons of CO2-eq, and that's only including direct and controllable emissions. Fortunately, there are ways to reduce this. It may seem like a drop in the bucket, but the point is for everyone to take a drop. And guests are making this happen by rewarding hotels that do. 
So, how can you reduce your property's energy consumption? Your cloud PMS can help here too. Because cloud software is deployed online, its technological infrastructure (data servers, back-up systems, cooling equipment, etc.) is located in a dedicated, secure data center and shared efficiently among multiple users. That means you don't need an onsite server on your property, sucking up electricity—and the more hoteliers that shift their technology to the cloud, the less inefficient property-based servers there are out there. 
Smart room technology is another way to reduce energy waste. It uses loT (internet of things) sensors to detect when a room is occupied and adjusts lighting and temperature accordingly (with your energy-efficient HVAC system) to save energy. No sense air conditioning a room with no one in it. You can integrate room control systems with your PMS too, to time settings with check-in and check-out.
Buying food and other supplies locally while adding more plant-based options to your menu will also decrease your carbon footprint. You could even have a "green" menu section pointing guests towards the most environmentally-friendly choices.
Lastly, optimize your website for sustainability with compressed files, clean code, and a green hosting provider.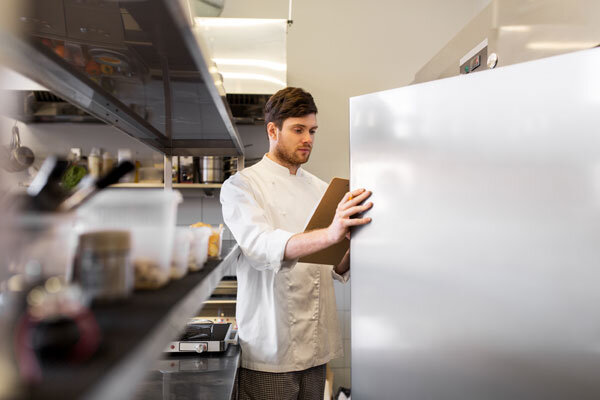 Reduce Food Waste
The United States alone wastes 63 million tons of food per year with 40 percent of that from businesses like restaurants and hotels. However, there are a few simple things you can do to prevent serving guests more than they can eat. 
First off, consider portion control. Take note of how much food guests leave on their plates and work from there. It also helps to steer clear of buffets—where people often take more than they need—in favor of plated options. Plating orders allows you to prepare enough food for the number of guests that actually show up, not how many you think will show up.
However, you also need to consider how food is distributed on the kitchen end, not only on the guest end. Use an inventory system so that you always know how much food you have on hand; this prevents both over and under ordering. (If you under order, you'll have to make up the shortfall and may not be able to buy the exact amount you want, again creating waste.)
Make sure your staff know how to store food properly, so nothing goes bad or spoiled that otherwise wouldn't. If you can't serve it, you'll have to throw it away. That said, your scraps don't always have to go to waste. You can compost leftover food or, if it's still good to eat, donate it to a food bank or create innovative new meals (that's why they invented Chef Salad!).
Conduct a full waste audit of your kitchen to figure out where the spendage is and ways you can put it to better use. Your staff may have noticed something you haven't, so check with them.
Reduce Water Use
The less water your hotel uses, the better. Implement additions such as low-flow showerheads, dual flush toilets, and efficient laundry machines. Make daily housekeeping and towel changes an opt-in service. (Most hotel bathrooms already come with enough fluffy towels to dry an entire village.) If a guest absolutely needs a fresh towel, they can grab one. This also eases the load for your staff.
Look into reusing your graywater. Water from the shower, bathroom sink, or laundry can be recycled for low-risk functions like yard irrigation and toilet flushing.
Reducing waste is an important step toward achieving sustainable operations. It's not only better for the planet but for your bottom line too. Businesses that make the effort to become more efficient and less wasteful will save money, win guests, and make the world a better place for everyone.