There's plenty of research to support the fact that reviews turn lookers into bookers with nearly half of US consumers trusting reviews as much as recommendations from family and friends.
To boost bookings, accommodation providers not only need to accumulate online reviews but also respond to them effectively (more than half of consumers say they wouldn't be likely to use a business that doesn't respond to reviews). Because hoteliers are busy people, we've put together a quick guide to managing your online reviews to drive more conversions. 
Ask for Reviews
A five-star rating doesn't mean much if you have fewer reviews than stars. You need a high number of reviews to convince guests that you're trustworthy and that your rave testimonial wasn't a one-time fluke. You also need recent reviews. If a review is more than three months old, 85 percent of consumers don't look at it. On Tripadvisor, the quantity and frequency of reviews influences your Popularity Ranking.
To get more reviews…ask. Sixty-five percent of US consumers have left a review at least once after a business requested it, and 35 percent do so more than half the time.
It's simple to request feedback either during a guest's stay—which enables you to fix any issues before they go public—or after they leave via an automated email or text message. Be genuine, not pushy, with a request like, "We hope you enjoyed your stay and welcome you to share your experience by completing this short survey / reviewing us on Google." Feedback requests via post-stay emails can be automated from your property management system or CRM software, and guest messaging platforms can be set up to invite guests to provide feedback during their stay.
Work in moments throughout the guest's stay to surprise and delight them. This increases your chance of receiving that review without having to prompt it. Who wouldn't want to share about the delicious, local maple fudge you left on their pillow?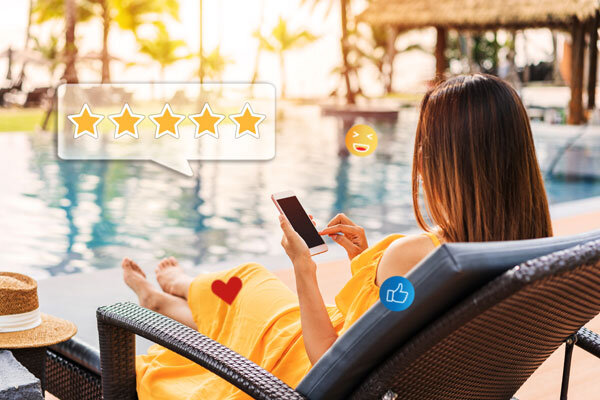 Monitor Review Sites
Monitoring online reviews and social media mentions enables you to manage your online reputation, make good with dissatisfied customers, and improve your rating on review sites and OTAs. 
You can check review sites and your social media accounts manually on a regular basis, but employing a social listening tool like Hootsuite or a reputation management system like Revinate saves time and ensures you don't miss anything. These automated solutions comb the internet for new reviews and conversations about your property and provide a single convenient dashboard from which to read and respond to all feedback. 
Respond Appropriately
Whether a review is positive or negative, a prompt, professional response never hurts. Fifty-six percent of US consumers have changed their perception of a company after reading their review responses. Responding to reviews is your chance to reinforce a good impression or mitigate a poor one. It's about showing travelers that you care, even when something has gone wrong. 
Responding to positive reviews is simple, e.g., "We're so glad you enjoyed your stay," but negative ones can be more complicated. You want to acknowledge the problem and make the customer feel heard while still showing your business in the best possible light. If you've done something to correct the issue, say it. Let them know that you appreciate their time and feedback. If a guest is very upset, try to direct the conversation offline by offering your contact details in a private message.
All this professionalism is much easier if you've given yourself a moment to cool down. Typing the first thing that comes into your head after reading a negative review is a bad idea. You're basically sending a "reply all" to the internet, so choose your words carefully. (If you're really stuck, AI can help!)
In either case—positive or negative—do not copy and paste your responses. Nothing makes a customer feel unappreciated and unheard like scrolling down the page to find the exact same wording in reply to someone else's review. Doing this shows that you don't care.
Our partner BlueJay Reviews offers some great advice on How Hoteliers Can Turn Negative Reviews Into a Positive Online Image.
Act on Feedback
Analyze constructive criticism and make improvements where warranted. This is a sure-fire way to boost customer satisfaction and positive reviews! Pay particular attention to complaints that appear frequently.
Automated reputation management software can help here too, providing reporting and sentiment analysis based on surveys, online reviews, and social media mentions to help you identify opportunities and actions for improvement.
Hotels should enthusiastically encourage public reviews because most travelers won't book without them. Don't be afraid of negative feedback. Guests are just as (or more) inclined to write reviews about great experiences as they are about the not-so-great. And the odd negative review can actually help increase your credibility (guests get suspicious if everything is sunshine and roses)…
Once those positive reviews are flowing in, spread the word by sharing them on your website and on social media. Be transparent and watch your occupancy soar!
Editor's note: This post was originally published July 2015 and last updated June 2023.