Social media isn't a flashy new trend anymore; it's a fundamental marketing cornerstone. Fifty-two percent of travelers have chosen to visit a place after seeing its image or video in their peers' social media, and even more (60 percent) post photos on vacation. 
Any accommodation business that wants to amplify reach and drive bookings should incorporate social media into their marketing strategy. Keep reading to learn the best ways to use social media to inspire guests to book at your property and share their experience with friends.
Influencer Marketing
An influencer is basically what it sounds like, someone with significant influence on social media, i.e., a following who likes, comments, and engages with their posts. Because larger companies are reducing their influencer partnerships this year, a gap has opened for small businesses to step in. And it doesn't have to break the bank. Most influencers cost under $100 USD per post and just under a third are paid in free products. 
The trick is finding an influencer whose audience matches yours. Before you go on an influencer hunt, look at your guest data to determine who you are marketing to. The influencer who is the best match may not necessarily have the most followers, and that's okay. Influencers with a smaller, niche audience may receive more engagement. Check their engagement rate (total number of interactions divided by total number of followers, multiplied by 100) and be on the lookout for spam comments. Bots are not a worthwhile target audience. 
Bots aren't the only issue you need to watch out for. Has the influencer or their followers had a PR crisis lately? Steer clear of anyone who does not align with your values. 
Once you've chosen an influencer, make sure you're on the same page regarding content type and schedule. Talk brand messaging beforehand, so they know what points you need to get across. That said, allow them creative freedom. They know their audience better than you do and what they post has to mesh with their other content.
As with any other marketing initiative, you should review the return on investment. Use UTM parameters, promo codes, and unique hashtags to measure engagement (and revenue!) generated by the influencer campaign.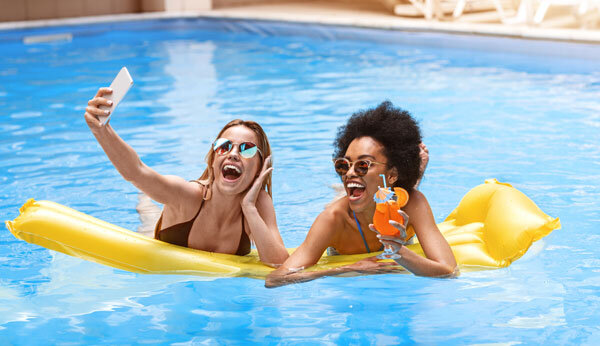 User-Generated Content
Guess who has more influence than influencers? Ordinary social media users! In a global survey, 38% of respondents said that everyday social media users (like your guests) are the most authentic, compared to 9% who voted for social media stars. Subject matter experts came out the winner with 39%. Consumers believe each other. 
Curate user-generated content (UGC) and use it across your social media channels (and your website). Just be sure to ask permission first. If you're broadcasting someone's gorgeous pool photo here, there, and on your homepage, they may expect more than just the exposure. 
Use social listening tools like Hootsuite to discover user-generated content. These tools allow you to monitor what people say about your hotel and local area by selecting your brand pages and other related keywords. You can't share posts you don't know about! 
If you're not seeing many posts about your hotel, ask guests to create them! Staging a contest (best pool photo wins) or offering a small perk like a free drink in exchange for a review/post will help ramp up UGC. (Note, you cannot make perks dependent on the type of review your guest makes. It has to be valid whether the review is glowing or glowering.)
Surprise and delight your guests to inspire them to post without you asking (there are only so many contests you can run). If you present a longtime guest with peanut butter fudge squares on her pillow, she'll probably want to share a pic on social media. (Just check her guest profile first and make sure she isn't allergic to peanuts!)
Display your social media handles and hashtags around your property, so guests know where to tag you. You can also send a review request after the guest checks out.
And be sure to engage with guests when they do post! A simple "thank you, we're so glad you enjoyed your stay" does the trick.
80-20 Rule
Use the 80-20 rule to guide you so that only 20 percent of your content directly promotes your brand while 80 percent focuses on informing/entertaining your audience. You know that "friend" who only reaches out when they want something? Don't be that friend. Not every post needs to say "Book Now."
When you do use promotional content, it should be something out of the ordinary. Is there a special offer or holiday package? Does that offer have a deadline? "Book Now" should mean "Book Now" and not "Book Sometime." 
Always consider the value your post offers potential guests, not simply the value it offers you. Build rapport with your audience, then ask them to buy.
Behind the Scenes
So, if you're not supposed to promote yourself, then what do you post? Think about it like this; the goal is to introduce yourself. Social media is your warm, friendly get-to-know you hug (or handshake if your guests aren't huggers).
Use behind-the-scenes content to humanize your brand and show potential customers what you're all about. Post that video of your chef whipping up strawberry crepes. (Food pics/videos are always good. Anything that makes your audience's mouths water.)
Ensure that at least some of your content features people—be they guests or employees.
Including people in your content makes it easier to tell a story. Where there's people, there's personality, needs, and emotion. Did your chef scorch a couple before coming up with that perfect golden brown? Do tell.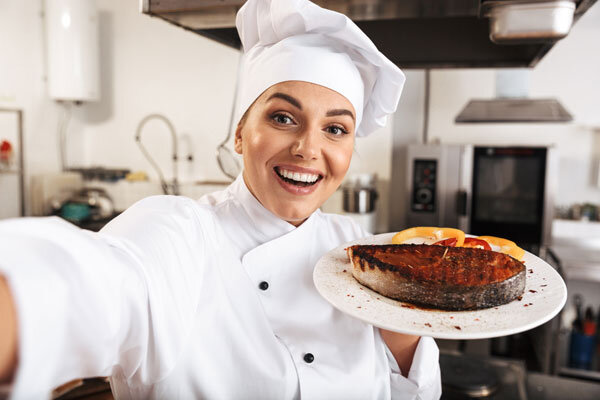 Information
Potential guests need information during the dreaming and planning stage of their travel journey, and they go online to get it. Position yourself as a local expert with insider knowledge on how to enjoy your area to the fullest. Your blog is a good place to get this ball rolling. It will also improve your SEO. Write about nearby attractions, fun places to eat (again, you want to show guests there's good food), and tips an out-of-towner wouldn't otherwise know (if you take 2nd Street after 5 o'clock, you will die in rush hour traffic). Then curate the choicest snippets for social media. 
Do your customers all ask the same questions when they walk in the door? Answer those questions on your Facebook page (and your website's FAQ page!).
Humor
People use social media to stay entertained during their spare time, so entertain them. Humor is fair game with the caveat that you should know your audience. You're looking to engage, not enrage. (Without that caveat, this blog would have a lot more The Shining jokes, but not everyone finds homicidal hotel management amusing.)
Throw in a meme or two. If you google "funny travel memes," the internet gives you everything from Willy Wonka to Boromir (plus a guy in a Hawaiian shirt). You're sure to find something that fits your brand—or create your own!
Don't be afraid to get creative. Hilton put together a TikTok that was more or less a ten-minute meta commentary on social media marketing. They bulldozed the fourth wall…and the video received 86 times the average US brand video views on that platform in the first quarter. 
Videos
In fact, video has become increasingly popular with 91 percent of consumers saying they want brands to show more online videos in 2023 and another 89 percent saying video has persuaded them to purchase a product or service. YouTube is thriving, TikTok is exploding, and Instagram is diving into video—almost all users there consume video weekly. 
Though Hilton succeeded with their ten-minute TikTok, it's generally best to keep videos short. Assume your audience has the attention span of a gadfly. It's not their fault; social media was designed that way. But it does mean that a 30-minute live stream of your latest shareholder meeting is probably a bad idea (for oh so many reasons). Instagram reels can only be up to 90 seconds, and they achieve 67 percent more engagement than standard videos on the platform. 
Tailor your video to the platform you're using but keep it consistent with your brand voice. Don't opt for a beach background if you're a ski resort in the alps. Virtual reality tours and instructional videos (teach guests how to make those crepes!) are a good way to introduce customers to the inner workings of your hotel. Be sure to include your contact information at the end, so those customers know where to book.
Use social media to make your guests feel something about your property and excited to learn more. Let them imagine themselves poolside with a mystery book and a mojito to inspire them to make a booking (and post an Instagram pic of themselves in that pool chair once they're there!).
Editor's note: This post was originally published June 2017 and updated April 2023.