Mediterranean Inn and Belltown Inn are sister properties located in the heart of Seattle. With 345 rooms between them, this top-rated boutique hotel group offers timeless urban ambiance and warm hospitality, providing guests with high-quality comfort, excellent service and panoramic city views from acclaimed roof-top terraces.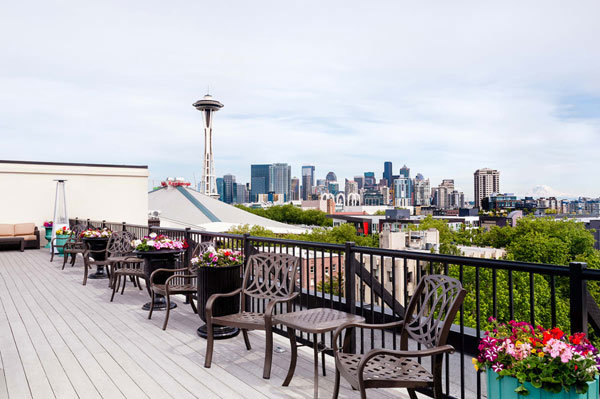 In 2019, Brian Zaugg, the investors' local agent for the two properties, along with the management teams, decided it was time to decommission their outdated legacy property management system. Difficult to integrate with their other systems, and not mobile friendly, their old PMS was making it increasingly challenging to maintain the high level of service the properties are known for.
They knew they needed to modernize operations with a web-based solution that offered direct connectivity with their other hotel systems (OTAs, OBE, payment gateway, CRM and guest messaging), centralized administration across both properties, robust security, and a modern, intuitive, mobile-friendly user interface. Undertaking a thorough selection process, Brian and his team found WebRezPro PMS best aligned with the properties' operational objectives and company culture.
Going live with a new PMS just as the COVID-19 outbreak hit had its challenges, but Brian and his team were consistently impressed with the speed and care with which issues were addressed and resolved by WebRezPro's Product Support team.
"A variety of factors led to us choosing WebRezPro," said Zaugg. "This included recommendations from hotels we contacted independently who currently use WebRezPro, nearby proximity, the confidence we developed in [our WebRezPro account executive] Hanna, the product's modern look and feel, ease of access, and probably as much as any one single factor, WebRezPro's willingness to find solutions to any challenges we encountered either during the switch or after. This final factor, the most important, has been realized throughout the past 18 months or so, and really I think is the single biggest differential advantage that continues to attract us to your product. It's aligned with our company's culture, and frankly refreshing."
A successful solution
WebRezPro is proud to provide Mediterranean Inn and Belltown Inn with a fully integrated and centralized multi-property PMS solution that modernizes and streamlines operations at both properties. All operational objectives of the properties' PMS migration have been realized upon implementation of WebRezPro:
Successful integration with the properties' other hotel tech partners (OTA, OBE, payment gateway, CRM and guest messaging solutions)
Seamless mobile access to the PMS on any device
Centralized administration and improved reporting across both properties
Real, hassle-free data security
A modern user interface that is easy to learn and use
Genuinely committed and responsive software support and technical teams
"WebRezPro is modern and integrates well with other modern companies' products, is extremely easy to use and to teach, and is sufficiently customizable. But their 'absolutely can do' attitude and remarkably helpful team are their biggest differential advantages over other companies' products and teams. This quality alone would require me to select WebRezPro every time given the option to do over again, and to recommend it unequivocally," stated Zaugg.
Read the complete case study to learn more about this boutique hotel group's experience with WebRezPro.