A property management system, even an easy-to-use one like WebRezPro, may have such a variety of features that it's hard for you to get to know every aspect. As busy hoteliers, you don't always have time to sit down with it and really poke around. After all, you have guests to take care of! To help you get the most out of your WebRezPro software, here's a quick rundown of handy features you might not know about.
Interactive Overrides
Need to change a rate in a jiffy? Our interactive overrides feature allows you to apply instant overrides on a per-day basis whether you want to change pricing, close out rates, apply closed to arrival/departure overrides, change minimum and maximum length of stay, or override unit inventory.
Access interactive overrides under Back Office >> Closeouts/Overrides >> Interactive overrides. The system takes you to an interactive calendar where you can easily change multiple factors from a single screen. Changes are immediately active in the system.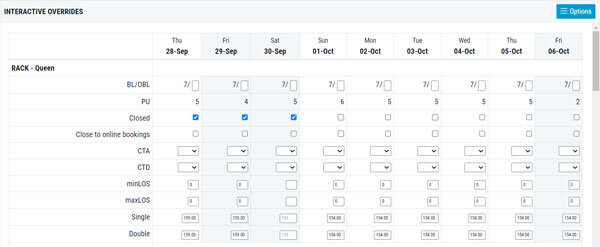 Products/Services
Looking to expand your TRevPar? There's more to running a hotel than heads in beds. And whether you sell deluxe spa packages, eco-adventure tours, or simply a nice breakfast to increase your bottom line, WebRezPro can help you manage ancillary purchases. You can set up products and services under Accounting >> Point of Sale >> Product/Services.
Allow guests to purchase products and services when they book online (upsells anyone?) by adding them to reservation options (Setup >> Reservation options).
The products/services sales report (under Back Office >> Reports >> Products/Services report) allows you to track sales of products and services so you can identify your most popular product categories outside of room revenue and plan offers that make sense for both your guests and your business.
Custom Report Templates
If you want to dig a little deeper than the standard monthly booking report, custom report templates give you a personalized way to analyze your data on an ongoing basis. You can calculate reservations, cancellations, check-ins/check-outs, and revenue while filtering for a variety of parameters, such as reservation status, employee, and unit type.
This feature enables you to set and save your chosen parameters, so you don't have to start from scratch every time you want to run your custom report. It also gives you the option to automatically send the report to a designated email address at a certain time of day or chosen day of the week or month. To create custom report templates, navigate to Back Office >> Codes/Templates >> Report templates.
Housekeeping Log
Post pandemic, squeaky clean rooms are crucial to your credibility and reputation (guests won't trust you for a second stay if they find someone else's tissue in the trash). WebRezPro's housekeeping log enables you to keep track of all housekeeping status updates, including the date and time of the update, a description of the status change, and the relevant employee. When housekeepers update the mobile housekeeping report on the go as they work, it can even show you how long it takes to clean each room! To access the housekeeping log, go to Back Office >> Housekeeping >> Housekeeper log.
Virtual Units
Virtual units allow you to tie multiple units together and sell them as one large unit. For instance, two connecting queen rooms could be sold as a two-queen suite. This comes in useful if you have a small group or family checking in (maybe parents don't want to share a room with their sweaty, smelly teenager). If one of the tied units is booked separately, the system will automatically close out availability for the associated virtual unit for those dates.
To create a virtual unit, check the "Yes, this is a virtual unit" option in the unit type setup, then create the virtual unit of inventory and tie it to the applicable physical rooms.
WebRezPro is a flexible, feature-rich PMS made to accommodate (pun intended) lodgings of all types and sizes. Taking the time to master your system pays off in the long run, enabling you to streamline operations and improve the guest experience even more! We hope this list of handy features helps you get to know your system better—and what it can help you achieve. If you have any questions, take a peek at our online user manual or contact our top-notch support team. They're ready to help seven days a week. Stay tuned to discover five more handy features in Part Two!