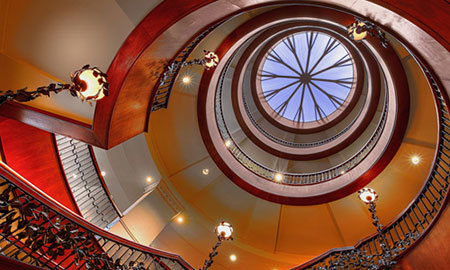 Six WebRezPro clients have landed a spot on Condé Nast Traveler's Gold List 2013 — the it list of "the world's best places to stay." It's not an achievement to be taken lightly; Conde Nast Traveler is a highly respected and trusted travel publication worldwide and its annual Gold List highlights the best hotels, resorts and cruise lines on the planet, as selected by nearly 47,000 of Conde Nast Traveler's discerning readers. A big congratulations to our clients Beaumont Hotel & Spa (Ouray, CO), Foley House Inn (Savannah, GA), HarbourView Inn (Charleston, SC), French Quarter Inn (Charleston, SC), The Pitcher Inn (Warren, VT) and Sooke Harbour House (Sooke, BC) for making it onto this prestigious list this year! (A special "well done!" to French Quarter Inn and The Pitcher Inn on achieving Platinum Circle status for appearing on the Gold List five years in a row!)
WebRezPro Property Management System is a perfect fit for boutique lodgings due to its ability to accommodate the exceptions that set these properties apart from the rest. With features as simple as VIP tagging and pop-up reminders, and as flexible as our package and rate setup, WebRezPro PMS helps detail-oriented properties like our "Gold List" clients to offer unparalleled guest experiences.
Here are some other features that are a hit with our boutique hotel clients:
Booking options
An effective way to sell additional services (like spa treatments or champagne and chocolate-covered strawberries) or to collect additional guest information during the room reservation process.
Comprehensive reporting
Gain valuable insight into your market by analyzing detailed reports.
Group bookings & reserved allocations
Group booking folios allow you to organize all reservations for an incoming group in one spot. Apply charges and payments to a master invoice or individual reservations. Set aside blocks of inventory at special rates for groups and special events.
Paperless check-in
Our electronic signature capture feature eliminates paper by allowing guests to sign check-in receipts or registration cards directly on a tablet or smart phone – cool, huh?!
Mobile housekeeping reports
This handy feature allows cleaning staff to view and update housekeeping reports on the go, directly from their mobile devices.
ActivityEngine module
Our optional, integrated activity reservations module allows properties to sell both accommodation and activities with just one efficient system.
Anywhere access/mobile access
You can access your secure WebRezPro system from any computer (or tablet or even a smart phone) connected to the Internet—anywhere in the world.