Whether you're running your property with a big book and pencil or spreadsheets or an outdated computer system, disconnected hotel management systems are detrimental to business any way you look at it. From double bookings (or not enough bookings) and disgruntled guests to painful night audits and gloomy financial statements, various glaring signs will show that something at the core is wrong.
The problem is that disconnected systems leave hoteliers flying blind. Without instant access to the data you need—from reservation and guest data to financial KPIs—everything just takes too long. Service is slow, opportunities are missed, and, ultimately, your bottom line suffers.
If disconnected hotel systems are causing you grief, keep reading to understand how they're holding your property back—and what you can do to turn things around.
Problem #1: Too much admin, too little time
Finding the right reservation, identifying an available, clean room, tracking and processing payments… checking guests in without an integrated system is a time-consuming process during which the guest is left waiting patiently (or not) on the other side of the desk, watching you shuffle through records. It doesn't make for a very welcoming welcome. It might work when things are quiet, but stress levels rise as the queues get longer and guests get impatient.
Throw in requests for additional services, a few complaints here and there, the overstayers and the early arrivals, and, suddenly, it's all a bit much to stay on top of. And that phone just won't stop ringing!
Hoteliers deal with a million distractions on any given day hosting a property full of guests. Without integrated systems to help them keep up with incoming reservations, who needs what, who's paid for what, which rooms are vacated and which ones are expecting guests, it's easy for staff to fall behind, causing frustration for staff and guests alike.
Distracted by time-consuming routine tasks, you simply don't have enough time for your guests. And faced with labor shortages, this problem is only exacerbated as travel ramps up. Which leads us to Problem #2…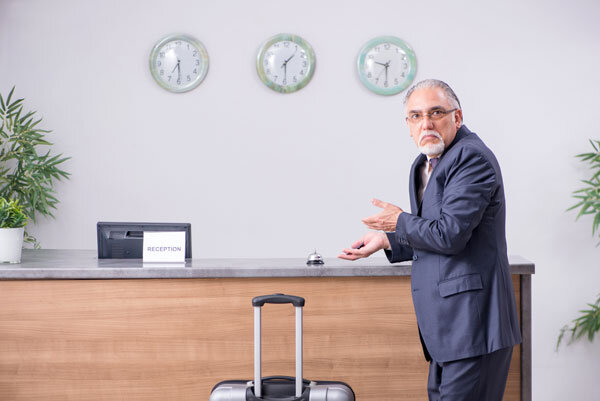 Problem #2: Unhappy guests
It's not only slow service that results in unhappy guests. Managing daily operations manually is prone to human error that degrades the guest experience.
For example, selling inventory on online booking channels like Expedia and Airbnb is an important part of any property's revenue management strategy. But when your online inventory isn't connected to your reservation system, online bookings have to be entered into your system manually and availability then updated across your other channels. The more bookings coming through these channels, the higher your administrative load and the higher the chance of double bookings—an unpleasant side effect that hurts your property's reputation.
When guests arrive, an efficient and successful check-in experience depends on the quick identification of vacated, clean rooms. But if your front desk system isn't connected to your housekeeping department, assigning rooms can be a bit of a gamble—especially during the busy season. Checking guests into a dirty room is good cause for complaint!
Disconnected systems also lead to billing discrepancies. Guests don't like it when they're charged for things they didn't use (and hoteliers don't like it when charges are accidentally left off a guest's bill).
But the key to happy guests is more than just fast, accurate service. After a couple of years of travel restrictions, travelers are seeking special experiences to make up for lost time and travel to the fullest while they can. From Amazon to Netflix, they're also used to personalized consumer experiences across their daily lives and increasingly demand this level of personalization when they travel too. Guests want to feel like a valued customer, not just a reservation number.
Personalization is only going to become more important going forward. Hotels without tools that allow them to engrain personalization into every guest's stay will struggle to remain relevant. Without automated hotel software, hoteliers are unable to harness guest data—upon which everything depends. Post-it notes stuck to your screen might help you step it up for in-house guests, but what about when they come back next year? What was it they were allergic to? What was the room they loved?… Can you even remember they've stayed before?
Problem #3: Lost revenue
Without an integrated system that tracks reservations and transactions in real time, hoteliers are vulnerable to a range of costly headaches—including billing errors and chargebacks, double bookings, and hours of manual number crunching.
The inefficiency caused by disconnected systems has a domino effect: slow, error-prone customer service leads to unhappy guests, and unhappy guests lead to more refunds and fewer bookings (lost revenue). Those disgruntled guests may dispute charges or leave negative reviews online, and they definitely won't be coming back.
Disconnected systems also disadvantage hotel operators when it comes to making profitable business decisions. Manually adding up data from separate systems, manipulating spreadsheets and punching numbers into a calculator not only takes hours of time that could be better spent, but it's not the most accurate way to do it either. Night audits and tax season shouldn't fill you with so much dread!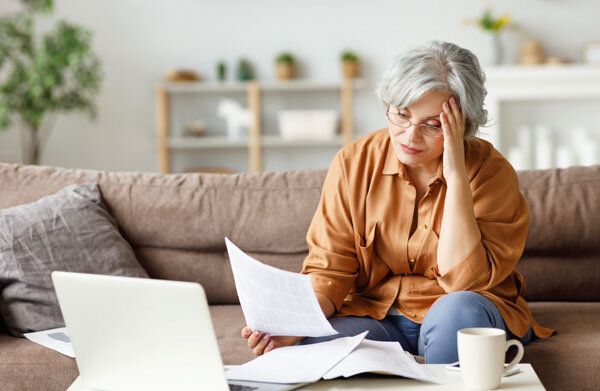 Without instant access to the numbers that matter, hoteliers can't get a clear, real-time picture of business performance and are ill-equipped to make timely, informed decisions that raise that all-important bottom line—from determining the right rates and channels to choosing the right investments.
The Solution
Disconnected systems cause core problems that hurt every aspect of your business. But the solution is simple.
Automated hotel management software brings all the data you need together, allowing hoteliers to streamline daily operations, improve the guest experience, and generate more revenue.
>> Saves time
As your single point of control, an integrated system synchronizes daily operations so that you don't have to cross-check various sources to ensure guests are checked into clean rooms, your channel inventory is up to date, and your accountant has the numbers they need. With a system that tracks all transactions and actions in real time, all the information you need is right there at your fingertips.
Online bookings (both direct and third-party bookings) are automatically updated to your reservation system and availability is automatically updated across all channels, eliminating the need to double-handle bookings. And the more guests book themselves in online, the fewer phone and email reservations you have to manage.
Check-ins are easier and faster with a reservation system that's integrated with the housekeeping department for up-to-the-minute room status updates. And payments can be processed directly through the system, speeding up the check-in process too. If guests want to check themselves in, systems like WebRezPro Property Management System include contactless check-in functionality to save front desk staff even more time.
From front desk to back office, integrated hotel management software simplifies and automates administrative workflows across the board, giving hotel staff more time to focus on being wonderful hosts.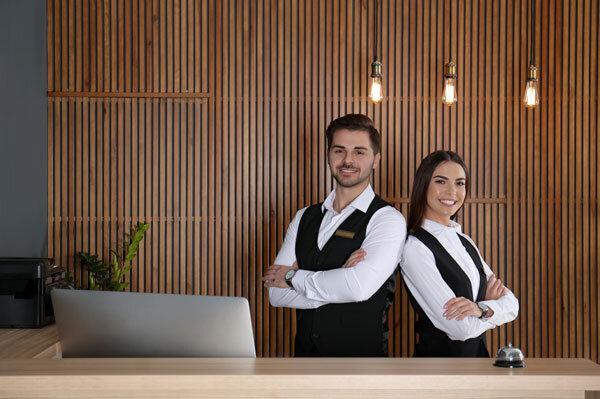 >> Happy guests
When operational processes are running smoothly, your guests enjoy efficient, on-point service that's hard to fault, from quick check-ins to spotless rooms to accurate billing. But automated hotel software enables you to harness guest data too, to power personalized service that brings guests back again and again. 
Through the use of guest profiles, automated hotel software helps you recognize returning guests and to welcome them appropriately. Guest profiles automatically build up a stay history and allow you to store information about guests (such as special dietary needs or anniversaries) to help you improve their stay experience.
Automated email templates (and guest messaging integrations) allow you to send guests routine communications (such as booking confirmations, and pre-arrival and post-stay messaging) that are personalized and triggered based on guest and reservation data. This way, every guest receives timely, personalized communications that make them feel valued—without requiring any extra effort from your front desk.
Reservation and guest data can also help hoteliers create relevant offers and sell them to the right guests to increase guest satisfaction and revenue.
>> More revenue
With an integrated hotel management system, hoteliers enjoy a trickle-down effect where more efficient, accurate operations and personalized guest service results in happy, loyal guests, which leads to more revenue—but automated hotel management software helps grow revenue in more direct ways too.
Adding an integrated online booking engine to your property's website allows you to accept direct (commission-free) bookings 24/7, decreasing reliance on third-party booking channels and the associated commission costs that eat into your profit.
Because an automated system tracks all transactions and actions in real time, you always have immediate access to historical and real-time performance KPIs—like occupancy rates, ADR and RevPAR—that help you make smarter pricing and revenue management decisions. Hoteliers can adapt to changes in demand faster by applying instant overrides that are reflected across all integrated channels (including your website booking engine and OTA partners) to maximize bookings.
Eliminating accounting headaches, the system automatically posts transactions to the chart of accounts, calculates taxes, and generates on-demand financial reports that can be pulled by your accountant as needed. And say goodbye to painful night audits—an automated PMS closes out the day for you!
Integrated accounting and reporting features not only improve accuracy and reduce costly mistakes but they give you a clear view of your business so you can always see the most profitable moves to make.
If your business is being held back by disconnected systems, making the move to an automated property management system is the answer—it's easier and more affordable than you think. Contact us to see for yourself how WebRezPro can streamline operations, improve the guest experience, and drive revenue for your property.