The pandemic is slowly fading, and people are just as enthusiastic for travel as they were before. However, the hospitality industry is not returning to 2019 but instead moving forward with innovative concepts and technology accelerated by the pandemic. To look ahead, we need to look back at "pandemic trends" that are now the norm.
Contactless Check-in
Not every guest wants to check-in in person. Though Covid is on the wane, it hasn't been eradicated, and there's fall cold season to think about as well. Or maybe your guest is just an introvert or in a hurry. Either way, you need digital self-service options for those who'd prefer to avoid the front desk (and the queue!). Done right, contactless check-in saves time for both you and your guests, which is especially important given the ongoing staffing shortage. 
Use a cloud property management system (PMS) like WebRezPro to ensure all elements of the check-in process—from online registration to payments to mobile key delivery—integrate seamlessly together for a frictionless guest experience.
Guest Messaging
Check-in isn't the only thing you don't need to do face-to-face. Questions and requests can also be handled remotely via SMS and/or a web-based app throughout the entire guest journey. Another timesaver, guest messaging software enables you to send personalized routine communications to guests automatically, and guests can reach out to your staff from anywhere, when it matters. They don't have to troup down to the front desk, and any issues can be brought to attention in the moment for faster service recovery (and more satisfied guests). 
WebRezPro integrates with leading guest messaging providers such as Akia, Breezeway, and Duve. 
Flexible Cancellations
During the pandemic, guests never knew if the border would slam shut or if the home test they jammed up their nose before traveling would turn positive. Flexible cancellations became a necessity for those concerned about paying a hefty fee for a vacation they could only dream about. Even though borders don't look like they're closing anytime soon (fingers crossed), travelers still look for the peace of mind that flexible cancellations bring.
To ensure you're still able to turn a profit, use strategies such as limiting flexibility to loyalty program members or converting cancellations into gift certificates so that guests can stay at a later date.
Camping & Glamping
While social distancing is no longer the latest buzzword, a strong contingent of travelers still feel the call of the wild, with 55 percent wishing to vacation off-grid. (You weren't wrong to invest in those geodesic domes!) With inflation running rampant—or rampage—people may continue to turn to camping because it's affordable…even if no one leaves a bottle of champagne in the tent.  
Part of wellness and sustainability trends (more on those later), camping and/or the great outdoors can be integrated into your property's stay experience in many different ways. Even if your lodging isn't quite as adventurous, i.e., has indoor plumbing, you can still incorporate activities and recommendations such as a yoga class in your garden and the best local hikes.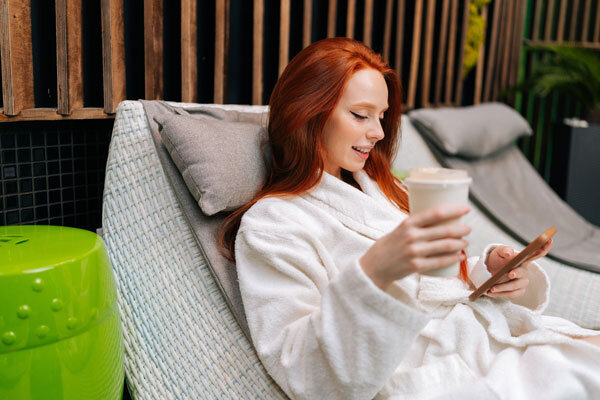 Wellness
The pandemic took a toll on everyone's mental health; there are only so many nights you can stay at home with just the microwave to talk to. Now people are focusing on self-care and wellness, with 39 percent of American travelers saying it's a vacation priority for them. This number rises to 54 percent for those aged 18-34. 
Spa and fitness options are increasingly important but don't have to be fancy. For instance, if you don't have space for a gym, you could provide in-room yoga sets or hand weights. You can also partner with outside businesses. Maybe the cosmetology school down the street is open to offering a mani/pedi discount… Take advantage of emerging wellness trends like slow travel and sleep tourism to bring guests in the door. (Brush up on local recommendations and review your pillow menu.)
Wellness also extends to the kitchen. Do you offer healthy food? Do you have options for people with dietary restrictions? The vegans are coming…and the celiacs are right behind them. Provide allergy-friendly breakfast choices and wipe down your counters to prevent cross contamination.
Workcation
The pandemic made people thoroughly sick of their own four walls, but not everyone's in a rush to return to the office (though can you really call that two-hour commute in traffic a rush?). According to Forbes, only 13 percent of full-time workers do their jobs from home but another 28 percent use a hybrid schedule. 
These digital nomads are free to take their laptop and settle in at your lobby…or by the pool. Be ready for them with ergonomic chairs, good coffee and, of course, high-speed Wi-Fi. Consider setting up a co-working space or networking cocktail hour—with plenty of snacks!
Consider the locals too. People won't necessarily fly 1,500 miles for your delicious dark roast, but they will drive 15 miles for it. Bring locals in the door with business facilities and co-working areas, and they may come back for a staycation. 
Extended Stays
Along with workations came growing demand for extended stays. Global hotel chains have increased their extended stay offerings by over 50 percent in the past decade, and that trend is still going strong with Marriott announcing a new extended-stay brand in June of 2023. 
Independent hotels have potential here as well. Just because someone's staying a while doesn't mean they want a cookie-cutter experience—in fact, the more local the better. Extended stays benefit guests by enabling them to visit destinations for longer without locking themselves into a lease and benefit the hotel by reducing room turnover costs. 
Sustainability
The pandemic caused many of us to re-evaluate our environmental choices and impact on the wider world. The decrease in emissions-producing activities during this time had a significant positive effect on air quality and the natural environment (humans weren't using the road, so lions napped there). Many travelers aren't ready to give up on those clear skies. As of 2023, 43 percent of those travelers will pay more for options that have sustainability certification. 
Ensure your property is as sustainable as it can be…then highlight your efforts in your marketing. Ideas to begin with include plastic reduction (e.g., eliminating plastic water bottles, single-use toiletries, straws), low-flow taps and toilets, EV charging stations, and locally sourced food. If you're looking to make more comprehensive changes, check out these bespoke sustainable hotels for inspiration. 
The pandemic has had a profound and lasting impact on the way people choose to vacation. We're not in 2019 anymore. We've traveled via virus tornado to the wonderful land of bleisure, so put on your ruby slippers and follow these trends to offer guests the convenient, healthy, and fulfilling stay experience they desire.