POV: you enter the lobby of a five-star luxury hotel. Friendly agents behind the front desk exude welcoming smiles while sky-high ceilings inspire a sense of awe and walls adorned with fine artwork remind you that you're staying near the Louvre in the world-class, cultural city of Paris—all from the comfort of your own home. Virtual hotel visits like this are just one aspect the burgeoning metaverse promises.
This brand-new territory can be downright mystifying. Yet the opportunities that abound are worth unlocking its secrets. Keep reading to find out exactly what the metaverse is, how some hotels are already participating within the metaverse, and practical applications your hotel can harness in the future.
What is the Metaverse?
Also known as Web3, the metaverse has formed as a natural progression and combination of social media and the gaming world, as both occupy a larger part of people's lives. In contrast to something we use from the outside, the metaverse allows users to immerse themselves in these digital worlds for more meaningful experiences.
Augmented Reality (AR)—which augments real-world scenes with digital aspects—and Virtual Reality (VR)—which offers a visually immersive experience with a headset—are often cited as examples of the metaverse. While the metaverse may incorporate both AR and VR, strictly speaking, the metaverse is an open and shared digital universe that users participate in by way of a virtual identity represented by an avatar.
A popular example of the metaverse to help you get your head around it is Roblox (created in 2010), where users (players) create a character (avatar) to represent themselves in made-up worlds (games). Along with its own currency that can be translated into real-life dollars, Roblox promotes decentralized gaming by allowing users to create their own games and design and sell avatar apparel. The platform is increasingly used for "live" concerts and events, product promotion, and brand collaboration.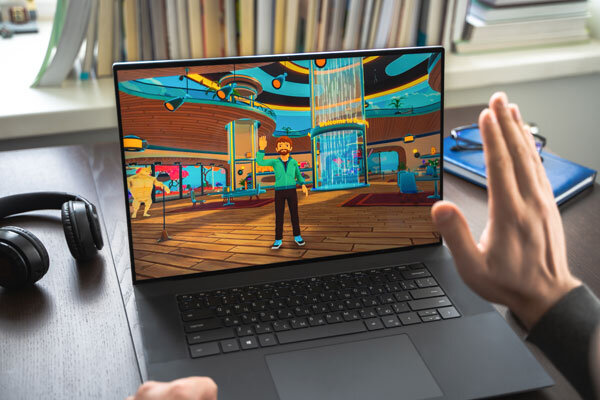 There are many metaverse platforms currently in existence, including Decentraland, Illuvium, and Sandbox. While there are differences among various metaverse platforms, they're all rooted in democratizing the internet through a decentralized blockchain economy—in other words, the metaverse is a virtual economy built on cryptocurrencies. According to the Analysis Group, the metaverse could generate $3 trillion by 2031.
NFTs (non-fungible tokens) are an important component of the metaverse. A non-fungible token is a blockchain application that is connected to a digital or physical object (image, video, gif, etc.). Each virtual object contains unique digital identifiers—meaning they can't be counterfeited. NFTs are worth whatever people are prepared to pay for them, much like an antique, and they are even bought and sold through auctions. For hotels, NFTs can be used as virtual gifts or as identifiers for special privileges.
Still not making a lot of sense? Let's look at some metaverse hotel forerunners as we explore the possibilities the metaverse presents.
The Metaverse's Frontrunner Hotels
As we delve into the virtual world of digital hotels, the following examples will show you how, exactly, the metaverse can be leveraged to enhance (and not replace) your physical hotel. Think of the metaverse as a platform to engage hotel guests in new and innovative ways.
M Social Decentraland—First Metaverse Hotel
The first metaverse hotel, which launched in May 2022, is the M Social Decentraland. The "property" is part of the larger M Social brand under the Millenium Hotel and Resorts umbrella, and while it contains design elements from some of their more familiar hotels, it is its own hotel. Why? M Social says it provides them with another opportunity to meet and interact with guests, as new experiences lead to new customers. 
Unconventional guest rooms, complete with floating beds, will become available to rent, along with other immersive spaces inside the hotel—providing another revenue stream for the chain. The hotel hopes to foster connections with guests through online experiences that lead to real-life engagement.
Hilton NFT Art Program
Real life and the metaverse converge at the Hilton with their digital art and NFT pilot program. Working with Niio Art (a big name in the NFT world), Hilton announced in June 2022 that select hotel public spaces and guestrooms will feature digital art from thousands of contemporary artists on digital screens. It's part of a campaign to deliver more value to guests through attention-grabbing and engaging art.
In true metaverse fashion, guests have the opportunity to engage with the artwork even further and take it home—through a unique app-based art streaming experience. Through this program, the Hilton has garnered free media coverage, truly engaged guests and deepened their loyalty—in addition to attracting new guests since the only way to view the collection is by booking a stay at the New York Hilton Midtown or Conrad New York Midtown. 
Marriott NFTs
In December 2021, the Marriott also made their foray into the metaverse by releasing their own NFTs by three digital artists they commissioned on the theme of "The Power of Travel." They revealed their NFT collection at an IRL event and three attendees each won artwork along with Marriott Bonvoy points.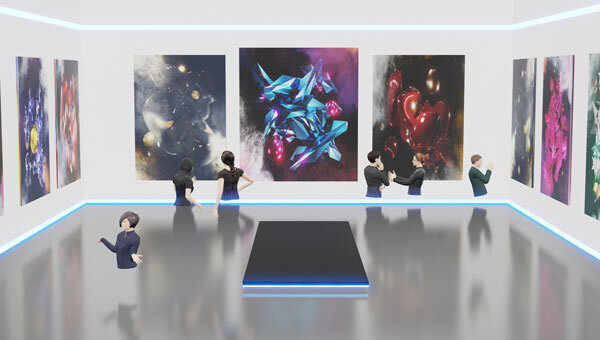 Metaverse Hotel Replication
Other hotels are currently looking toward twinning their physical hotel into digital. RendezVerse is a "metaverse-as-a-service" company actively building a community in Web3 for the hotel and events industry. Current hotels on their platform—Intercontinental Paris le Grand, Atlantis The Palm Dubai and Madrid Marriott Auditorium—will enable virtual visitors to tour properties via an avatar and interact in photo-realistic environments. 
This application is anticipated as a cost-effective, time-saving and more eco-friendly way to pre-visit event spaces or host virtual corporate events, with an eye toward guest-facing engagement in the future.
When The Metaverse Goes Mainstream: Opportunities For Independent Hotels
While digital replication of your property may not be on your horizon quite yet, the metaverse promises opportunities that can benefit you in the not-so-distant future. From event planning to virtual events, Gen Z and Millenials, in particular, are ready to engage and elevate their digital and travel experiences.
Virtual Event Planning
Virtual event planning is one of the most practical applications of the metaverse. There are currently venues offering virtual reality visits that allow event planners to don their own VR headsets and "walk through" the event space. The metaverse will level up the experience with customizable features that allow for experimentation with configurations and decorations. Gone will be the day when an event planner must visit various venues in person. Instead, many venues could be explored within one afternoon.
Hotel Staff Training
The metaverse is the perfect place for new staff induction training. All areas of the hotel can be explored while learning about policies and procedures in fun and interactive training sessions. This includes working the front desk and even interacting with guest avatars.
Direct Booking Dream Vacations
As hotels continue to wrestle for more direct bookings, the metaverse is a place where hotels can have a stronghold over OTAs. Your metaverse hotel experience can invite guests to tour your property and even try out different rooms before booking, while staff avatars can answer all their questions in real time. Imagine upsells, too, like delicious meals guests can see and want to try, or a luxurious spa that won't be enough to simply visit virtually. Make it easy for guests to book within the metaverse when their desires are heightened by integrating your online booking software—which then could accept payment via cryptocurrencies!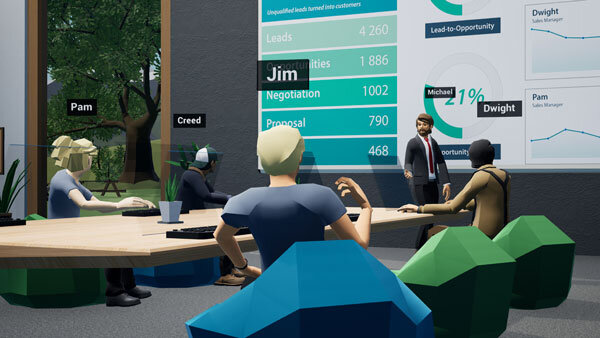 Virtual or Hybrid Events
The pandemic has made many of us comfortable with remote meetings and conferences. The metaverse evolves that experience from sitting in front of a screen of faces and transforms it into an interactive space. Imagine a virtual trade show where attendee avatars can go booth to booth and interact with representatives and other attendee avatars in real time. Virtual concerts, NFT art shows, and even book readings present another potential revenue stream for your hotel.
Guest Insight
A digital version of your hotel is the perfect platform for studying guest behavior. Similar to a web cookie that tracks web interaction, in the metaverse, you'll be able to study how guests like to navigate through your hotel, where they enjoy visiting, what they avoid, and even what they're saying. Hotels could even implement a survey for guest avatars to fill out for further insight about what they loved and what they wished to see. Imagine integrating your metaverse property with your CRM to save guest queries and interests for other marketing initiatives!
Virtual Experiences for Guest Loyalty
Foster guest loyalty through a program that rewards guests for their virtual visits with points that can be used in real life. Gamifying the experience—by offering rewards based on different visits, tasks, games, quizzes and the like—will keep them coming back. Amassed points could even be used for special virtual events or VIP-only experiences.
If the idea of a virtual hotel world still seems out of this world, bring it back to hospitality. The metaverse is not a world to replace real life, but rather inspire real life engagement. It offers new and exciting ways to engage with your guests and encourage real bookings.
While employing Web3 technology for your hotel may seem like a daunting endeavor, it's a future you can't afford to ignore. Don't be put off by the gargantuan investment some large hotel conglomerates are making into the metaverse. The spirit of the metaverse is one of decentralization and democratization—and so it is not as expensive as you might think. Simply begin by imagining how your hotel might use the metaverse; a SWOT analysis can help you identify all the potential opportunities and threats.
What independent hotels may lack in big budgets is made up for in agility. Without boards of directors, layers of management, and marketing departments, independent properties can adapt quickly to new technologies and can afford to try out projects on a small scale. Start dreaming and planning now for a very imminent, virtual future.