A lot of things are changing in the hospitality industry, but one fact that remains steadfast is the essential role that housekeeping plays in the running of a successful property. The pandemic has only amplified and reinforced the importance of housekeeping for keeping guests and staff safe and meeting higher-than-ever guest expectations. As one of the most significant contributors to guest satisfaction, guestroom cleanliness and quality is a top priority for any hotelier. Supporting the housekeeping team with the right software for managing and tracking housekeeping duties is key to improving productivity, accountability and room quality.
An essential component of any property management system, the housekeeping report provides details on room status, room notes, and current guests, and is crucial for communicating housekeeping information at a property with numerous rooms and employees.
WebRezPro's interactive housekeeping report provides real-time information, flexible functionality and dual formats to suit your property's needs.
Real-Time Information
Integrated with front desk, WebRezPro's interactive housekeeping report improves interdepartmental communication, keeping housekeepers informed of room occupancy, and front desk staff informed of which rooms are clean and ready for new guests—in real time.
All housekeeping information is organized in a clean, user-friendly format. Every unit is displayed with entries signaling the current room status, occupancy, zone and any attached notes or maintenance alarms. The report also shows guest information for anyone arriving, departing or staying through, for any given unit.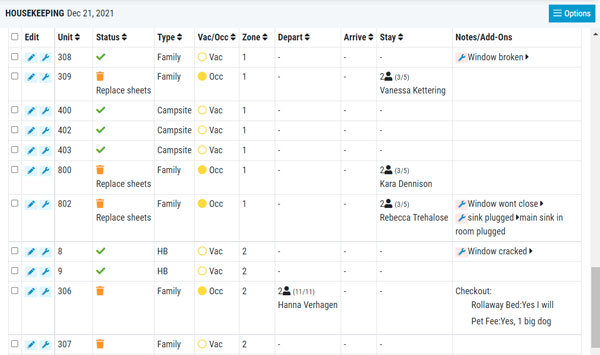 Seven- and 28-day housekeeping overviews are also available from the Housekeeping menu, helping supervisors plan ahead.
Flexible Functionality
As an interactive report, the daily housekeeping report not only provides up-to-the-minute information about individual units, but also allows users to quickly sort, search and update that information. Using the report, employees can:
Change list order >> The report can be sorted by room number, housekeeping status (e.g. clean, dirty, inspected…), unit type, occupancy, housekeeping zone, departing guests, arriving guests or guests staying through, simply by clicking on the appropriate column header.
Change room status >> The status of a room can be changed by clicking on the edit icon for the applicable unit. Available statuses include 'dirty,' 'housekeeper in room,' 'clean,' 'inspected,' and 'privacy.'
Add notes and alarms >> An employee can add notes to a unit by clicking the edit icon. There are options to add a note that will remain only for the selected date or a permanent note which will remain until turned off. Maintenance alarms can be added by clicking the maintenance icon for a particular unit. The status of an alarm can be changed from 'active' to 'work in progress' to 'work completed,' as necessary.
Search by keyword >> A search bar at the top of the report can be used to search for key words, for example, a guest name or housekeeping notes. Using this feature will filter the report by entries that contain the search term.
Assign and edit zones >> Zones are used to group units together for housekeeping scheduling purposes. The 'edit zone' function is used to name zones and assign housekeepers to them. Units can be designated to different zones using the Bulk Actions feature. 
Make bulk edits >> By selecting applicable units (using the checkboxes in the far left column), and then selecting an option from the Bulk Actions menu at the top of the form, employees can change the status or zone of multiple units at a time.
Tile Format for Mobile
The daily housekeeping report is available in two different formats and users can easily switch between the two at any time. While the table format of the housekeeping report (pictured above) is ideal for communicating property-wide housekeeping requirements and status to housekeeping supervisors and front desk staff, tile format (pictured below) is ideal for individual housekeepers accessing the housekeeping report on a mobile device as they work.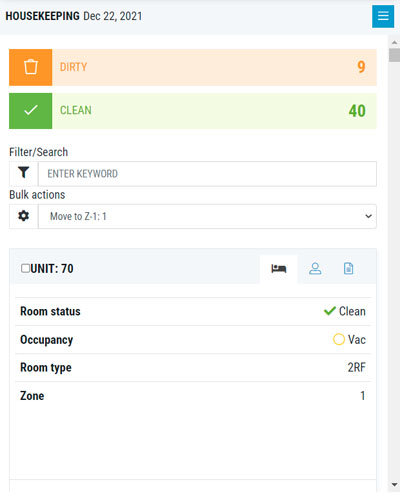 Displayed in a mobile-friendly layout, tile format includes all the same data as the report in table format, and performs all the same functions. Each tile represents a unit/room and displays a summary for the unit (room status, occupancy, room type and zone). Guest activity (departing, arriving, stayovers) and notes for a unit are accessed via the additional tabs within each tile.remains
Housekeeping Checklists
Housekeeping checklists help properties ensure that they maintain the high standard of cleanliness and safety demanded by today's guests.
Checklists can be created for both room cleans and inspections, and attached to specific unit types, allowing you to create different checklists for different room types. Each checklist can be set up with separate sections (e.g. Bathroom, Bed, Mini Bar) and tasks within each section so that housekeepers never miss a spot. Task descriptions can be added to help guide housekeepers through specific processes.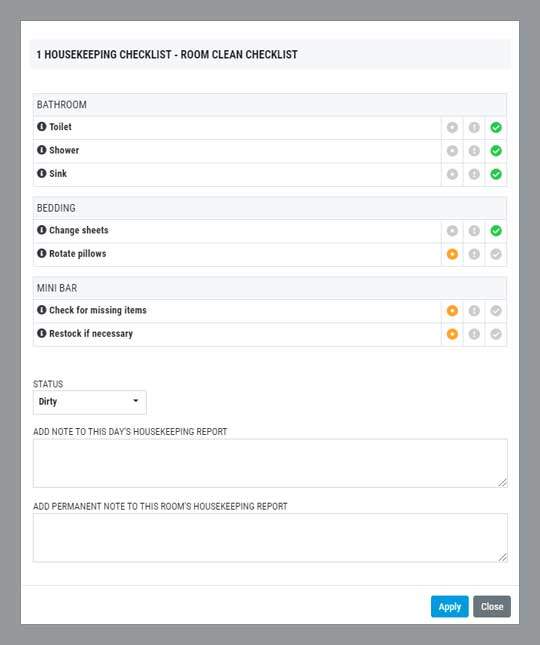 When housekeeping checklists are activated, the checklist attached to a room must be completed in order to update the status of the room to clean or inspected, helping to ensure a high standard of room quality. And a housekeeping checklist log keeps track of completed checklists by date for improved accountability.
The importance of an integrated housekeeping report cannot be understated. Every property should have a system that allows staff to track and update housekeeping information in real time to streamline internal communications and workflow, and improve guest satisfaction.
The housekeeping features described above are available in WebRezPro version 10.5.28. If you are currently using an earlier version of WebRezPro, please contact us for your free upgrade.
Editor's note: This post is an updated version (February, 2022) of a post we published in August, 2017, and reflects the current version of software.