No matter what type of operation you run, creating a clean environment for your guests is a universally shared task for all property owners. With an emphasis on demand for effective, reliable hygiene and sanitization protocols since the COVID-19 pandemic began, now is the time for hoteliers to invest in their housekeeping departments.
In addition to basic hygiene, prioritizing your housekeeping practices results in a relaxing, rejuvenating stay experience for your guests. Use these top cleaning tips to streamline and elevate your property's housekeeping services and attract guests.
Mobile Housekeeping Software
Efficient and seamless cleaning processes benefit not only your guests but your housekeeping team, too. With the increased interest in sanitization over the last few years, housekeeping teams have even more responsibility and pressure placed upon them. To stay on top of it all, employees can use a property management system (PMS) with integrated housekeeping software to boost productivity and guest satisfaction while relieving added pressure.
Mobile housekeeping reports allow cleaning staff to access their schedules and view room status and occupancy in real time. Housekeepers can update room status as they work and housekeeping notes and maintenance alarms can be added to any unit, ensuring nothing slips through the cracks—from a broken window to guest requests. Front desk integration results in seamless interdepartmental communication and allows guests to check in to their cleaned rooms as soon as possible. 
Housekeeping Checklists
Part of WebRezPro's integrated housekeeping module, housekeeping checklists help housekeepers maintain high, consistent standards across entire properties.
You can create checklists for room cleanings and inspections, categorizing them by unit type. Further, checklists for each unit type can be organized into separate sections (e.g., bathroom, bed, mini bar) and tasks within those sections (e.g., change sheets, rotate pillows). Task descriptions can also be added to guide housekeepers through specific processes.
For accountability and consistency, a room's checklist must be completed before room status can be marked as "clean" or "inspected." Additionally, the checklist log keeps track of completed checklists by date.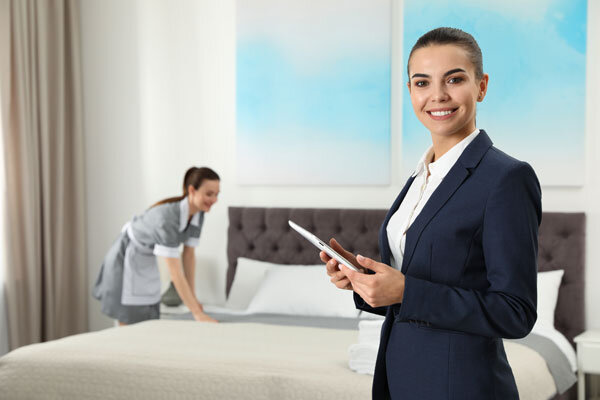 Cleaning Tips
While using hotel housekeeping software is fundamental to managing and maintaining an effective housekeeping team, these hands-on cleaning tips will ensure room sanitization meets increasing consumer demands.
Declutter and Organize
It is far easier and more motivating to clean a space that is minimized and organized. For example, dusting a fireplace mantel is much less work when you don't need to remove, then reset, a collection of knick-knacks! Reassess room items with a focus on decluttering, keeping in mind that fewer items are better for your housekeeping staff and your guests—who are also adding their belongings and clutter to the room. Once you've edited the contents of your inventory, organize and make sure every item has a designated "home."
Open Room Windows
Begin each room clean by opening the windows, if possible. Doing so will create natural ventilation and give the room a pleasing neutral odor for your guests (especially after the use of cleaning products). Natural light from the open windows will also highlight areas that require a more thorough cleaning.
Clean Bedroom Areas First
For minimal bacteria transfer, clean and tidy the bedroom area before cleaning the bathroom. Plus, the sight of a neat bed can help you feel accomplished and motivated to tackle the rest of your cleaning checklist.
Maintain Your Cleaning Equipment
Cleaning and maintaining your cleaning tools is an essential yet often overlooked task. Because equipment like washing machines, dryers, vacuums, and mops work hard to make your space sparkle, it is important to take care of them, too. Regular maintenance and cleaning will expand the lifespan of your equipment and ensure ongoing efficiency.
Use Eco-friendly Products
Customers value sustainability, especially on what and where they spend their money. Advertise your property's switch from harsh chemicals to eco-friendly alternatives, toiletries that are ethically made with natural ingredients, and locally sourced bed linens, pillow covers, and throw blankets. Also, consider stocking your coffee and tea area with reusable glass or porcelain cups rather than disposable paper or plastic ones.
Opt-out Programs
A creative and sustainable solution to alleviating your team's workload while reducing person-to-person contact is a housekeeping opt-out program. Providing guests with the option to forego their daily housekeeping services during their stay can save money and time while being eco-friendly.
Color-coded Cleaning Systems
Using color to identify products and supplies for certain tasks or areas reduces the risk of cross-contamination while streamlining and simplifying training and other processes.
Don't Forget About Other Furniture
Just as switching dirty bed linens for clean ones is an essential housekeeping task, so is the cleaning and rearranging of other furniture in the room. Vacuuming, spot cleaning, and correctly positioning chairs, side tables, sofas, curtains, pillows, and throw blankets help "reset" the room to make the guest feel like they are the first ones to stay in it; that it is "their" room.
While travel trends may ebb and flow, housekeeping continues to be the cornerstone of the hospitality industry. Because of its essential role in maintaining customer safety and satisfaction, it is equally essential to invest in the productivity, efficiency, and well-being of your housekeeping team. Use these tips to grow and maintain a strong housekeeping department that uplifts and elevates the guest experience for years to come.