Reservation management has gotten a whole lot more complicated over the years due to the rise of online bookings. In addition to telephone and walk-in reservations and traditional travel agent bookings, hotels today must also manage reservations coming through OTA and GDS channels as well as direct online channels.
In today's competitive market, it's more important than ever for lodging operators to centralize and simplify reservation management with an automated hotel management system — especially for those who want to maximize revenue and avoid overbooking.
A core feature of any hotel management system or reservation software, the tape chart provides a graphical overview of real-time availability, bookings, room status and more. In modern systems like WebRezPro, the tape chart also allows users to manage reservations directly from the calendar.
WebRezPro's interactive tape chart (availability calendar) simplifies reservation management through quick drag-and-drop functionality and a range of other features designed for ease of use. Let's take a closer look:
An Up-to-the-Minute View
The WebRezPro tape chart provides a clear view of live availability and room and booking status and features a clean, modern design that is easy on the eyes.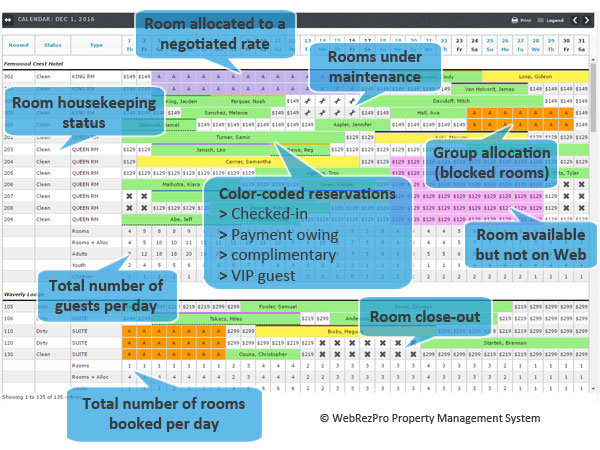 For each room and date, the Best Available Rate is displayed directly on the calendar. Automatic color coding of reservations provides quick reference to booking status, such as checked-in reservations, reservations with payments owing, complimentary reservations, VIP guests etc.
Other quick-reference features make it easy to identify room close-outs, allocations (room blocks), rooms under maintenance, room housekeeping status, the total number of rooms booked per day, and the number of guests per day.
The calendar can be ordered by unit number, unit type, or by housekeeping status, and for properties with multiple locations (such as a campground as well as motel rooms), the tape chart can be split by location (as in the image above).
Users can also choose the number of days (columns) to display at a time, with the ability to move forward and back through calendar dates.
From the color scheme to display options, the WebRezPro tape chart has been designed to provide lodging operators with availability and status information at a glance, for more efficient room and booking management.
Easy Reservation Management
The WebRezPro tape chart allows reservations to be managed directly from the calendar itself for a truly intuitive user experience and optimal efficiency. The interactive calendar can be used to:
Enter a new reservation >> Clicking on an available room for the desired check-in date will open the booking form with the desired room and check-in date pre-selected.
Open a reservation folio >> Clicking on an existing reservation will open a pop-up containing a summary of reservation information (guest name, confirmation number, check-in and check-out dates, number of guests, and room number). The pop-up also provides the option of viewing the complete reservation folio, from which reservation information can be updated if desired.
Move a reservation to a different room >> A reservation can simply be drag-and-dropped to a different room on the calendar, with the option of recalculating the room rate when a reservation is moved to a different room type. The system offers the choice to recalculate the room rate when changing the room type to accommodate free upgrades.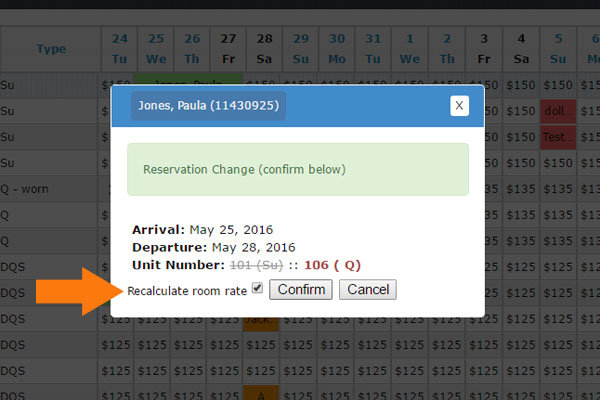 Extend a reservation >> Stays can be extended by dragging the tail-end of a reservation out to cover additional nights on the calendar. When reservations are extended, price recalculates automatically.
Direct online bookings coming through the property's website via WebRezPro's online booking engine are automatically delivered to the PMS and will appear on the tape chart as they occur. The same goes for OTA and GDS bookings when WebRezPro is directly integrated with those channels.
A good tape chart is key to the success of reservation management. Lodging operators seeking an easier way to manage and maximize bookings should look for software that features an interactive calendar that is intuitive to use (and doesn't hurt to look at!).
All features of the tape chart described here are available in WebRezPro version 10.5.26. If you are using a previous version of WebRezPro, contact us for your free upgrade.