***Guest post from Pricepoint, a WebRezPro partner***
Picture this: you're a customer shopping online for a weekend hotel getaway with your significant other and, like most other people, pricing is giving you anxiety. The costs you keep finding on online travel agencies (OTAs) like Booking.com are largely the same, and you're wondering how you're going to afford the dream stay your partner deserves. As you browse the listings, one room shows at a significantly lower price than the others. Eureka! Ask yourself: how quickly do you jump on the deal?
What is Rate Shopping?
Rate shopping is the practice of collecting and analyzing the room rates of your hotel competitors. While the decisions of your competitors should not be the driving force behind your pricing, understanding their decisions can help you get a lay of the land.
For the hospitality industry, rate shopping is done using a specialized software known as a rate shopper. A good rate shopper collects and analyzes competitor prices from all major OTAs for the hotelier's market. By giving revenue managers and hoteliers a consistent stream of information on their competitors' rates, a rate shopper empowers hoteliers to price their own rooms competitively and gain a significant advantage over their competition.
How Does a Rate Shopper Work?
A smart rate shopper will take into account several important factors as it gathers market prices. First, the prices set by other hotels in the same area. Whether that's a city or a state, a rate shopper considers the prices of the competition first and foremost. Prices are set by several factors. The availability of rooms and the demand for rooms in a given area is extremely important when it comes to gaining a competitive advantage in a market.
The smart rate shopper also keeps in mind rate parity and rate integrity. Rate parity is the maintenance of the same price per room on each booking platform or sales channel. This means a hotel cannot charge less for a room on its own website than it would on an OTA such as Booking.com. Rate integrity is the maintenance of consistent price for similar purchase conditions in order to avoid price gouging.
Connecting your Revenue Management System (RMS) to your Property Management System (PMS) allows hoteliers to access the full benefits of a competitor rate shopper. The ideal tech stack leverages both – and it's best if they are both in the same tool!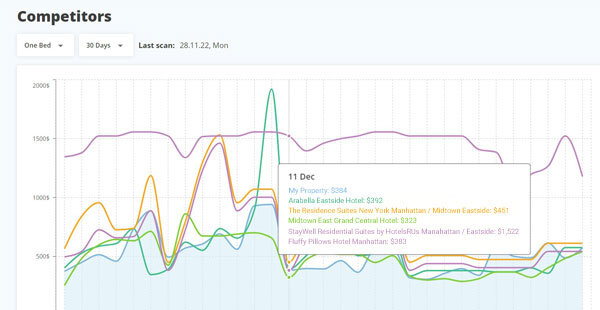 Advantages of the Competitor Rate Shopper
A rate shopper provides valuable insight into the market around a hotelier and therefore aids in determining ideal room pricing. In addition to helping you understand your competitors' pricing decisions, a rate shopper helps you understand how your property is positioned. This knowledge also aids in the prevention of a "price war" – when hoteliers try to undercut their competition back and forth until the rooms themselves cease to be profitable.
An efficient rate shopper will take into account prices and availability, occupancy rates, distribution channels through which rooms are sold, the online reputation of competitors, and plenty of other factors that a human being might not have the time or energy to take into consideration. Instead of hiring a human who might make mistakes, hoteliers have been leveraging AI-based automated software to do their rate shopping for them, freeing up precious hours of the day that can otherwise be spent focusing on customer satisfaction.
Whether your independent hotel is small, or you're part of a large corporate chain, leveraging a competitor rate shopper is a no-brainer. Why work hard when you can work smart? Without the built-in value of a rate shopper, a hotelier is not maximizing their efficiency. Make sure to always be one step ahead of your competition; when considering revenue management software, make sure it has a built-in competitor rate shopper!
About Pricepoint
Pricepoint is the affordable, easy-to-use, and fully automated dynamic pricing platform that helps independent hotels become leaders in their market and increase revenue. Time equals money – Pricepoint will save you both. Test it out yourself with a 30-day trial – absolutely free! Sign up at Pricepoint.co/sign-up/.