Ten years ago the thought of changing a property management system (PMS) was a very scary one for lodging operators. Working with on-property, server-based systems made changing hotel technology a complicated and expensive undertaking that was significantly disruptive to daily operations. Without the resources required to upgrade, many properties found themselves stuck with outdated systems that held business back.
The advent of cloud technology helped overcome major obstacles to switching core hotel systems, significantly reducing the cost of investment—in both expenditure and time. Offering pay-as-you-go pricing, intuitive user interfaces, free and seamless updates, professional data security, and compatibility with other hotel technology, cloud PMS make switching faster, affordable and far less disruptive to daily operations today than ever before.
And it's just as well; as the hospitality industry becomes increasingly reliant on technological innovation to stay relevant and competitive, a smooth changeover is key.
Step 1: Make the Decision to Switch
There are many reasons why you might consider changing your PMS. Perhaps your current system is outdated and incompatible with more recent technology implemented at your property. Or maybe it lacks the flexibility you need to do things the way you want. New management coming on board might want to replace the current system just because they are more familiar with another. Or your PMS vendor may have been acquired by another company, or gone out of business.
Remnant fears or concerns over changing systems—mainly to do with cost and service disruption—still hold some businesses back from making a switch, but in the current hospitality technology climate this frame of mind does more harm than good. As the control center of your business, your PMS needs to be in top form to maximize productivity and profitability.
Step 2: Choose the Best Fit for Your Business
Hotel technology is in an exciting phase, continually evolving and innovating to enhance efficiency and the guest experience. To stay competitive, it's important to find a PMS that meets your property's current needs and future plans.
This means partnering with a vendor that listens and responds to the needs of its clients, and demonstrates ongoing improvement and innovation of its solutions. Consider following vendors' blogs and subscribing to their newsletters to get an idea of ongoing product development.
Along with innovation, you'll want to make sure your new PMS has staying power. An established, tried-and-tested solution with a solid customer base speaks volumes to longevity and reliability. How long has the vendor been in business? When was the system launched? Does their customer base continue to grow?
Do your research to ensure your new PMS will provide the functionality that you need now, and the flexibility to accommodate the way you might do business in the future. Book some free demos to assess how you would conduct daily tasks, how the system will improve productivity at your property, and how it can grow with your business. A guided demo should give you a good idea of how well the software will meet your requirements, from managing rates and reservations to running reports that generate the information you need.
Read our post on essential features to expect from today's cloud PMS solutions for further guidance on specific functionality you should look for, such as interactive calendars, commission-free direct online bookings, automated guest communications, mobile accessibility, and more.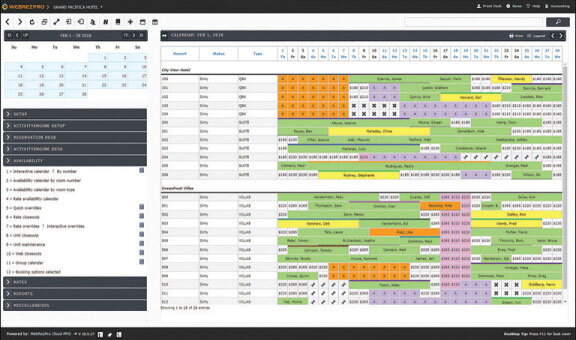 Look for a vendor that has existing partnerships with other reputable hotel technology providers, including online distribution channels, payment gateways, POS and CRM solutions, etc. If the vendor does not already offer integration with technology that you would like to connect to your PMS, find out if an interface is possible. Established cloud PMS providers are always developing new relationships with other hospitality solutions.
It's also important to check software reviews for solutions you are considering. Pay particular attention to what other lodging operators say about the system's customer support. Occasional bugs can happen in even the best systems, especially in ones that are continually innovating and improving. What matters most is how the technical support team handles such issues as they come up. Whether your property is big or small, your PMS vendor should always be there for you when you need them.
Step 3: Make the Switch
Your new PMS vendor should work with you to make the transition to their system from your old system as smooth as possible.
For example, when properties switch to WebRezPro PMS, we guide and streamline the process by offering:
>> The ability to import guest profiles and future reservations from your old PMS.
>> A dedicated launch assistant to guide you through the changeover, every step of the way.
>> Commitment to a going-live date that works with your property's timeline. Depending on the complexity of hotel operations, you can be fully up and running within a few days.
>> Ongoing customer support at no extra cost.
While switching core hotel systems is much less of an ordeal now than a few years ago, it still pays to plan ahead and be aware of issues that can arise during the changeover period. Switching systems is a much smoother process when you are well prepared.
From choosing a changeover date that will be least disruptive to your operations, to thinking about how to process in-house guests staying through on cut-over day, you'll need a well thought-out action plan. If you're in need of some direction, check out our guide to changing your property management system, which includes a handy checklist that covers step-by-step action points for before, on and after cut-over day.
If, for whatever reason, your current PMS is no longer meeting the needs of your property, don't let unwarranted fears and concerns prevent you from upgrading to a new solution that will increase your property's productivity and profits. If you would like to learn more about WebRezProPMS, contact us for a free, no-obligation demo.