Imagine this scene, complete with classical music: When Sally Jones reserved her stay at the Serene Luxury Inn (names are made up for the purpose of this blog post) she was given the opportunity to provide specific requests within the booking form. Then, her confirmation email invited her to call or email the hotel with any questions or concerns. During her stay, staff checked in with her to ensure her needs were being met. Then at check out, staff thanked her for her stay and off she went. Insert sound of a needle running across a record.
The Serene Luxury Inn had it so right until they dropped the ball at the end.
Does this story sound familiar to you? Many hotels are complacent when it comes to gathering guest feedback, with actions being mostly reactive as opposed to proactive. Well, today, we are here to show you how important it is to gather guest feedback as well as the most effective tactics for collecting that feedback.
How do you gather feedback from your hotel guests? The Serene Luxury Inn got it right in the beginning and during Sally Jones' stay. A property management system, like WebRezPro, can collect personal information in the guest folio to ensure customers' needs can be met before their arrival (with this information saved in their profile for their next visit). Pre-stay emails can also be sent out to confirm booking details and to build on the initial relationship. Alarms can be set within WebRezPro for specific questions to ask the guest when they check in, or for any other special request, such as putting in a room service order for them at a specific time. It is natural that at all these touch points you are connecting with your guests and determining their level of satisfaction. The Serene Luxury Inn got it wrong when they neglected to effectively gather feedback at check out or shortly after their guest's stay.
Survey Says
Software Advice, a source for research and reviews on hotel management tools, recently conducted a study on the most effective tactics for guest feedback.  One of their key findings is that guests are most willing to complete feedback forms during checkout or immediately thereafter, either with written or online forms. In other words, strike while the iron is hot.
It's good practice to leave a paper survey in each hotel room for your guests to fill out or to offer a paper survey at the desk as guests check out. But what Software Advice found was that 41 percent of guests they surveyed preferred receiving an online survey they received via email. This is great news as it is easy to set up post-stay surveys through reputation management systems like Revinate or guest communication software like Guestfolio, which can be integrated with your PMS for automated delivery upon guest check-out.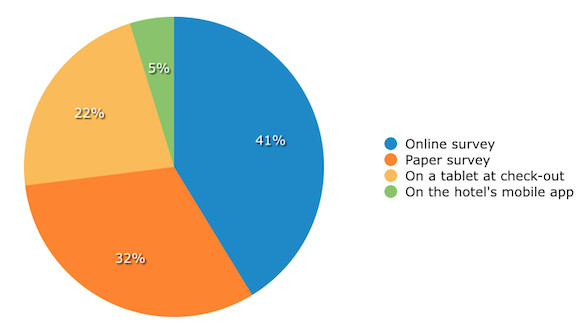 To maximize guest feedback, other methods should not be overlooked, such as paper surveys, with a 32 percent preference, and a 22 percent preference for filling out surveys on a tablet at checkout.
Another key finding from the Software Advice study is that they do not recommend offering incentives to guests for completing feedback forms; results can be skewed as guests tend to rate more positively when they are being offered something in return, which isn't helpful if you're looking for ways to improve your property (and not stroke your ego). However, they did find that offering an entry into a draw could be beneficial and cost effective.
We also want to share with you something we found very interesting. We often think that people are most inclined to share their opinions when they are disgruntled. However, this survey found that the results are fairly equal with highly satisfied guests 39 percent and highly unsatisfied guests 40 percent likely to provide feedback.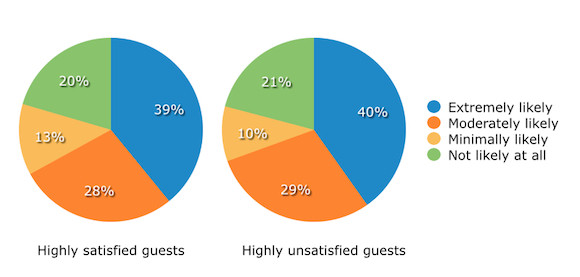 The Results Are In. Now What?
Reputation management and guest communication software that can be integrated with your PMS are excellent at tabulating results for you, providing you direct feedback on what needs improvement and what you are excelling at. Overall results can be tabulated at reoccurring periods for review, providing insight on what areas of your business you need to focus on and added to your plan of action. Select individual reviews can be brought up in weekly meetings as they provide good topics for staff discussion. Be sure to also share positive experiences, which contribute to a positive staff morale, and celebrate individual members who are singled out in a positive way. Less positive feedback provides excellent fodder for training exercises – it's all good.
Don't forget to respond to your guests if they have raised some concerns. It's best to resolve matters quickly before displeasure is voiced on social media or you lose a repeat customer. (And if a negative review does get to social media, here's a post on how to handle it.)
Have we convinced you to commence surveying? Revinate has great advice on how to create hotel guest surveys.
Related Posts:
8 Great Email Marketing Tips for Hotels