Are you still managing your hotel's reservations manually? Printing housekeeping schedules? Manually closing out each day? If so, there are much better ways to use your time! Not to mention, manual operations are prone to human error that results in dissatisfied guests and lost revenue.
With today's hotel technology, there's no reason to make things harder than they need to be. Cloud property management software (PMS) automates routine tasks to give you more time, more opportunities to improve the guest experience, and more visibility into your business.
Advantages of automation
Save time. Synchronizing data across departments, automated PMS digitize workflows to streamline administrative tasks, so your staff spend less time manually processing information and have more time for guests.
Do more with less. From mobile system access to automated guest communications to guest self-serve options like online bookings and self-check-in, automation allows you to achieve more with fewer staff while saving on labour and operating costs.
Reduce human error. A centralized and integrated system eliminates the need for staff to manually duplicate data across departments, reducing mistakes that cause service discrepancies, disgruntled guests and lost revenue. 
Improve guest service. Automation isn't meant to replace the human touch; it's meant to augment it. Automating administrative workflows helps hotel staff deliver more efficient and informed service, which results in more satisfied guests. What's more, automation allows you to personalize the guest experience by harnessing your guest data. 
Gain a real-time view of your business. PMS software tracks transactions in real time throughout the guest cycle and generates daily, monthly and on-demand reports so you always have a clear picture of your property's performance—and can better identify opportunities for improvement.
Increase revenue. Automated PMS drive revenue in many ways. For example: online channel management and dynamic rate tools generate more bookings; real-time reporting equips you with the information you need so that you can make smarter business decisions; and guest engagement tools like automated communications help earn loyal guests that come back again and again. 
Support sustainability efforts. A fully integrated, mobile-friendly system significantly reduces paper and printing costs, which is no small matter. Integrations with mobile key and guestroom energy control systems help reduce your property's environmental footprint too.  
Here are five operational tasks any property can and should automate now to stay relevant and profitable.
1. Online Bookings
Today, most hotel bookings are made online. If you don't already offer online bookings through your property's website, it's time to catch up. Integrated with your PMS, an online booking engine is available to take direct (commission-free) bookings through your website 24/7, which are automatically entered into your reservation system and availability instantly updated. This means that your website always shows visitors live rates and availability—and the more guests book through your website, the less time you spend manually entering phone and email reservations. 
Like your website booking engine, third-party booking channels such as Airbnb and Expedia can also be integrated with your reservation system. Without a direct connection between your third-party booking channels and PMS, reservations (and cancellations and modifications) coming through those channels must be entered into your system manually. Not only is this time consuming, it comes with a high risk of double bookings and unsold rooms.
Automated channel management is one of the most convenient features of an integrated PMS. Directly connected to your third-party booking channels—and your website booking engine—your PMS receives online reservations from all connected channels automatically and, in turn, automatically adjusts availability across the board. 
Automating online reservation management not only saves significant time, it reduces double bookings and ensures you are optimizing your inventory at all times on all channels for more revenue.
2. Guest Communications
In the wake of the pandemic, travel consumers' demand for clear communication from businesses is stronger than ever. Routine guest communications—including booking confirmations, modification and cancellation confirmations, pre-arrival/check-in messaging, and post-stay thank you messaging—boost guest engagement and build trust.
Managing routine guest communications manually is time consuming, and some reservations are bound to slip through the cracks. Not sending guest communications at all leaves guests guessing and unassured.
Automating routine guest messaging is the answer and is easy to implement. From booking confirmations to post-stay feedback requests, automated PMS allow you to create email templates for any touchpoint, personalized and triggered by reservation information so that every guest receives the right message at the right time.
A recent study by Oracle shows that 77% of travelers are keen to use instant messaging apps for service requests at hotels too. Integrating your PMS with a guest messaging system such as Akia or Kipsu ensures routine text messages are also sent to the right guest at the right time.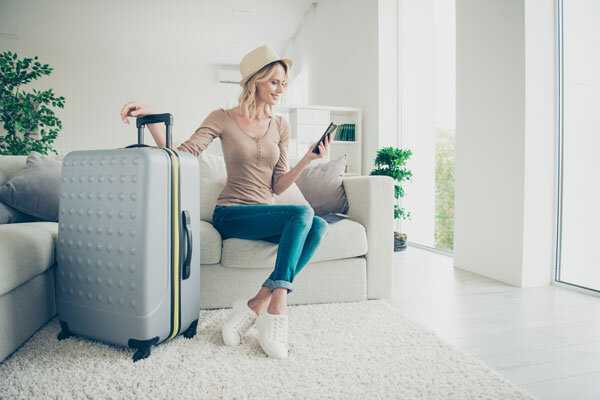 3. Check-in
The adoption of contactless hotel check-in was accelerated by the pandemic, but it was coming anyway. Now, online self-check-in is on its way to becoming a standard guest expectation. According to recent Hospitality Technology research, almost half of travelers surveyed want to check themselves in to their hotel using their mobile device. 
Guest self-check-in is not only convenient for your guests; it reduces queues at the front desk and, therefore, the administrative load on your front desk staff.
Property management systems like WebRezPro include online registration for guest self-check-in. Using this feature, guests complete a secure digital registration form online before they arrive, confirming they agree to all terms and conditions of their stay, and submitting any required information, for example, payment information, photo identification, and vehicle information. Upon submission of the completed registration, the guest receives arrival instructions. 
Integrations with dedicated self-check-in apps like Akia and Intelity are another way to manage guest self-check-in. 
Automated PMS improve in-person check-ins too. With all the necessary data at your fingertips, you can easily and quickly create and look up reservations, access and update guest data, recognize returning guests, assign rooms and process payments. Manually processing guest check-ins using spreadsheets or handwritten records results in an inefficient, transaction-heavy process that distracts your attention away from the guest in front of you. A simplified, automated process leaves more time for a genuinely warm welcome.
4. Housekeeping Management
An automated, integrated PMS streamlines the housekeeping department too. Instead of manually working out room cleaning schedules by cross-checking your reservations and then printing those schedules (which not only takes time but hurts the planet and your pocket), your housekeeping team can access their schedules using their mobile device.
Integrated with the front desk, automated housekeeping reports track room reservation and occupancy status to make scheduling much easier. Mobile housekeeping reports allow housekeepers to update room cleaning statuses as they work, so front desk staff can see which rooms are clean and available for arriving guests in real time. Automated maintenance and housekeeping alerts and digitized checklists support quality assurance.
In a nutshell, integrated housekeeping reports improve internal communications for increased productivity and accountability and more effective guest service.  
5. Accounting & Reporting
Because PMS software tracks transactions in real time throughout the guest cycle, all the data you could ever need is right there whenever you need it. The system automatically posts transactions to the chart of accounts, calculates taxes, and generates on-demand financial reports that can be pulled by your accountant as needed. 
Reservation reports track business performance—including occupancy rates, ADR, RevPAR, booking sources, etc.—and help you identify reservation trends for your property. And because all transactions are automatically processed in real time, the traditional night audit becomes a thing of the past as the system automatically closes out the day for you. Just think… No more hours spent punching numbers into a calculator!
When it comes to hotel operations, automation doesn't mean sacrificing the personal touch. Automation is all about improving workflow efficiency to boost productivity while reducing operational costs. It means hotel staff can spend less time processing administrative tasks and more time being good hosts. 
Automation isn't only for big brands—it's accessible to all types and sizes of lodging operations. A cloud property management system like WebRezPro streamlines daily operations and empowers your frontline staff to deliver better guest service by shifting focus away from the transactional side of things, toward a more personalized experience with the guest at the center.