When the world closed down in 2020, it wasn't just toilet paper that was rushed off the shelves—there was a rush on pets too, particularly dogs. Shelters couldn't keep up with applications and breeders had year-long waitlists. Working from home made it the perfect time to welcome a new furry family member.
As travel opens up, more people than ever are traveling with their dogs and looking for pet-friendly places to stay. Does your hotel welcome pets? Read on to find out how you can entice four-legged guests—and their owners. From onsite doggy daycare to yappy hour, you'll get ideas from hotels already reaping the rewards by catering to their VIPs—Very Important Pets.
Hospitality Pet Trends: Pet-Friendly Filter
According to The Clancy Hotel in San Francisco, one of America's most pet-friendly hotels, nearly 20 percent of households in the country adopted a pet during the pandemic. The ASPCA reports 23 million U.S. homes and 3.7 million Canadian homes adopted pets since 2020. While some households won't travel or will find pet care, as many as 65% will travel with their pets this summer, according to a Mars Petcare survey. Another way to look at it? One in five homes. 
One thing we know for sure is the popularity of the "pet-friendly" filter used during the room search process. According to Booking.com, use of the filter had been steadily growing pre-pandemic but has more than doubled since the beginning of travel restrictions. In fact, the filter is the third most used, after parking and swimming pools.
Pet-Friendly Hotel Amenity Essentials
While some hotels provide the bare bones when it comes to pet-friendly offerings, pet amenities are quickly becoming the norm. Get ahead of the competition by adopting some of these pet perks at your own hotel.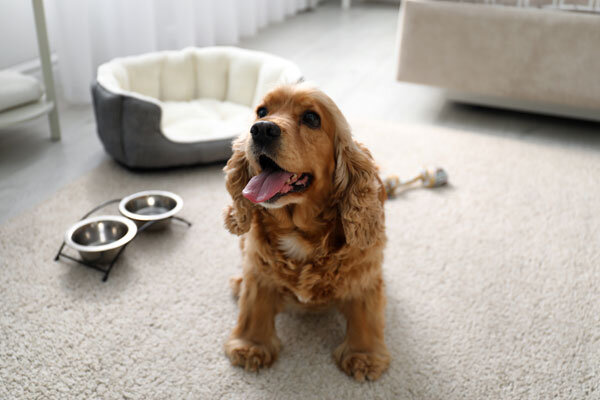 In-room pet perks: Provide creature comforts like a water and food bowl on a mat, a few dog treats, and some complimentary poop bags. These little essentials not only make traveling with a dog easier, but they send the message that everyone in the family is welcome.
A great example is The Hotel Theodore Provenance in Seattle, which includes food bowls and a mystery welcome kit (we heard it may include pet tags!) in addition to a pet bed.
Dog-friendly area information: Include area maps and resources in your doggy welcome package—such as a dog-walking map with off-leash areas, and a list of emergency vet clinics, pet stores, and dog-friendly restaurants.
Setting the gold standard for pet-friendly accommodation, the Homewood Suites by Hilton announced in January 2022 that all their properties in Canada and the United States are 100% pet friendly. In addition to pet treats and pet dishes, staff are at the ready to provide directions to the nearest dog park or nearby dog-friendly restaurants. 
Pet packages: Offering pet packages alongside other deals—such as stay and play packages—gives you the opportunity to upsell while providing your guests with a more personalized stay. The Temple Gardens in Saskatoon doesn't offer a pet welcome package automatically but gives guests that option at check-in—and it includes a $5 donation to pet charities.
Doggy daycare: While it isn't feasible for all hotels, onsite doggy daycare is a nice-to-have perk, allowing guests to explore the destination without the pooch in tow—and avoiding dogs left alone in hotel rooms. Alternatively, provide information to guests about dog daycare facilities nearby, perhaps with a coupon.
Walt Disney World Resort offers pet boarding kennels since pets are not allowed in their theme parks. In addition to air-conditioned indoor space and covered outdoor runs and play areas, the daycare boasts 75 trained pet care providers. Their overnight pet care is next level with amenities that include bed-time stories, playgroups, and flatscreen TVs!
Dog relief area: If possible, provide a fenced-in green space for your four-legged guests. Designated relief areas also reduce the chance of dogs marking their territory in unwelcome areas!
No need to rush out late at night to find a green space; the Hotel Indigo in San Diego has a pet potty pad on the 9th floor, featuring artificial grass. It also happens to be home to their Level 9 Bar, so you can grab a cocktail while Fido makes some new friends.
Pet extras: Some hotels have really gone over and above the average pet-friendly amenities. Let them inspire some of your own unique ideas.
Paws for Marketing
Leverage your pet-friendly amenities in your marketing to tap into this very ample segment of the market. 
Hotel Tech for Pets
It's not that your pet guests will require technology themselves; hotel management software helps hoteliers such as yourself make pet perks easier to institute.
Leader of the Pack
Leading the pack in pet-friendly accommodations is not as hard as you might think. The winning strategy is this: it's one thing to allow pets and quite another to welcome them. We see that the hotels succeeding in this space are the ones making guests feel like their dogs are more than welcome with special treats and perks—and in turn, the guests themselves feel welcome.
It's worth the effort! When millions of travelers are planning trips with doggo in tow, it's a rewarding segment to attract. WebRezPro property management system has your back with all the tools you need to create the "ultimutt" pet-friendly hotel.