When we think of a roadside motel, we don't think of a business with five-star service and amenities. Ironically, that's why independent motels are uniquely positioned to surprise and delight; guests don't expect it.
Designed to serve roadtrippers with convenient, affordable accommodation, motels are the preferred choice for many travelers—travelers who expect to get nothing more than what they pay for.
Many independent motels operate within tight budgets, which can make going the extra mile seem impractical. But there are things any property can do to impress guests without breaking the bank—and return on investment can be huge. Here are ways a budget independent motel can become a lodging superstar.
Customer Service
It doesn't cost you any money to be courteous and greet guests with a smile. In fact, not extending this courtesy may be what's chipping away at your revenue. Ninety percent of Americans say customer service influences their choice whether or not to buy from a company, and 58 percent will change companies if service is poor.
Engaged, empowered staff who enjoy working with people are key to your hotel's success. However, they need the right training and efficient systems to make their job easier. Even your perkiest clerk will have trouble slapping on a grin after the computer goes down (taking all your data with it).
A modern property management system like WebRezPro automates administrative processes to increase productivity—and accuracy—while giving staff more time to focus on guests. It's also cloud-based, so there's no need to worry if something happens to your main computer; you can even access WebRezPro on your smartphone.
Good customer service is more than your in-person greeting at the motel. Pre- and post-stay communications matter too; you don't want your guest's heart skipping a beat because you didn't send them a booking confirmation email. Before the guest arrives, email them to explain your check-in policy, ask about any special requests, and let them know you're looking forward to their arrival. Relevant upgrades and upsells can be offered too.
Upon check-out, email guests their invoice, then wait a couple days and send a review request (along with a thank you for staying!). Keep it simple and personalize. Those emails should be addressed to the guest by name. All of this can be automated by your property management system to save you time and ensure no guests are missed.
Keep Guestrooms & Facilities Spick and Span
A motel doesn't have to be fancy to be inviting, but it does have to be clean and well kept. Between November 2020 and July 2021, a full quarter of English language hotel reviews referred to cleanliness. In addition to a thorough, standardized cleaning routine, rooms should be inspected for wear and tear, including kitchenette facilities, bedding and bath linens, furniture, and TV remotes.
Modern property management systems track housekeeping schedules, tasks, and room status through housekeeping and maintenance reports. WebRezPro's mobile housekeeping report allows staff to update room cleaning status and enter notes via a mobile device as they work, so nothing gets forgotten. Integrated with the front desk, room status updates are immediately shared with your frontline staff so that guests are always checked in to clean and ready rooms.
WebRezPro's housekeeping checklists ensure that no step is skipped over. You can create checklists both for room cleans and inspections and use different checklists for different unit types. If a checklist is active, the room cannot be marked as clean until it has been completed. There are even helpful task descriptions to guide staff and maintain quality cleaning standards across the motel.
Replacing worn or outdated furniture and updating décor can be expensive. Most budgets won't stretch far enough for everything to be tackled at once, but upgrades can be done gradually. Focus on changes that will have the biggest impact first. Look at your reviews for clues—do guests consistently criticize the beds or the peeling paint?
If renovations are in order, choose neutral (timeless) colors, classic styles, and durable quality to maximize long-term investment. The goal is to create welcoming rooms, not bold design statements that are bound to go out of style. Personality can always be expressed through artwork and linens that are easier (and cheaper) to update.
The motel exterior should be well maintained for optimal curb appeal. From freshly painted walls to a tidy pool area with quality furniture, cared-for grounds invite people to enjoy them.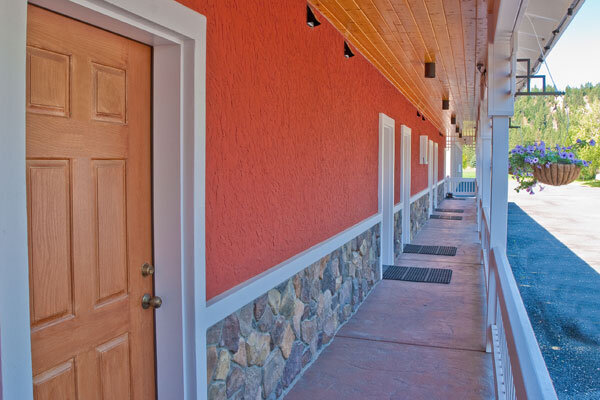 Provide Guests with Current Technology
We are creatures of habit and used to our creature comforts. When something we take for granted at home—like reliable Wi-Fi and watching Netflix on flat-screen TVs—is not available when we travel, it feels like a major inconvenience.
Wi-Fi, in particular, is as necessary as bathroom tissue. According to a 2018 survey by Openkey, 98 percent of respondents expect fast Wi-Fi. This is especially true for business travelers who need to work while they're with you. They can't skype their teammates without the internet. 
Flat-screen TVs are another essential amenity. However, pay-per-view movies don't cut it anymore. As of 2020, two-thirds of guests want the ability to cast content from their own devices to the hotel TV.
Consider self-check-in as well. People are still germ conscious post-pandemic (even if we aren't sanitizing our groceries anymore) and may prefer to limit face-to-face interaction. Online check-in is easier to implement than you might expect and saves time for both guests and staff. If you're working with WebRezPro PMS, self-check-in functionality is already in your hands.
Share Your Local Knowledge
Information about area attractions, restaurants, shopping, and other points of interest is readily available online, but nothing beats recommendations from a local expert. Sharing this knowledge with guests face to face is not only helpful to them, it provides the opportunity to connect on a more personal level.
It's those moments of friendly interaction that make the difference between ordinary and extraordinary service. This is still important even if you cater primarily to business travelers. With workcations on the rise, more and more of these travelers look for ways to have fun after they close their laptops for the day.
Surprise and Delight with the Little Things
The simplest, most inexpensive things can make a big difference to the guest experience, e.g., in-room treats, coffee and tea, a fruit bowl, and a board game library. Sending a simple SMS message to make sure they have everything they need can also make guests feel especially welcome.
Our client, Early American Motel, even added a fish and game cleaning station. They're located near Land Between the Lakes National Recreation Area, so many of their clientele are hunters or fishers.
Upon check-out, you could surprise guests with a small thank-you gift, such as cookies for the road or a discount voucher for their next stay (if they book direct).
Find Your Unique Selling Proposition
Use your property management system to gather guest data and ascertain why your guests come to your hotel. Once you know what attracts your audience, you can play to your strengths like Early American Motel did with their hunter/fisher clientele (see above).
What do you have that other comparable hotels and motels in your area don't? This is your unique selling proposition (USP).
Guest reviews are also a good place to find this information. What do guests praise about you? Your prime location? Your friendly staff? Your fluffy towels? Whatever it is, double-down on it and promote it on your website, social media, and in guest messaging.
You could even consider themed rooms like our client Hotel Philco. Each of their rooms has its own distinct style: Bicycle, Brewery, Cabin, Crystal Beach Amusement Park, Garden, Glam, and Nautical. The Nautical Room is perfect for anyone who jumped on that sea shanty trend during the pandemic, while the tables in the Brewery Room are made out of old kegs.
Your goal is to make guests remember you.
With efficient operations and friendly, helpful service at the core, even the smallest touches go a long way to turning a roadside motel into a lodging superstar and earning repeat customers. You don't have to be The Ritz to get great reviews!