Among independent properties, cloud hospitality software has steadily gained favor over on-premise systems.
Our blog post, Six Reasons Every Independent Hotel Should Operate in the Cloud, outlines why independent lodging operators are turning to Web-based property management systems (PMS) to improve efficiency and guest service, boost revenue and gain a competitive edge.
Here at WebRezPro, we receive a large number of inquiries from independent operators who are using manual paper- and/or spreadsheet-based methods or on-premise programs and are looking to modernize and improve operations. Many lodging operators who reach out to us are not yet sure which PMS deployment method — cloud or on-premise — is best for their business.
We understand and appreciate that lodging operators are experts in hospitality and not necessarily technology, so we've put together this blog post to highlight the main points of difference between cloud PMS and on-premise (or "local server-based" or "legacy") systems.
The right choice is the one that aligns with your business' operational requirements and future objectives, and your comfort levels with the technology.
Before we look at the differences between on-premise and cloud PMS, let's reflect on their similarities. Property management systems — both cloud-based and on-premise — are designed to automate a property's operational processes, from front desk to back office, for greater efficiency. Modern PMS function as a property's center of command for managing not only reservations, rates, rooms and guest billing, but also distribution, guest communications and service, housekeeping, accounting and reporting. In fact, the core functionality of a modern on-premise system and a cloud-based one is by and large the same.
When it comes to the big differences between the two, it boils down to deployment and technical requirements, cost and accessibility.
Deployment
On-premise: On-premise software is physically installed on every computer from which the PMS will be accessed. Data is stored on a server located at the property. This means that data and hardware maintenance and security are the responsibility of the property.
Cloud-based: Cloud-based software is deployed over the Internet. System data is securely housed off-site in the vendor's data center and is accessed by the property online via a secure login. A reliable Internet connection is important.
Technical Requirements
On-premise: On-premise systems require significantly more on-property hardware than cloud systems, typically including a (preferably dedicated) data server, additional/back-up servers depending on the size of the property, a terminal server if the system is to be accessed from other locations, workstations (computers) with a compatible operating system, dedicated computers for any interfaces to external systems such as call accounting and POS systems, network cards and hubs, and back-up hard drives.
While vendors of on-premise PMS may offer guidance determining the suitability of existing hardware or purchasing new items, the technical requirements of an on-premise system add considerable cost to implementation and maintenance, and require in-house IT expertise.
Cloud-based: Because cloud PMS are deployed over the Internet, the software and almost all technical resources (servers, back-up systems, etc.) are housed and maintained by the vendor. All the property needs to access the PMS is a computer or mobile device, a stable Internet connection and a Web browser. No in-house IT skills required!
Data Security
On-premise: With an on-premise system, data security is the property's responsibility. In addition to installing firewalls and anti-virus programs on Internet enabled computers, keeping data safe demands measures such as securing private networks, restricting access to server rooms, manual data back-up processes, and implementing back-up servers, computers, drives and power generators.
Cloud-based: Anti-virus software is generally a good idea for any computer accessing the Internet. Aside from that (and common-sense measures like protecting system passwords and restricting access to authorized users), responsibility for system security lies with the cloud PMS vendor.
Cloud software vendors have the expertise and budget to implement robust security measures and procedures (including automatic data backup, PCI compliance, secure SSL encryption, 2FA, redundant Internet connections, 24/7 monitoring and diesel-powered electrical backup) that typically make cloud systems a more secure option than on-premise systems for independent properties.
Cost
On-premise: On-premise hotel management systems are a traditionally expensive investment that can cost a mid-sized hotel $10,000 to $20,000 or more for the software license (additional licenses normally need to be purchased for each additional workstation), plus annual maintenance fees, as well as significant hardware and IT costs. An on-premise system is a capital expenditure (CapEx) that is beyond the budget of many small and mid-sized independent properties.
Cloud-based: Cloud-based systems are available under a subscription pricing model, typically based on a monthly cost starting around $8 per room. The pay-per-use subscription model makes cloud PMS an operating expense (OpEx), and while the monthly cost adds up over time, the shift from CapEx to OpEx makes cloud systems a more affordable option for many independent properties.
With a cloud-based PMS, there are next to no hardware expenses and software upgrades are usually free — eliminating maintenance costs and hassles.
Integration
On-premise: Modern on-premise PMS can be integrated with external systems such as call accounting software, point-of-sale (POS) systems and in-room entertainment systems but it is a complex process that requires manual technical work and additional hardware (for example, a dedicated computer between the PMS and interface system).
Cloud-based: Cloud PMS are much more easily integrated with external systems, including OTAs and channel managers, due to common Web standards and open APIs (application program interfaces), greatly reducing IT requirements while improving automation and efficiency.
Anywhere (Mobile) Access
On-premise: While it is possible for on-premise systems to be accessed remotely from an off-site computer, this ability requires additional technical setup, including installation of a Citrix or Terminal server onsite. Remote access performance can be affected by various factors, including server workload.
Cloud-based: Because cloud PMS are deployed online, the system is accessible via a secure login from any computer or mobile device connected to the Internet, anywhere in the world. Modern cloud PMS offer a level of on-the-go accessibility that cannot currently be matched by on-premise systems.
Upgrades
On-premise: On-premise systems typically face lengthy development cycles compared to cloud-based systems and require expensive upgrades to remain current. This is a complaint we hear often from lodging operators coming from obsolete versions of on-premise systems.
Cloud-based: Upgrades are frequent and usually free with cloud-based systems and can be deployed instantly. This means that lodging operators always have access to the latest version of software, including new features and innovations that keep them ahead of the competition.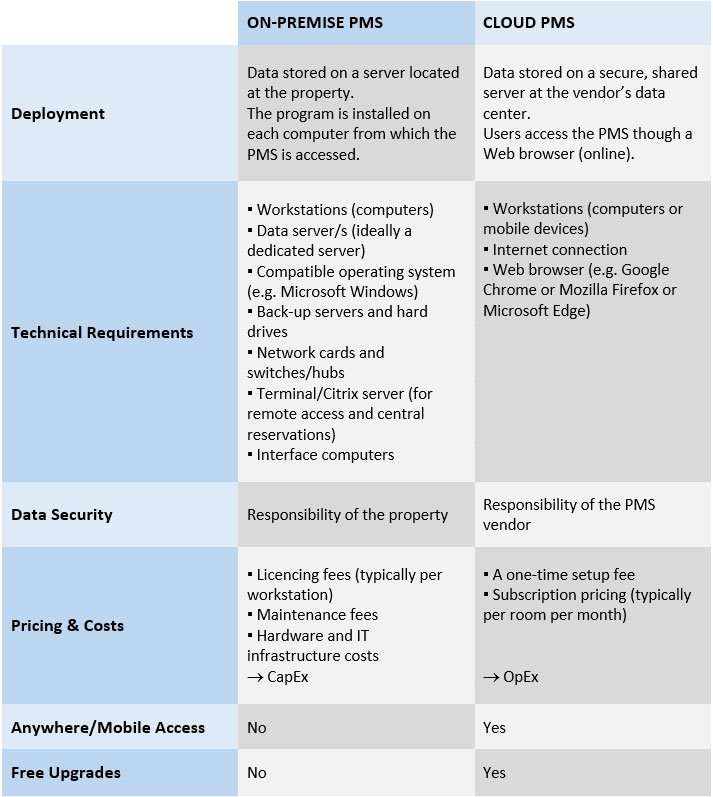 Cloud PMS make a lot of sense for independent lodging operators who are passionate about hospitality rather than technology.
Affordable, accessible, secure and current, cloud PMS eliminate technical concerns and hassles, allowing hoteliers to focus on their guests.