While the thought of reporting makes many of us cringe, smart hoteliers know that tracking hotel reservations, rooms, and revenue is key to running an efficient operation and making decisions that drive success.
Some lodging operators spend too much time manually gathering data from various sources and creating spreadsheets, but there's a better way. Automated property management systems like WebRezPro track data across departments in real time, generating a variety of operational and performance reports at the click of a button.
Because every property is different, WebRezPro provides advanced reporting functionality to accommodate a wide range of requirements. To serve as a starting point, here's a rundown of key daily and monthly reports used by WebRezPro customers to streamline operations, monitor progress, and maximize revenue.
Front Desk
Front desk agents rely on reports that help with daily guest and room management. Easy access to this data is critical to seamless operations and guest service.
Dashboard Reporting
When you log in to WebRezPro, you'll be greeted by graphical dashboard reports that provide a snapshot of your business, including occupancy, ADR, and RevPAR for the week and check-ins and check-outs for the day. Along the top, you'll see the day's occupancy rate, number of guests in-house, available rooms, and available clean rooms. It's like a speedometer for your hotel. The dashboard is conveniently accessible at all times from the main menu or shortcut menu.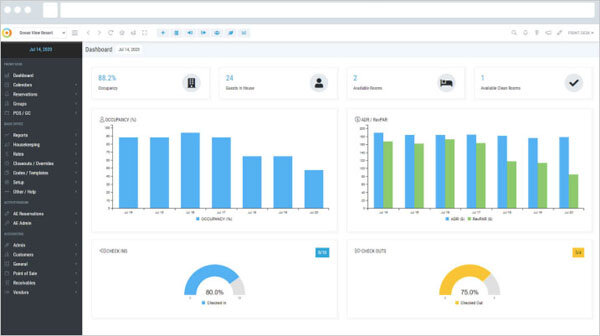 Check-in and Check-out Reports
The Due In report shows a list of scheduled arrivals for the day while the Due Out report displays all scheduled checkouts. These reports include essential reservation information—such as booking number, room number, housekeeping status, dates of stay, number of guests, guest contact information, rate type, and amount owing—and can be set to include additional data, e.g., dietary and vehicle information, guest profile notes, and more.
The Due In and Due Out reports simplify guest and room management by allowing front desk staff to view and process daily check-ins and check-outs from a single screen. They provide quick reference to room assignments and status, no-shows, and scheduled departures that did not check out or that have an amount owing.
Staff can check guests in and out directly from these reports and post payments to reservations. They can also open and edit reservation folios, view completed guest agreements for online check-in, send emails to guests, and print receipts.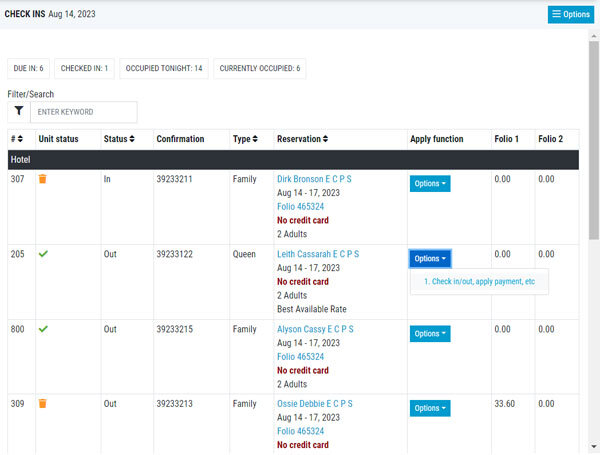 Similar reports can be generated for Stayovers, Ins + stayovers, Ins + outs + stayovers, and In-house (all currently checked-in reservations on that day).
New Bookings Report
The New Bookings report shows all new, unconfirmed bookings so front desk staff can easily identify reservations awaiting confirmation. This is especially useful for properties that don't automatically confirm direct online bookings (online reservations that are automatically confirmed will not appear on the New Bookings report).
Front desk staff can confirm reservations and send confirmation emails to guests directly from this report.
WebRezPro's New Bookings report also displays any active reservation alarms and reminders for the day.
Housekeeping Report
WebRezPro's interactive Housekeeping report tracks all housekeeping responsibilities and makes it easy to manage schedules and zones. Accessing the report on a mobile device, housekeepers can update room status and housekeeping notes on the go as they work. But it's not just your housekeeping team that relies on this report. Directly integrated with reservation management, it also keeps front desk staff informed about which rooms are clean and ready for guests—in real time.
The report shows guest arrival and departure status, stayovers, room status (dirty/clean), guest requests, and housekeeping notes for each room. It can be organized by zones and set to show all rooms or a selection of rooms—for example, active rooms only (occupied rooms that require cleaning), rooms with arrivals or stayovers only, vacant rooms only, and more.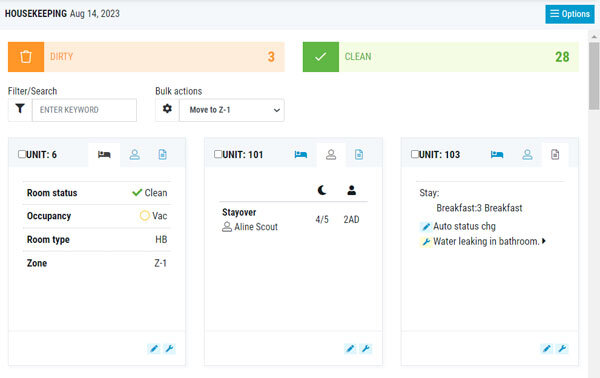 Management
Performance reports help you understand your business. Tracking reservation, revenue, rate, and occupancy data, these reports provide operators with a clearer picture of the overall health of their property. They are key to evaluating hotel operations and strategy and setting objectives that are relevant and realistic.
Property Stats Report
The Property Stats report provides an overview of how your business is doing and should be your first point of reference when making operational decisions or preparing your budget.
This report tracks vital KPIs, including occupancy rates, revenue per rentable room (RevPAR), average daily rate (ADR), FIT and group revenue, total revenue, etc., displaying the numbers for the current (or selected) date, month to date, and year to date, alongside data for the previous year for comparison.
Monthly Report
WebRezPro's monthly booking report provides deeper insight into your property's reservation trends. The report collates revenue for all stays in a given month, organizing data by room type (including ADR and occupancy compared to the same time the previous year), by day, by market and source codes, by corporate account, and more. A pace report is also included, showing the rate at which room nights are sold over the course of the month, and for properties that use WebRezPro's website booking engine, the report will also show online booking statistics.
The monthly report can be generated for different date ranges so you can review past data (and future data) at any time.
Custom Report
A separate custom reservation report allows properties to drill down into their reservation data even more to meet unique performance analysis requirements. It can also be used to generate cancellation reports and travel agency billing reports.
Reservations can be filtered by status, employee, rate, length of stay, lead time, minimum number of guests, and many other parameters. Data can be limited to website bookings, travel agent bookings, group bookings, VIP, hourly bookings, corporate bookings, transient bookings, tax-exempt bookings, etc. And the report can be set to compare year over year to two, three, or four years ago to track long-term growth.
For customized reports you run frequently, save parameters using custom report templates so you don't have to set them each time. Report templates can also be used to automatically send booking reports to a designated email address at a certain time every day or on selected days of the week or month.
For property groups with multiple locations, the multi-property custom report included with our centralized administration module displays data for all member properties as well as totals for the entire group.
Sales Report (Products & Services)
The Product/Services Report is useful to properties that offer additional services and items, such as food and beverages, spa services, activities, pet fees, and parking fees. It provides a breakdown and totals for all or specific products and services sold over a given time period, allowing management to analyze ancillary revenue separate from room revenue. This report is key to defining and refining your total revenue strategy.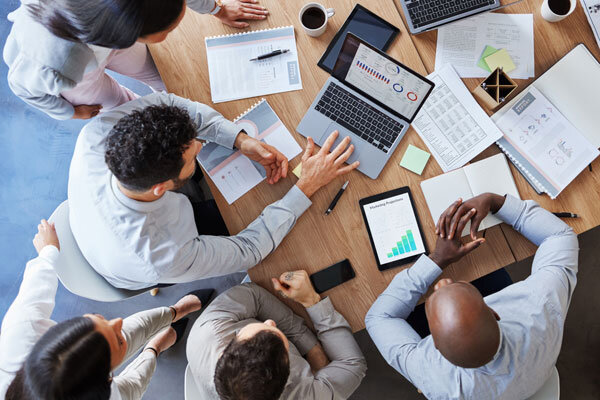 Accounting
It's important to track numbers for balancing daily transactions and staying on top of commissions and taxes. While the thought of all that might cause the non-accountants of us to want to run for the hills, WebRezPro makes it easy by automatically tracking all transactions, taxes, and commissions and generating important financial reports instantly. Accessing this data is so easy that you'll be an expert in no time (or at least an expert at pulling numbers for your accountant!).
Guest Ledger
The Guest Ledger shows the account balances for all in-house guests (check-ins, check-outs, and stay-throughs) and is generated nightly as part of the night audit process. It also displays running totals for deposits, customer credits, and payments received for gift certificates (Deposits Ledger), and outstanding past-dated invoices (City Ledger).
This end-of-day accounting report is divided into separate tabs for easy reference.
Reconciliation Report
The Reconciliation Report is also run at the end of the day to reconcile cash and credit accounts as part of the night audit. The report displays all transactions and check-outs for the day. When performing the night audit, the cash and credit account information on the reconciliation report is checked against the information in the credit card processor system, and all check-outs should be confirmed as paid in full or attached to a direct bill account.
Payments Owing
The Payments Owing report is useful for keeping track of any unpaid or out-of-balance reservations. This report conveniently lists all reservations with an outstanding balance, whether it be a deposit or final payment due.
Reservation folios can be opened directly from this report, to which payment can be applied.
Travel Agency Billing Report
If your property pays commissions to travel agencies or OTAs, you'll need to track what you owe to each agency. With WebRezPro, you can generate a travel agency billing report (usually on a monthly basis) that automatically does just that. This report is easily set up using a custom report template (see above).
Tax Reports
WebRezPro automatically tracks tax collected and features a flexible tax reporting function that makes it easy to keep track of tax breakdowns and what is owed to the city, state, and/or country.
Financial Reports
WebRezPro is not just a reservation system. It has all your accounting needs covered with a full range of financial reports for tracking cash flow, assets, liabilities, and equity—including the trial balance, balance sheet, profit and loss, and chart of accounts.
For properties that use an external accounting system, the trial balance can be used to export daily transaction totals to a spreadsheet—or straight to your accounting system via a direct integration.
Automatically tracking operations data in real time, WebRezPro simplifies hotel reporting across departments, saving time and improving accuracy (say goodbye to spending hours manually compiling spreadsheets, then combing through them for that mistake that's throwing your numbers!). A property management system that generates the reports you need quickly and easily is key to optimizing your property's performance and revenue. Get in touch with our friendly sales team to take a closer look at WebRezPro's robust reporting features.
Editor's note: This post was originally published August 2016 and last updated August 2023.