Guests need your help for a smooth, relaxing stay. However, they may not always want to stop at the front desk, especially when they're stumbling in fresh off a red-eye or when a self-service option would be much faster. Seventy-three percent of guests are more likely to select a hotel with self-service technology. Self-service technology doesn't just appeal to guests—it eases the load on your staff too. 
You don't need a robot Jeeves complete with little plastic arms and a tie to make this technology work. Self-service options that guests want now are practical and accessible to independent lodging operations. Start with the basics. Here are the essential self-service hotel applications you need to meet guest expectations and streamline operations.
Mobile-friendly Online Booking Engine
Every lodging business needs an online booking engine that guests can easily use on a mobile device. According to a recent study by Hospitality Technology, 53 percent of surveyed travelers would like to book their hotel via mobile. 
On mobile, guests can make bookings anywhere, anytime. This is true for computers as well, but people don't carry computers with them the same way they do phones. A computer doesn't fit in your back pocket.
Make sure your booking engine is accessible within a single click from every page of your website. It also needs to be integrated with your property management system so that it always shows live rates and availability. Re-entering information manually can lead to overbookings and other errors.
A mobile-friendly booking engine should be easy to read, and form fields should be tap-friendly. The simpler the booking process, the better. A tiny screen is not the place for extra steps.
Connect your online booking engine to your Facebook page as well. Facebook has a call to action button that can be converted into a "book now" button that directs guests to your online booking engine. Many guests research hotels on social media, and most access social media via smartphone. When they're ready to book, you need to be ready too.
Make sure guests can pay securely online as well. WebRezPro Property Management System offers PCI-compliant payment gateway integrations that enable guests to make payments when booking online or via contactless payments on property. 
Self Check-In
Guests don't always want to stop at the front desk, whether they're exhausted from that 14-hour flight or would simply prefer to reduce face-to-face interactions and avoid the line. Even a five-minute line wait can drop guest satisfaction by half.  
You have a few different ways to support guest self check-in. You can use a public kiosk, a webpage / online form, or a hotel app. During the pandemic, a worldwide survey showed self check-in via hotel app was the most popular option with 62% of hotel guests saying they preferred it. Website check-in came in second at 30%, and public kiosk a distant third at eight percent. 
WebRezPro integrates with hotel guest messaging apps such as Akia, Ivy (by Revinate), and Kipsu. Not only can these apps be used for self-check-in, they work for two-way guest communication and chatbot services too. 
WebRezPro also allows you to implement self check-in via online guest registration using our guest agreements feature included with the property management system. Simply set up a guest agreement template that lays out the terms of stay, which will be automatically sent to incoming guests to complete before arrival. You can set up the agreement to request photo identification, vehicle information, and credit card details / payment. Completed agreements are automatically attached to the guest's reservation for easy reference. (If a guest complains about paying for damage from their 3am rave, you can point them to that document before you show them the door.) Online registration eliminates the need to record guest information and signatures at the front desk, which saves everyone time.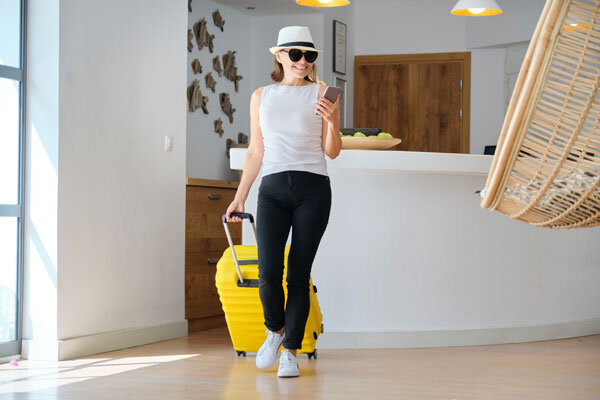 Keyless Entry
For true self-check-in, you'll need a keyless entry solution…or it will be a very short stay. You can handle this a couple different ways in WebRezPro.
You can use keypad door locks and send your guest an access code through an integrated service such as PointCentral or Lynx. This code is valid only for the individual reservation and is automatically sent when the guest checks in. 
Your other option is to turn the guest's smartphone into their key with an integration like OpenKey or STAYmyway. When a guest makes a reservation, they receive an email link to the mobile key provider's app. Upon check in, WebRezPro signals the provider to send a secure digital key. Guests can then unlock their door by simply holding their mobile phone close to the lock or tapping a button. The key deactivates when the guest checks out. 
Digital Concierge
Fifty-seven percent of consumers appreciate using a digital concierge (chatbot) or guest messaging service because they can receive answers back right away. 
Guests ask many routine questions, and many of the same routine questions. It isn't only one person who needs to know how late the breakfast buffet stays open. Adding a chatbot to your website or hotel app to answer these questions frees up staff and allows guests to receive information more quickly.
You can also use your digital concierge to upsell. Twenty-one percent of guests would like to receive room/service upgrade suggestions from their hotel, and an automated guest messaging solution is an efficient way to communicate relevant offers. This works best if you have an opt-out option, so you don't annoy guests who aren't interested in upgrades.
Guests have come to expect and appreciate self-service technology such as mobile bookings, self check-in and instant messaging. It means they can spend less time dealing with logistics and more time relaxing by the pool. Investing in this technology will make your guests' experience smoother and your staff less stressed. So give it a try!