From interactive overrides to banned guests, WebRezPro has many cool features you won't find in every property management system. We understand there can be a lot to learn during the onboarding process, and getting to know the ins and outs of your system takes time. That's why we're here for you every day. We want you to get the most out of your WebRezPro PMS!
We recently wrote about five handy features you might not know about. Here are five more to save you time and help you run your business effectively.
Market & Source Codes
Market and source codes give you the ability to track where reservations come from and show which channels are most effective. They can track reservations made through your website, social media, mobile devices, repeat guests, and even OTAs (if you have an OTA or GDS integration).
Market codes can even be used to measure the success of your online advertising campaigns or track users through the online booking process. Market and source codes are created under Back Office >> Codes/Templates.
Guest Agreements
Guest agreements serve as a digital (and mobile-optimized) guest registration card as part of the self-check-in process. In conjunction with a payment gateway and integrated mobile key solution, they facilitate a contactless check-in experience. Guest agreements are customizable to communicate terms and conditions of the stay and request guest details. They can be set up to require credit card information and/or payment and for the guest to sign the agreement digitally.
Once a guest agreement is set up, it can be automatically included in your pre-arrival email as a link that opens the secure online agreement for the guest to complete. Completed agreements are automatically attached to the guest's reservation, and an approval email can be automatically sent, confirming the guest's agreement has been received and communicating arrival instructions. 
Guest agreements are created under Back Office >> Setup >> Guest agreement. Note, guest agreements need to be attached to the appropriate cancellation policy.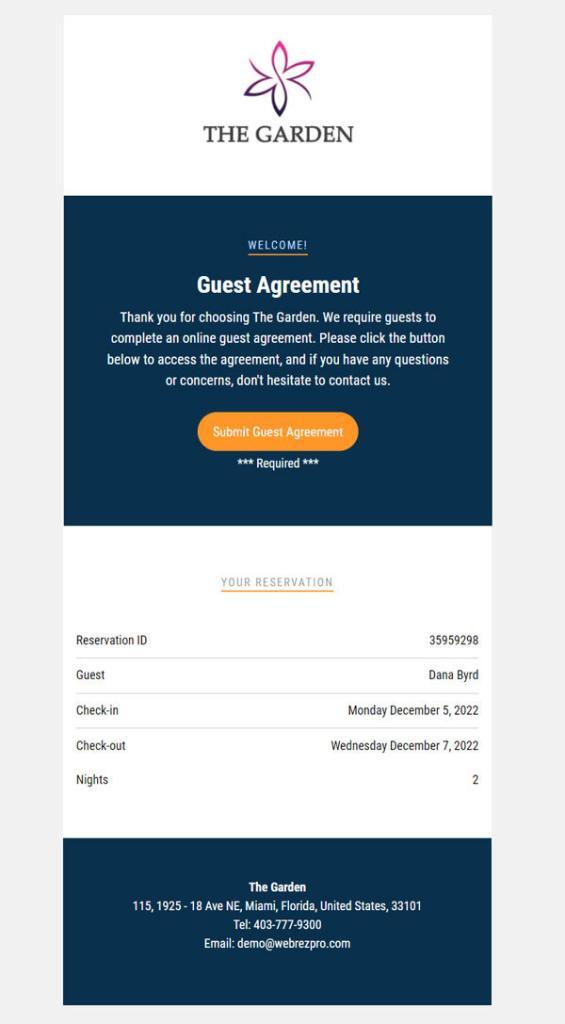 Banned Guests
Remember that guest who smeared their pizza on the TV for some unknowable reason? With WebRezPro, you never have to see them again. Simply flag an unruly guest's customer profile as banned, and the system will not allow that profile to be selected during the booking process. Housekeeping will thank you!
Reservation Changelog
In the case of guest or employee disputes, a reservation changelog is vital for transparency and accountability.
You can use the Reservation changelog under Back Office >> Reports to review any reservation modifications made. In addition, each reservation has its own changelog at the bottom. This changelog displays all edits as well as the employee's initials, date, and time of change.
Access Controls
Not every employee needs access to everything. In fact, it's more secure for your system if you restrict employee access based on their role. WebRezPro manages access levels via security profiles (Accounting >> Admin >> Security profiles) and includes three default profiles—Master (full access), Front Desk, and Housekeeping—to which individual employee profiles are attached, but you can edit them and add more as needed.
For an extra layer of security, you can restrict access based on IP address. An IP address is basically your computer's signature on the internet, and this feature ensures that only authorized computers use your system.
Taking the time to get to know your WebRezPro PMS can save you time—and money—in the long run. Learning to master your software can also inform your strategy and increase your bottom line, so give these handy features a try! If you haven't already, check out our previous post that highlights five other cool features you might not know about. If you have questions, refer to our online user manual or ask our support team—they're available every day.