As the travel industry goes through a tremendous upheaval, most of our customers are making big changes to their hotel operations, including optimizing their hotel technology through data integration to help cut costs, increase revenue, and streamline operations during these challenging times and beyond. Integrating your property management system (PMS) with revenue management software (RMS) improves demand forecasting—which is particularly important in our current climate—and automates pricing updates across connected channels to drive bookings and profit.
This guest post from Hotelitix, a WebRezPro partner, explains how an automated RMS can help independent lodging operators compete effectively in an especially volatile market.
Why do you need an RMS, and why is it more important than ever?
***Guest post from Hotelitix, a WebRezPro partner***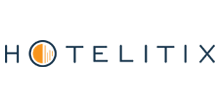 Revenue management software is a technology that has previously only been accessible to larger and flagged hotels due to its high price and complex interfaces. As time has evolved and access to data has become more available, the ability to provide revenue management software technology to a wider range of hotels is becoming more and more feasible.
Currently only 17% of all hotels worldwide are using RMS technology, but this 17% makes up over 50% of global room revenues, showing that larger hotels are capitalizing on the technology. As RMS systems are becoming more affordable it is becoming possible for small to medium sized hotels to now take advantage of intelligent pricing systems too, allowing them to compete and respond far more competitively with larger hotels.
Especially with today's market volatility and uncertainty, an RMS system helps hoteliers make accurate decisions, selling the right price at the right time, 24 hours a day, 365 days a year.
5 important reasons why an RMS is right for your hotel
Whether you are a small independent hotel or a large hotel, you will need an RMS to generate hotel and market data. Here are five reasons why an RMS is imperative to your hotel's tech stack:
1. Automated Revenue Management & Real-Time Data Analysis
An RMS analyzes your hotel's historical data, current market data, rates and comp set almost 100 times a day, providing truly "real-time" rate optimization. Traditional revenue managers operating manually struggle to update rates once a day. Using an RMS thus allows lodging operators to always stay ahead of changes and trends, and react to changing market conditions instantly. Additionally, modern RMS shop comp set data from your entire market, as opposed to data from only 5 to 10 competitors. This makes RMS extremely accurate.
2. Time is Money!
Changes happen in the market on a minute-by-minute basis and information can start to gather quickly, often resulting in hoteliers spending 2-3 hours a day researching and updating their rates. During these difficult times with many hotels short-staffed and looking to lower overhead costs, these hours can equate to almost 90 hours a month or 1000 a year. An RMS can simplify your day, giving you peace of mind that your hotel is priced perfectly in just minutes, allowing you to focus priceless hours on the all-important guest experience.
3. A Track Record of Increasing RevPar
Modern RMS apply powerful algorithms and artificial intelligence, establishing a strong track record of success for their clients. Results vary based on location and prior history, however, on average, hotels using an automated RMS tend to see a 12% increase in RevPAR, a 19% increase in occupancy and an 8% increase in ADR. While an RMS comes with a monthly subscription fee, the increase in hotel performance significantly outweighs the investment, making a strong ROI.
4. Simple, Modern and Easy to Use
There are currently many RMS on the market, however the majority of the systems have been architected and built for very large hotels, making the software complex and bloated with features and functionality not necessary for small to medium size hotels. If you have a small to medium size hotel, look for a system that prioritizes easy and intuitive design combined with a modern algorithm to increase your hotel's performance. Your hotel should not have to sacrifice performance for functionality. There are several RMS on the market tailored specifically to the needs of independent properties, with just the right amount of bells and whistles.
5. PRICE!!
RMS systems were previously only affordable to larger flagged hotels as they were very expensive to operate. Utilizing modern technologies and proprietary systems, hospitality software companies have managed to make RMS technology affordable and accessible to every hotel, regardless of size or star rating. It is possible to find systems charging low or no onboarding fees and that no longer wrap you into long-term multi-year contracts. The goal of an RMS is to help your grow your revenue and not just be another expense on your balance sheet.
Hotelitix
Hotelitix is a next-generation hotel revenue management system founded early 2019 by Andres Moreno and Roman Wunderlich after they determined that there was a major gap in the revenue management technology market. It became clear to them that revenue management technology was primarily being used by larger hotels and was prohibitively expensive for most small-to-medium-size hotels. Andres and Roman set out with a goal to architect not only an affordable RMS, but also a highly intuitive and easy-to-use system for hotels of all sizes and star ratings. For more information visit www.hotelitix.com or book a demo by clicking here.