Climate change isn't coming anymore. It's here. This year, we've seen record-breaking temperatures, devastating wildfires, unusually aggressive storms, and unprecedented flooding around the globe. None of this is particularly good for travel. While you can and should make your hotel as sustainable as possible, you need to find ways to weather climate change as well as prevent it. Travelers are adapting, and your business needs to adapt with them to continue to thrive. Here's how.
Embrace Shoulder Season
Take another look at your shoulder season offerings. Many people, particularly those who don't have to think about school schedules, are interested in traveling during a season when it's cool enough for their plane to take off. Tell them they can skip the line in September and plenty of them will. Seventy-four percent of US travelers plan to take a trip this autumn, over ten percent more than last year. 
Make sure that you adapt your website, social media, and guest communication to the season. Change up the images to include that gorgeous fall foliage and promote seasonal packages, amenities, and activities.
As always, look at your guest data to get to know your audience. Romantic couples, solo travelers, and workcationers are all strong candidates during shoulder season. Find out which of these groups frequent your hotel and gear your offerings towards them. 
There are plenty of shoulder season holidays to take advantage of as well with Halloween and Thanksgiving right around the corner. For spring, you have Valentine's Day, Easter, and even Alfred Hitchcock Day if you want to get creative (how about a murder mystery night with dinner?).
Offer Flexible Cancellations
Covid isn't the only thing that can necessitate travel shifts. Environmental factors such as hurricanes and wildfires may also cause a swift change of plans. For instance, British Columbia placed a restriction on non-essential travel during the fires in its interior.
People appreciate reassurance that they won't lose a hefty deposit if their vacation itinerary goes up in smoke. According to Booking.com, properties using their flexible cancellation program see up to three percent higher conversions.
If you're worried about flexible cancellation policies eating into your profits, you can restrict them to loyalty program members or convert cancellations into gift certificates. That way, you keep the money, and guests can stay at a later date. It's a win-win. WebRezPro enables guests to redeem gift certificates online. 
Encourage Responsibility
Many guests want to leave their destination better than it was when they arrived. In 2019, even before the pandemic, 27 percent of US travelers said they meant to volunteer while on vacation that year. 
You can involve your guests in local environmental initiatives to keep your destination pristine for future generations. For instance, one guesthouse in the Solomon Islands has engaged their dive visitors to help replant coral. 
However, there are a few snags that can occur with "voluntourism," e.g., if it reduces work available for locals or the people doing it don't have necessary skills. (Don't send anyone down to replant coral who doesn't know how to use that regulator!)
Market Local Trips
Local trips use less carbon, and people are starting to take notice. During the pandemic, November 2020, 70 percent of Americans planned to reduce their flights to combat climate change (flying is carbon intensive). 
Guests that live nearby are also less likely to be impacted by travel restrictions. A border closure doesn't matter if you're already on the right side.
Get to know your locals and tailor offerings for them. Promote facilities like your restaurant or co-working spaces to get them in the door. They may decide to book a staycation with you. Hosting holiday events is a good way to attract those within driving distance too. 
Advertise on the channels locals use (be it TikTok or coffee shop bulletin boards) and revamp your local SEO as well.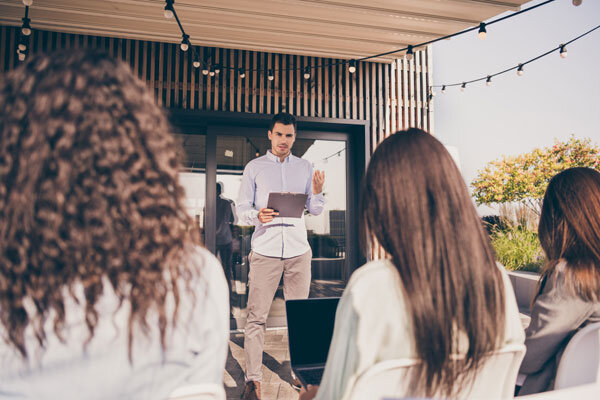 Shift Your Business Travel Focus
Corporate travel doesn't work the way it used to. The pandemic happened, and everyone discovered zoom (even if they didn't discover how to use the mute button). In addition, companies have become more carbon conscious with 55 percent reducing flights. 
Just because business travel has changed does not mean that it has disappeared. Post-pandemic, bleisure is on the rise with 41 percent of travel managers reporting that more employees have requested adding leisure time to company trips. Remote employment plays into this trend as well with 35 percent of US workers having the choice to do their jobs from home five days a week. And working from home can mean working from your hotel. 
However, you need more than a conference room and a Wi-Fi connection to attract the emerging bleisure segment. They're with you to have fun as well as be productive, so promote your leisure amenities to them too. Maybe that corporate go-getter would like to unwind with a yoga class (or kickboxing session if their boss has been on their case all day).
Events are going strong as the number one reason companies increased their travel spend in 2023. Appeal to this segment by making your meeting and event offerings sustainable, accessible, and creative. Go beyond the traditional conference room setting to present a new experience. Can you try something outdoors—perhaps a yoga class or team-building activities? You could even partner with local activity providers to offer something special. Attendees can only spend so many hours under those fluorescent lights without getting a tad antsy. 
Emergency Plan
Know what kind of extreme weather events can occur in your area and have an evacuation plan ready for your employees and guests. Having a plan of action and training staff for emergencies keeps people safer, mitigates damage, and improves recovery rates.
Climate change has well and truly begun to reshape the way people travel and the future of the industry. We've reached the point where we not only have to focus on preventing climate change but also on moving with it. Taking impactful measures to adapt your business to the current environment protects the planet, people, and your bottom line.