Last week WebRezPro attended the InnSpire Conference & Trade Show in Monterey, California. It was our first time exhibiting at this event, and we had a blast!
The annual CABBI (California Association of Boutique & Breakfast Inns) conference and trade show event was held downtown at the Monterey Marriott, overlooking the bay. It started with an opening reception on Sunday evening, giving attendees a chance to wander the trade show and meet some vendors while enjoying some drinks and nibbles.
Here's a pic of Carrie, one of our account executives, all set up and ready to meet some inspiring innkeepers!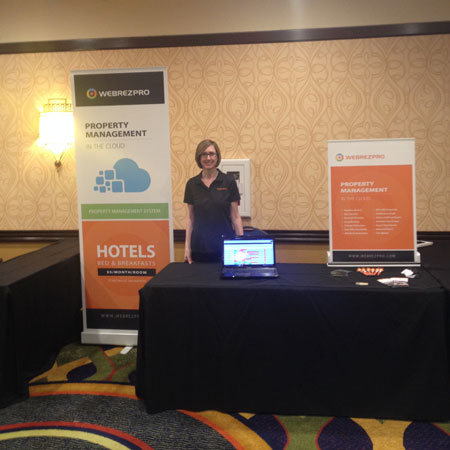 Over the next two days at the trade show, we were kept busy at the booth, chatting with many passionate and forward-thinking innkeepers interested in improving operations with modern technology. A lot of people wanted to know more about WebRezPro's mobile accessibility and functionality, showing a growing desire among operators of small lodgings to utilize property management software on the go to take operational efficiency and guest service to the next level.
We also had the pleasure of catching up with some of our existing California clients and meeting some friendly faces from a few of our interface partners, including Stash Hotel Rewards, SiteMinder, Booking.com and myallocator.
While InnSpire, with approximately 150 attendees, is one of the smaller shows we have attended, we thought the event was very well done and brought together a lot of interested (and interesting!) people who are committed to what they do. Talking with them gave us further insight into what really matters to innkeepers today.
If you stopped by the WebRezPro booth at InnSpire 2016, don't hesitate to get in touch with any further questions you may have about WebRezPro — we would love to hear from you!