Even as travel has opened up, staycations remain an appealing option for many potential guests. According to a 2022 survey by The Vacationer, 67% of respondents said they had taken a staycation or planned to take one that year.
And why wouldn't they? They can explore new facets of their local area… and order room service with their jammies on. And they don't have to arrive two hours early for a flight that may or may not take off. Staying local even reduces their carbon footprint.
With Valentine's Day around the corner, staycations are in hot demand! Staycations are simpler, more sustainable, and lots of fun for guests, so take the time to figure out how to attract nearby travelers to your hotel. 
Hotel Experience
For staycationers, full focus is on the experience of staying at your hotel. This experience is about more than a convenient place to stay near the museum. Locals already have a place to stay, so think about what extras and amenities you can offer. At home, they don't have your perfectly fluffy king mattresses or chocolate cheesecake delivered via room service (which they can eat in bed while watching their favorite show). 
Here are some ideas for stepping up your stay experience…
Wellness
Wellness tourism is expected to increase 21% each year through 2025. It's a winner whether your guest comes from around the world or right next door. Taking time out to relax and recharge is more important than ever.
Some people don't like to skip their daily fitness routine (even on weekends). But if your hotel doesn't have a gym, that's not necessarily a deal breaker. You could partner with a local fitness studio to arrange discounts or provide in-room equipment like a yoga mat and hand weights. 
Food is important while traveling and so is healthy food. Have healthy options on the menu and options for people with dietary restrictions. Make sure that your restaurant staff understand special dietary requirements and the risks cross contamination can pose. (Don't fry up food for a guest with a peanut allergy in the same pan you just made that chicken satay.)
People staycation to relax, and the right wellness offerings ensure they can do that. Pick services and amenities that align with your property, your brand, and your guests. Options can range from meditation sessions, massages, hot tubs, and yoga to complimentary bikes, nature walks, surfing lessons, and sleep amenities! Our client, Mysa Nordic Spa & Resort, even offers a Finnish sauna. 
The right indoor environment is important too. Hypoallergenic bedding, natural light and ventilation, greenery, relaxing decor and music all contribute to creating a tranquil space where guests can escape their daily routine.
Sleep Tourism
There's nothing more relaxing than a good night's sleep, and sleep tourism is travel in search of just that. As anyone who has ever spent a night tossing, turning, and thinking about their to-do list knows, getting that perfect sleep isn't always easy. 
Since the pandemic, 40% of adults have experienced reduced sleep quality. Hotels have stepped up to meet the challenge with pillow menus, aromatherapy, bedtime teas, meditation, and even AI mattresses.
Romance
Valentine's Day isn't the only time for romance. There are anniversaries, weddings, honeymoons… One of our clients, Chatham Inn, even offers a "babymoon" for partners to relax before their bundle of joy arrives. But really, no excuse is needed when some quality time together is overdue!
All of these occasions are more romantic if you don't have an airport fight with your significant other on the way there. Turning a romantic getaway into a staycation can reduce stress and ensure couples spend that time staring adoringly into each other's eyes (not staring huffily across the room).
Tapping into this demand throughout the year is a no-brainer.
Family
Put together a family package for parents wanting a weekend away with the kids without going too far afield (there's school on Monday!). Movies, board games, lawn games, and kid-friendly classes like cooking or arts and crafts can all help attract staycationing families. (Raise your hand if you ever painted a coconut when you were little.) 
Include kid-friendly options on your menu—macaroni and cheese is always a good one—and allergy-friendly options too. You could even offer a kid's club/babysitting services for when parents want some time away from the kids.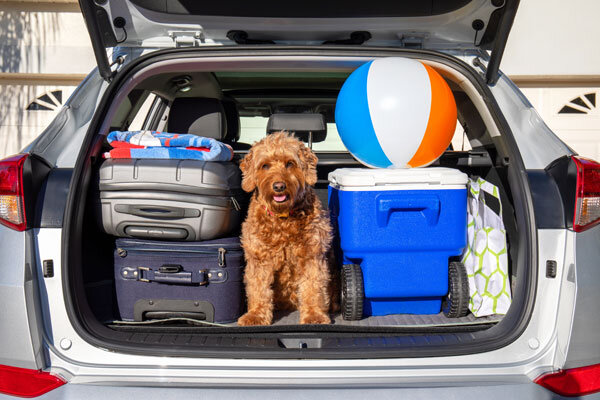 Catering to four-legged members of the family is a good idea, too. A large proportion of staycationers travel with Fido in tow so make sure to meet this demand with pet-friendly rooms and amenities.
Holidays and Special Events
Take advantage of special occasions to inject excitement into your marketing schedule and bring guests in the door. Holidays don't rely on outside activities and can make up an integral part of the guest experience at your hotel. They show that you're more than a place to stay and can be especially tempting for local guests who want to do something special to celebrate, but don't have much time off. You could supply the chocolate strawberries for Valentine's Day or host an egg hunt for Easter (make sure every kid gets one!).
If there is no holiday coming up that fits with your schedule, feel free to create your own special event. Try a casino night or a murder mystery dinner with the option to add on an overnight stay. (Beware though, if you slide into full-on horror, it could put a damper on your sleep tourism efforts!) Holding events is a great way to attract locals and introduce them to your hotel.
Marketing
Your staycation amenities won't do you any good if guests aren't aware of them. Promote them in your newsletter, on social media, and on your website. Investigate your keywords and find out what questions people are searching for. The phrase "weekend getaway" may achieve better results than "staycation."  
Consider your local SEO, and make sure you have an up-to-date Google Business Profile. Your name, address, and phone number (NAP) should all be consistent online, and your content should have a local focus. Blogs, FAQ, and "Things to Do" pages are all good places to add information about your area. 
With Google Ads, you can choose people in a specific location to market to, be it a country, region, place of interest, or even a radius around your hotel. Social media sites like Facebook and Twitter also have geotargeting capabilities (so your local staycation ads won't be shown to customers in the Antarctic!). 
If within budget, it could be worth creating a billboard campaign that speaks to the locals. Or work with other local businesses to spread the word.
It doesn't matter if you can't do everything. Find out what channels your target audience uses and concentrate on those. Don't send your promotions flying scattershot. Instead, take the time to map out your guest segments and aim your marketing at those. 
Loyalty Programs
Since staycationers live closer to your hotel, it's easier for them to return again and again. Make sure they know about your loyalty program. Your loyalty program should be as simple as possible and offer small, easy-to-earn rewards in addition to bigger prizes such as room upgrades and free nights. 
Smaller rewards give guests instant gratification without requiring a larger commitment they may or may not be ready to make. Such rewards can include extras like a free drink or free parking (almost always useful to staycationers). Even if you don't have a formal program in place, always treat your repeat guests like VIPs. 
The staycation trend is still going strong and can be a profitable addition to your business mix. There are plenty of locals who want to escape the humdrum without the hassle of a far-away trip. Creating packages and promotions especially for them can bring your business loyal, repeat guests!