For the second year in a row, WebRezPro has snagged a spot as the only Canadian company on Hotel Tech Report's 10 Best Places to Work in Hotel Tech list. It isn't only clients who love WebRezPro; staff love it here too. WebRezPro is committed to our people and to making our company a supportive, inclusive, and rewarding place to work. Our people do an outstanding job, and we're grateful to have them. 
Every year, Hotel Tech Report—the leading authority on hotel software and digital transformation in the hotel industry—ranks the world's best hotel software companies and products based on real user reviews as part of the esteemed HotelTechAwards.
And the competition is stiff with over 2,000 software companies on the site. Thousands of hotel tech employees from around the globe were surveyed to reveal what it's really like to work at the industry's top companies and compile this list of the 10 best.
Survey topics include:
Work-life balance
Personal development
Gender equality
Confidence in the future of the company
Alignment with company values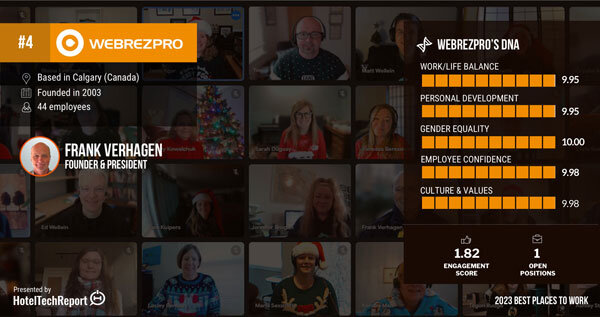 WebRezPro's highest score was in gender equality with 10 out of 10, followed by employee confidence and company values tied at 9.98. The majority of our management team are women, and 60% of employees are women as well. 
"For hoteliers who work with technology vendors, we recognize that you want to leverage not only the best tech, but also partner with organizations who treat their people well."

– Hotel Tech Report
WebRezPro is an award-winning property management system that enhances every aspect of hotel operations from revenue to staff efficiency to guest experience. We could not provide a quality product to our clients if our company didn't pull together as a team. 
And that team has been growing! Last year, we welcomed 11 new employees to our cohort of 33, increasing the company by a third.
These new employees may end up staying for a very long while. Many of our co-workers have been here for more than a decade and some since the 1990s when the company was first founded (we dust them off every year for the annual holiday party)! 😉 
Even though we work remotely across Canada—with a couple of additions from the US and Mexico—we still make time to get together for the holidays over a slice of prime rib. This year we had our first gathering since the pandemic. It was a chance to reconnect face to face, get to know new colleagues better, and show off our moves on the dance floor!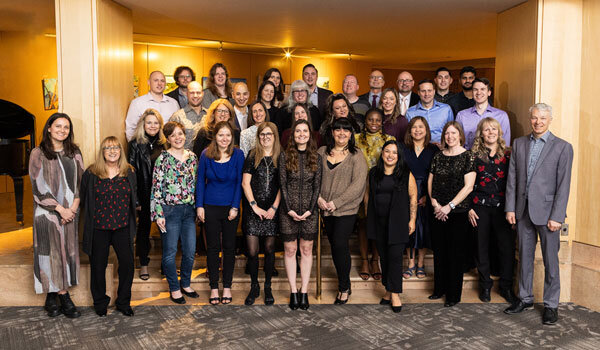 The party dancing isn't the only benefit to working at WebRezPro. Our company also offers comprehensive medical benefits and a healthcare spending account. (Throw out your back on the dance floor? We've got you covered.) Employees can even take up to four hours a month for medical appointments without dipping into their existing PTO.
A healthy work-life balance is important at WebRezPro. Employees have the option to condense their schedule into a 4-day work week, get a paid week off from Christmas to New Years (on top of regular PTO), and start the weekend early with an hour off every Friday—TGIF!
"The team behind property management system WebRezPro has won all sorts of awards for their product, but the recognition doesn't end there. Earning a spot on our Best Places to Work list for the second year in a row, employees love working at WebRezPro for their benefits, culture, and focus on growth."

– Hotel Tech Report.
If you'd like to join the WebRezPro team and be part of our mission to streamline hotel operations and empower hoteliers with the latest tech, visit our careers page because we're hiring!