Lodging operators often ask us how and why WebRezPro Property Management System (PMS) integrates with online distribution channels. They are both great questions, and because they pop up so frequently, we thought it would be helpful to write a blog post about why a property should integrate their online distribution channels with their PMS, and how those interfaces work with WebRezPro.
The Advantages of a PMS + Booking Channel Interface
A direct, two-way connection between a property's PMS and booking channel partners streamlines online distribution by automating the process of updating rates and availability on OTA/GDS channels and capturing OTA/GDS bookings in the PMS. By automating data exchange between the PMS and channel partners, the interface:
>> Saves time by eliminating the need to update OTA/GDS inventory manually through channel extranets.
>> Saves even more time by eliminating the need to enter OTA/GDS reservations manually into the PMS.
>> Reduces the chance of manual errors.
>> Reduces the risk of overbooking.
How a Booking Channel Interface Works with WebRezPro
There are two ways WebRezPro can connect to a property's online distribution channels:
>> WebRezPro can connect to separate booking channels (OTAs and GDS channels).
>> Or, WebRezPro can connect to a channel manager, like SiteMinder, myallocator or Seekda, which provides a single point from which to manage inventory and reservations on multiple booking channels.
The decision to connect to separate booking channels (OTAs and GDS channels) versus a channel manager depends on a property's online distribution strategy.
For example, properties that want to limit third-party distribution to one or two major OTAs, such as Booking.com and/or Expedia, connect WebRezPro to those channels via separate OTA interfaces. Properties that distribute inventory through many channels typically employ a channel manager (as described above) and connect WebRezPro directly to that channel manager through a single channel manager interface.
An interface to a separate booking channel (such as booking.com) works the same way as an interface to a channel manager (such as SiteMinder):
Through the interface, WebRezPro automatically pushes inventory (as determined by the property) to the channel or channel manager. When changes are made to OTA/GDS inventory in WebRezPro, the interface automatically sends those updates to the channel or channel manager.
When a booking is made through a channel partner, the channel or channel manager automatically sends reservation data through the interface to WebRezPro, and availability is automatically adjusted across all channels (in the PMS and on third-party booking channels).
The interface works 24/7, automatically updating inventory and reservation data.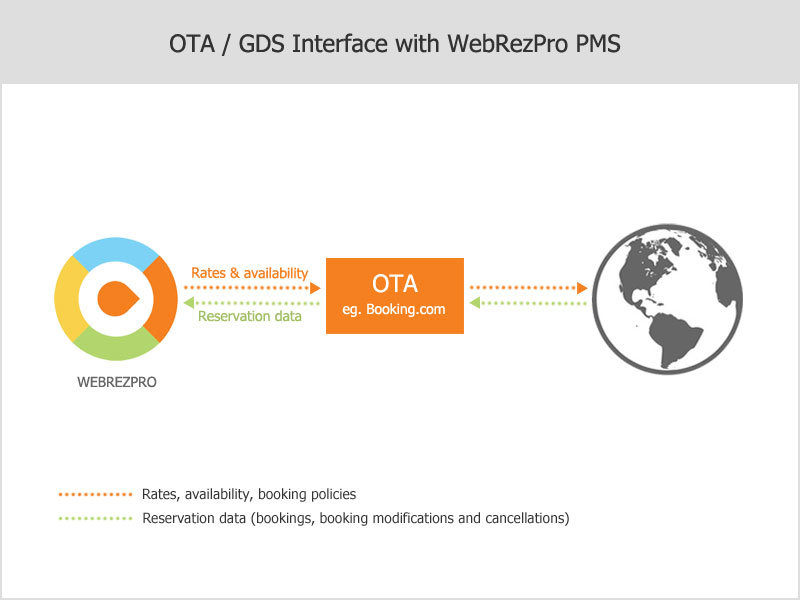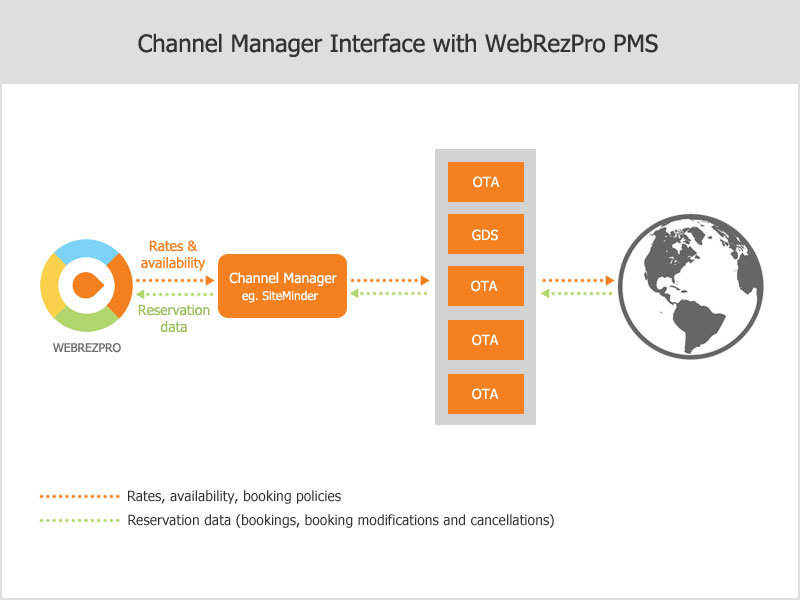 How to Get Connected
WebRezPro connects to numerous OTAs, GDS channels and channel managers and the list is always growing. Have a look at our Interfaces & Partners page to see if an interface to your channel partner is already available (if not, we can probably make it happen).
Then, simply contact your WebRezPro account manager and let them know which channel you want to connect your WebRezPro PMS to. They will let you know of any costs involved, and, along with WebRezPro Product Support, will guide you through the process every step of the way.
We hope this explanation helps clarify how WebRezPro integration with booking channels works. If you still have questions, don't hesitate to get in touch.
If you are interested to learn how integrating WebRezPro PMS with other hotel systems — such as POS, in-room entertainment and payment processing systems — can help save time and streamline operations, take a look at our Quick Guide to PMS Integration for an overview.